As part of its mission to digitalize consumer services, Credit Bureau Cambodia (CBC) has launched a mobile app that allows users to check their credit score, view credit reports, and receive credit monitoring alerts. For the first time ever, Cambodia will have an integrated digital platform that promotes financial health checks, credit monitoring, and financial literacy.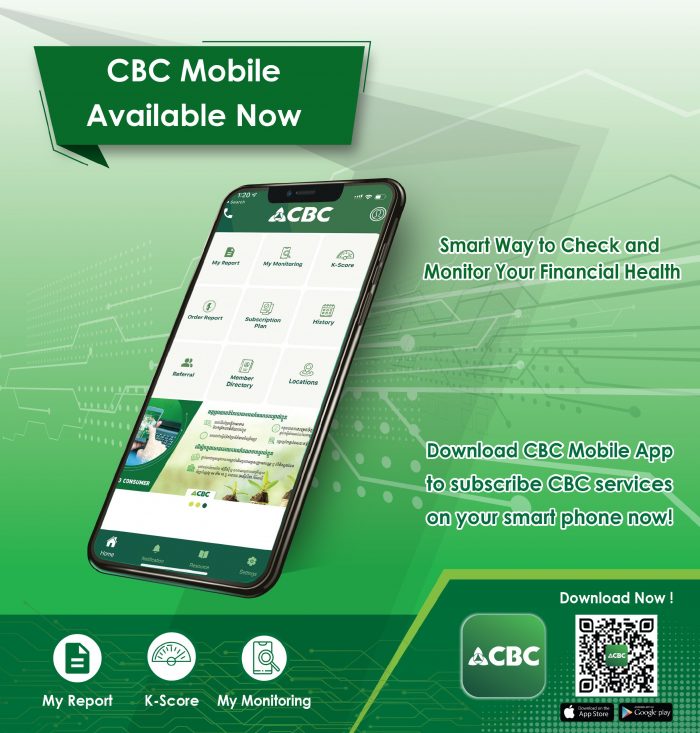 With the "CBC Mobile" app, the CBC is attempting to fill what it perceives to be a service gap in the country's growing credit and financial sectors. After registering with the app, available on both iOS and Android smartphones, anyone with a loan history can check their credit score, view their credit reports, and receive real-time credit monitoring alerts.
Mr. Oeur Sothearoath, CEO, Credit Bureau Cambodia, said: "Providing Cambodians with accurate and real-time knowledge of their credit information is an important step toward maturing and strengthening the country's financial sector."
"Our most recent quarterly report showed that mortgage loans alone jumped from 18% since the end of 2019 to $4.7 billion at the end of September this year. There is a need to make sure that as more Cambodians achieve upward socioeconomic mobility and borrow more money to grow their asset portfolios, they are also given the tools to responsibly manage and pay back their loans. The CBC Mobile app is about cultivating stable and sustainable growth through transparency."
To register, users can download the app and undergo a simple identity verification procedure. Afterward, they can avail the apps' many different services including My Report, which allows users to request their credit report anytime and anywhere and keep track of their credit history with all financial institutions. With My Monitoring, they can get real-time monitoring alerts on their loan activities such as new loan applications, on-time payments, and missed payments, etc.
Moreover, with K-Score, users can directly access their credit score enabling them to measure their potential credit risk and likelihood of default. Before the CBC Mobile App, only lenders could access information about a borrower's credit score.
With the app at their fingertips, CBC hopes that users can maintain better financial health and good credit managing habits; prepare for financial opportunities and credit exposures; heighten their negotiating power, while improving the accuracy of their credit information through online dispute handling services. The app also provides educational materials and resources on financial literacy and updates from credit markets and emerging trends in the financial sector. 
Each user with Cambodian citizenship can avail one FREE credit report per year. Additional credit reports and subscription services require online payment using Visa, MasterCard, JCB, UnionPay, or DCI cards. CBC is also planning to integrate Bakong Payment into their mobile app, which can facilitate transactions between multiple financial institutions and payments in Khmer Riel.