"I want to create the best restaurant in the city, potentially the best in the country, and within a year or two enter Asia's 50 Best Restaurants."
These are the ambitious goals set by Mario Yufera, the Head Chef at El Tapas, the signature restaurant at Hôtel KVL, the latest Phnom Penh hospitality venture by Vattanac Group.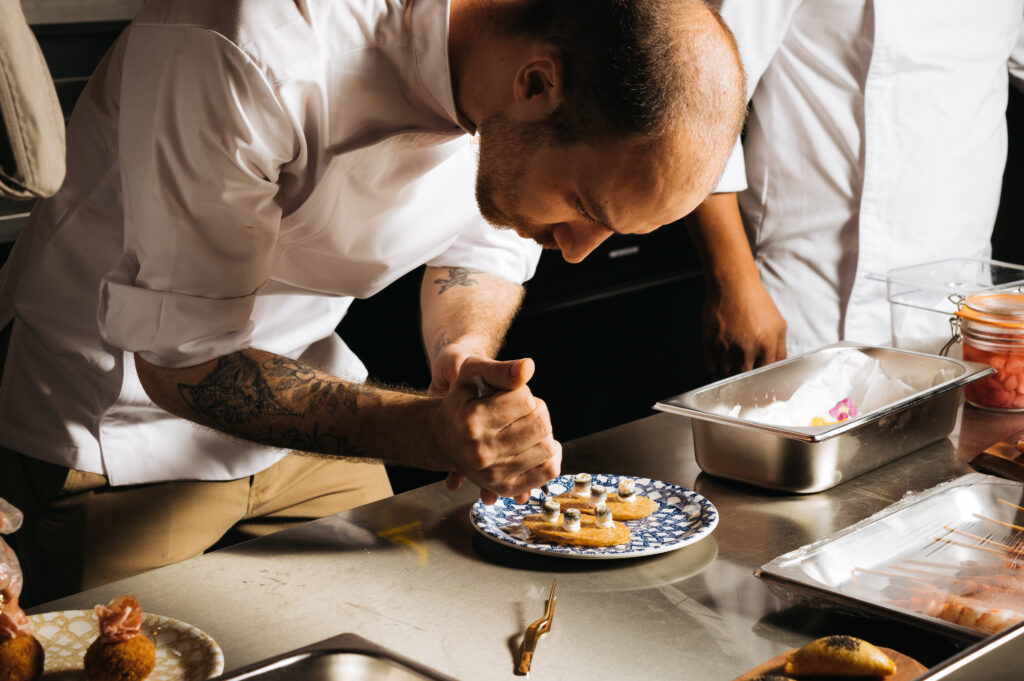 Vibrantly-decorated with Spanish tiles and polished chrome finishing, El Tapas can accommodate up to 76 people, including 12 front-row seats at the open kitchen and Josper grill.  The design is striking, modern, and fun; much like the menu itself. Familiar dishes like seafood paella sit alongside reimagined classics – padron peppers served with goat cheese foam, honey, and a manchego cheese crisp; or octopus carpaccio, served with yuzu vinaigrette, mango and fennel.
El Tapas sources many ingredients directly from Spain – including acorn-fed 48-month aged Iberico pork and Spanish cheeses. The dishes are complemented by fine wines from Spain and around the world, and a cocktail menu inspired by Spanish flavors and traditions.
Chef Mario grew up in Alicante in southeastern Spain, a region famed for its rice, fish, and seafood. Though the flavors at El Tapas are inspired by the cuisine of his childhood, the techniques and presentation are far more sophisticated. Mario's culinary career took him first to Amsterdam, where he worked his way from washing dishes in casual restaurants to cooking at the iconic Conservatorium Hotel and later Restaurant Breda, which consistently places within Europe's 20 Best.
He describes, "For me, if you are coming to eat in a restaurant, it should be something you have no way to replicate at home. (At El Tapas) we're working with a lot of foams, almost everything is cooked sous-vide. We're using new techniques like spherification and clear filtration. We refined classics like croquetas to the point that I honestly think that ours are the best I've ever tried!".
El Tapas is open every day from 5pm-11pm at Hôtel KVL on Sisowath Quay. The full menu is available to view on the hotel website, and will evolve to include regular specials showcasing seasonal ingredients and innovative techniques. Bookings can be made online or by calling +855 (0) 88 893 66 62
https://www.hotelkvl.com/dining/el-tapas