Hongkong Land's flagship development in Cambodia officially launches in the heart of Phnom Penh's financial district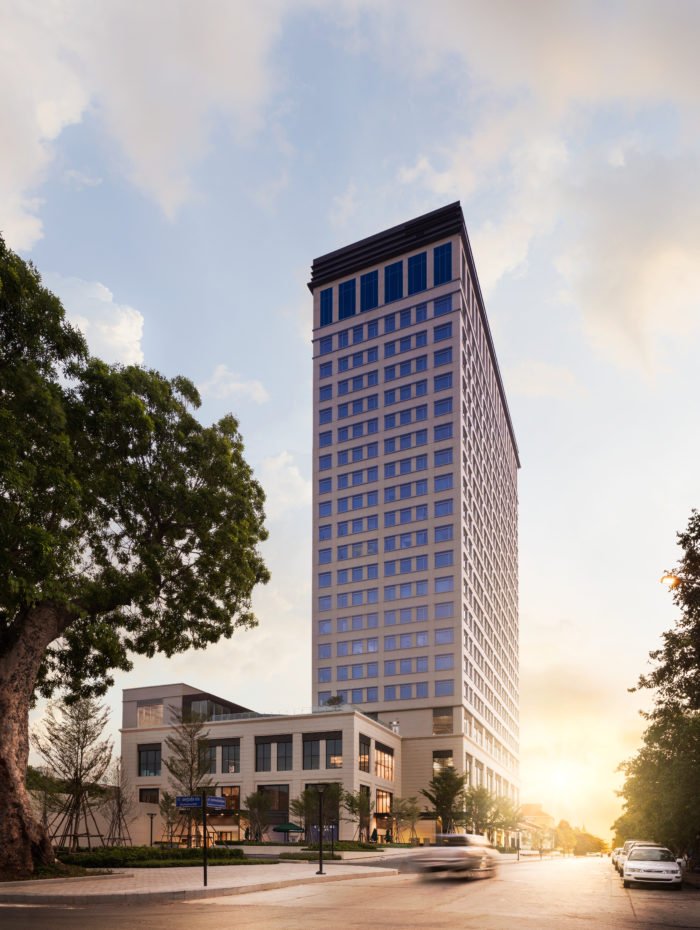 Leading property developer Hongkong Land announced today the official launch of its flagship development in Cambodia, EXCHANGE SQUARE, at the Grand Opening ceremony which was joined by senior members of the government, business community and key stakeholders.  Officiating at the Grand Opening ceremony were H.E. Dr Pen Sophal, Secretary of State, Ministry of Land Management, Urban Planning and Construction, representing H.E. Mr Chea Sophara, Senior Minister and Minister of Land Management, Urban Planning and Construction, Mr Robert Wong, Chief Executive of Hongkong Land, and Mr Robert Garman, Executive Director of Hongkong Land.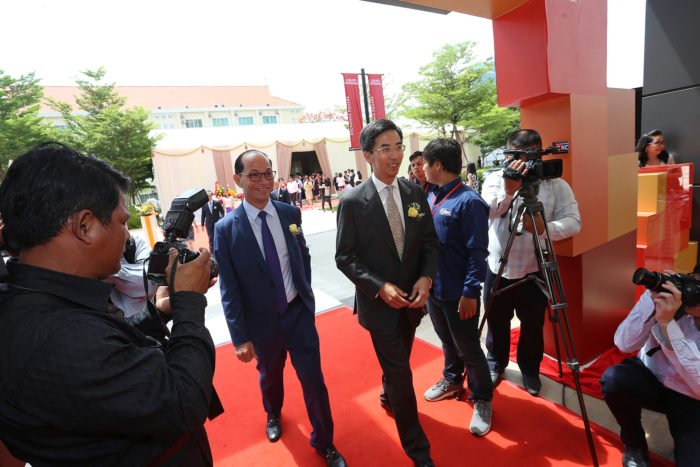 Prominently located on St. 61 in Phnom Penh's financial district with close proximity to the capital's business and leisure destinations, EXCHANGE SQUARE has become one of the iconic developments in the city and has attracted over 60 office and retail tenants since its soft launch in August last year across its 39,700 sq. m. of prime office space and a four-level retail podium.  The commercial and retail occupancy rate is already over 80% and is expected to achieve full occupancy by the end of 2018.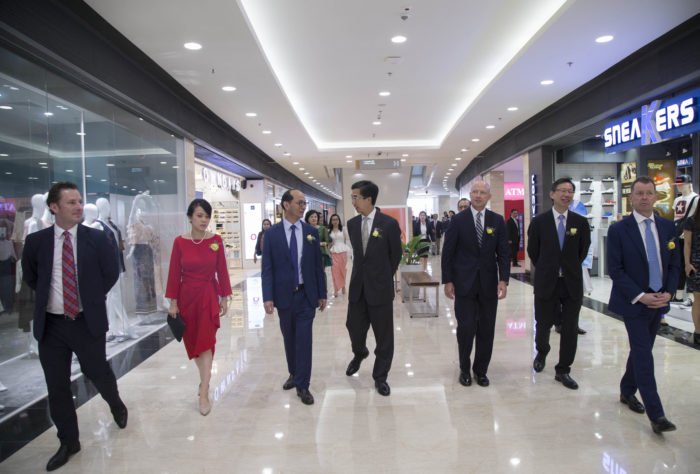 "As a first-of-its-kind office, retail and lifestyle destination in this emerging business hub in Asia, EXCHANGE SQUARE is well poised to meet the needs of both commercial and retail businesses looking to gain a firm foothold in the region.  We believe this world-class property will make a game-changing contribution to the dynamic transformation of Phnom Penh," said Mr Robert Wong, Chief Executive of Hongkong Land.
Highly regarded for its quality of construction, property management and client services throughout the region, Hongkong Land applies the same industry leading standards and skills to EXCHANGE SQUARE.  The Grade A office now hosts market-leading office tenants including international and regional entities such as AIA (Cambodia) Life Insurance Plc., CIMB Bank PLC, Huawei Technologies Co., Ltd, Industrial and Commercial Bank of China (ICBC), the International Finance Corporation (IFC), ISUZU, ITOCHU Corporation-Phnom Penh Representative office, ITOCHU Textile Prominent (Asia) Ltd, Marubeni Corporation, Mitsui & Co., Representative office of MUFJ Bank, Ltd, Branch of Panasonic Asia Pacific Pte. Ltd., Representative Office of Sumitomo Mitsui Banking Corporation, Toyota Tsusho Corporation, United Nations Children's Fund (UNICEF) and World Bank Group.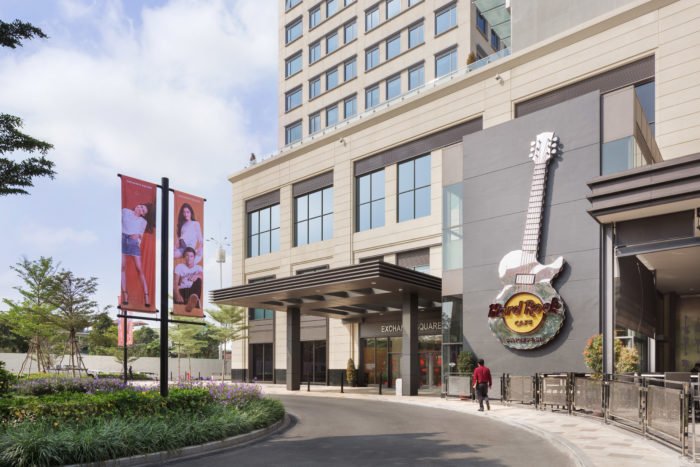 "Our local office building blocks are an indispensable part for Huawei's sound operations and profitable growth in Cambodia, and we are glad to partner with Hongkong Land to sustain our operations in Phnom Penh," said Mr David Li Xiongwei, CEO of Huawei Technologies (Cambodia) Co., Ltd.
"We promise to help Cambodian people live healthier, longer and better lives. Being located at the world-class EXCHANGE SQUARE has allowed us to deliver this promise with a modern and customer-focused head office," remarked Richard Bates, CEO of AIA (Cambodia) Life Insurance Plc.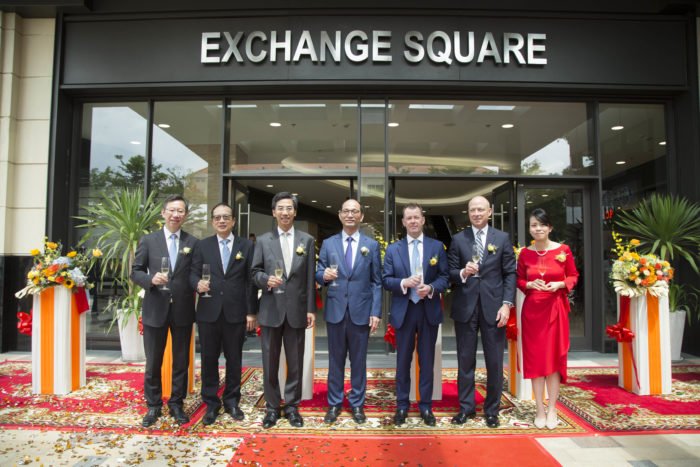 EXCHANGE SQUARE also represents a unique and upscale lifestyle trend in the city, setting a new benchmark for Phnom Penh's retail experience.  The exciting retail mix introduces a range of global and regional brands include BERING, Guardian, Legend Premium Cinema, Levi's, Lucky Premium Supermarket, Pandora, Samsonite, Swatch and Yves Rocher among others, and well-known F&B outlets such as Hard Rock Cafe, Lucky Burger, Starbucks and Sushi Tei.  In more than 40 retail stores spreading across 13,000 sq. m. of the four-level retail space, the elegant shopping mall offers a one-stop experience gratifying the business and leisure needs of discerning patrons.
"It is indeed a great privilege for the company to be able to take a place at EXCHANGE SQUARE.  As DFI Lucky has a chain of Lucky supermarkets across the country, we are proud to have launched our company's first ever Lucky Premium supermarket here," said Mr Stephane Pariente, CEO of DFI Lucky.
"We are delighted to have found such an excellent location in which to showcase the most energetic live music scene in the city at Hard Rock Cafe.  This is our group's second cafe in Cambodia and we are looking forward to strong sales and engagement with our customers here at EXCHANGE SQUARE," said General Manager of Hard Rock Cafe Cambodia Mr Benoit Dufour.
"Legend Premium is very pleased to be collaborating with Hongkong Land which provides excellent property management services that enable the smooth delivery of our unique premium brand, and we will certainly strive to create an exceptional cinematic experience for the patrons," said Mr Te Song, CEO of Legend Cinemas.
Note: all of the photos and most of the captions are supplied.
Disclaimer: One of the management team of this digital news site supported the launch