In the midst of a busy schedule, Miss Universe Cambodia 2020 Sarita Reth adds her voice to Oxfam's campaign advocating for better maternity protection for all women workers,
including those in the informal sector.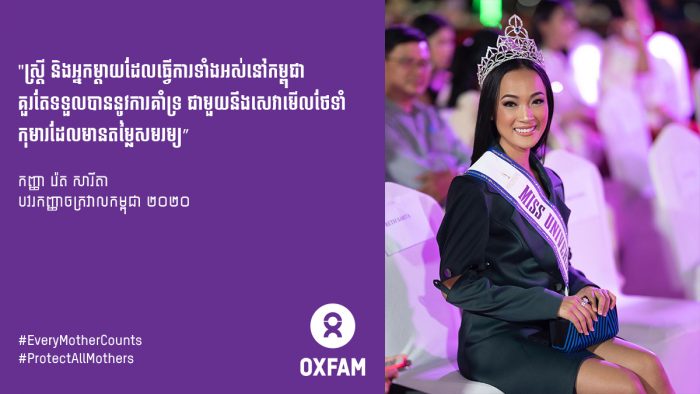 In mid-June, Ms. Reth had the opportunity to watch video and animation productions from Oxfam's two-month digital campaign: "Every Mother Counts." Both powerfully detailed the struggles many Cambodian women face balancing work and family life while having no access to maternity protection. Ms. Reth was moved and felt compelled to support the campaign using her rising popularity and rapidly growing social media platform.
"As a Cambodian woman, I was alarmed and saddened to learn that 90% of women workers in my home country have no access to maternity protection benefits just because they are in the informal sector," said Miss Universe Cambodia 2020 Sarita Reth.
"Cambodian women deserve better. As the pillars of our families and society, we should ensure that they are supported throughout pregnancy and maternity. Especially now during the COVID-19 crisis, all working mothers, including the informally employed, deserve to be protected by law, and have enough income to take care of themselves and their children. This will require providing paid maternity leave, cash benefits, and investing in affordable childcare services that protect women from having to choose between work and raising children. Every Cambodian mother counts and all women should be protected, including those in the informal economy!"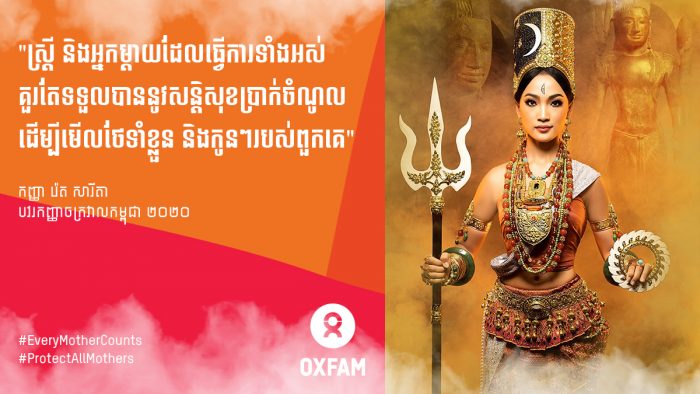 Ms. Reth has long been an advocate of women's rights issues. As an actress, Ms. Reth's first role was on the popular BBC Media Action TV series Love9. As the curious and confident Marima, Ms. Reth used her character to promote gender equality and sexual and reproductive health. Partly due to her stellar performance in this role, in 2016, Ms. Reth was awarded the Youth Champion by the United Nations Population Fund (UNFPA) Cambodia, the leading UN agency on maternal and reproductive rights.
"We welcome Miss Universe Cambodia 2020 Sarita Reth's support for our campaign to promote maternity protection for all Cambodian women and mothers, which ensures the health, security, and dignity of women, their children, and their families. " said Ms. Solinn Lim, Cambodia Country Director of Oxfam.
"This campaign is a key component of Oxfam's Regional Social Protection Program, which promotes decent work for sustainable, equitable, and inclusive development across ASEAN. As we have observed, maternity protection is a social protection that countries like Cambodia can no longer afford to overlook. Without it, women workers are more vulnerable to poverty and illness. With maternity protection, women workers, especially those in marginalized informal sectors, have a fighting chance to lift themselves and their families out of chronic poverty. This can only be good for society and the economy."