Phnom Penh, July 30, 2021— Wing Bank (Cambodia) Plc. and Credit Bureau (Cambodia) Co., Ltd. (CBC) have joined forces to put vital credit reports at the fingertips of all Wing Money App users.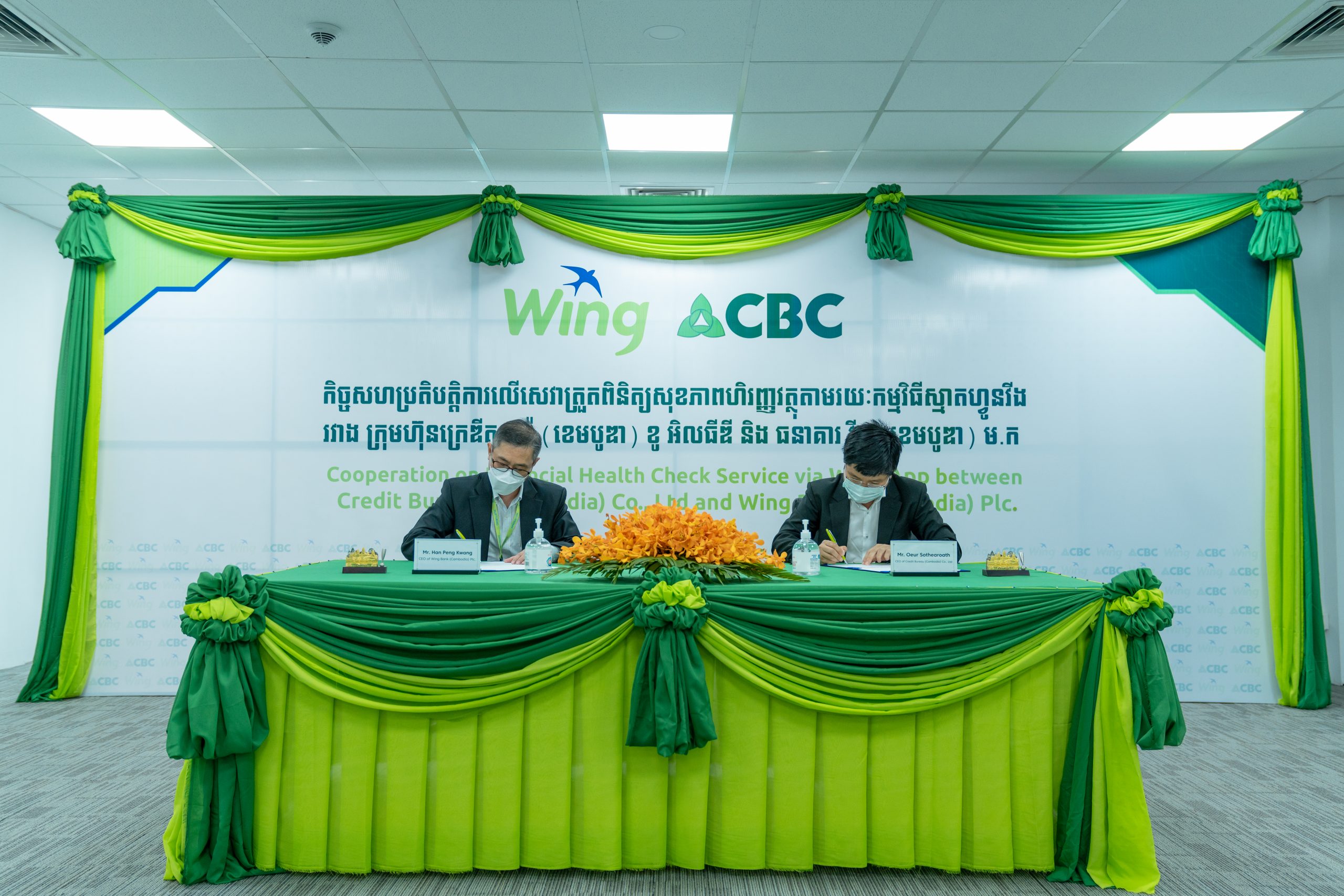 Now, through new feature on the app, users can request their own credit reports from CBC, making it easier than ever for them to check their credit history necessary for loan requests at any financial institution. 
"Now, clients who need to request loan can take their first step by opening our mobile app and requesting their report," said Peng Kwang Han, CEO of Wing Bank. "The process is entirely confidential and well-protected through our cutting-edge technology."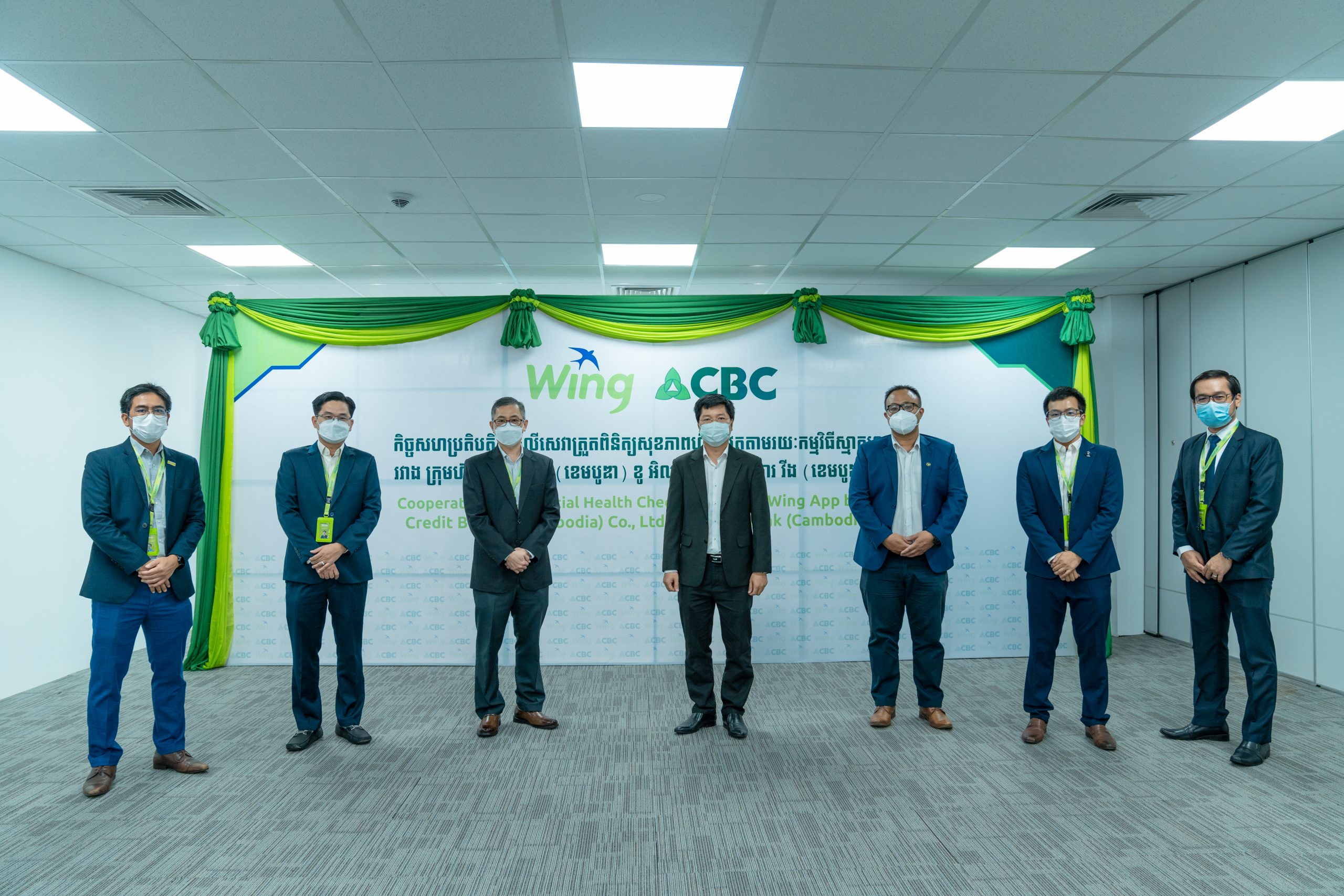 Through this partnership between Wing Bank and CBC, users can easily make a self-request for Personal Credit Report through their smartphone, saving time and money otherwise spent traveling to CBC's and its partners' physical offices. The whole request process can be carried out within just a few working days, through secure, safe and convenient digital platform of Wing Bank and CBC. 
"The partnership with Wing Bank will allow us to serve a broader community across Cambodia," said Mr. Oeur Sothearoath, CEO of CBC. "It reflects our commitment to provide accurate and real-time credit reports to borrowers, helping them make better financial decisions and promote financial inclusion."
 Personal Credit Report records individual borrower's credit payment history compiled from all financial institutions that are members of CBC. All lending financial institutions are required to report credit information to CBC. Lenders need to check loan requester's personal credit file to assess their credit worthiness before deciding to issue a loan. A good credit repayment history will make it easier for a requester to qualify to receive a loan.
According to the Consumer Credit Index Report of Q4 2020, consumer credit applications increased by 17% overall in Cambodia. The most significant increase was reported in mortgage applications surging 33% from the previous quarter, followed by a 16% increase in personal finance applications. There was also a 2% rise in credit card applications.
Both Wing Bank and CBC join hands to promote wider access to financial services for Cambodians, thereby improving the living standard of the greater community. Over the past 13 years, Wing Bank has grown to include nearly 10,000 Wing Cash Xpress Agent with presence in every district of the country. At the same time, the bank has fine-tuned the Wing Money App while adding more than 3 million users to this digital wallet platform. 
CBC, established in 2012, is committed to guide its customers about the risks and rewards of commercial and financial decisions. CBC has done this by providing accurate, real-time data to consumers and financial institution members . In addition to Personal and Commercial Credit Reports, CBC also provides analytical solutions to financial institutions to assist them in making well-informed decisions and staying on top of their business.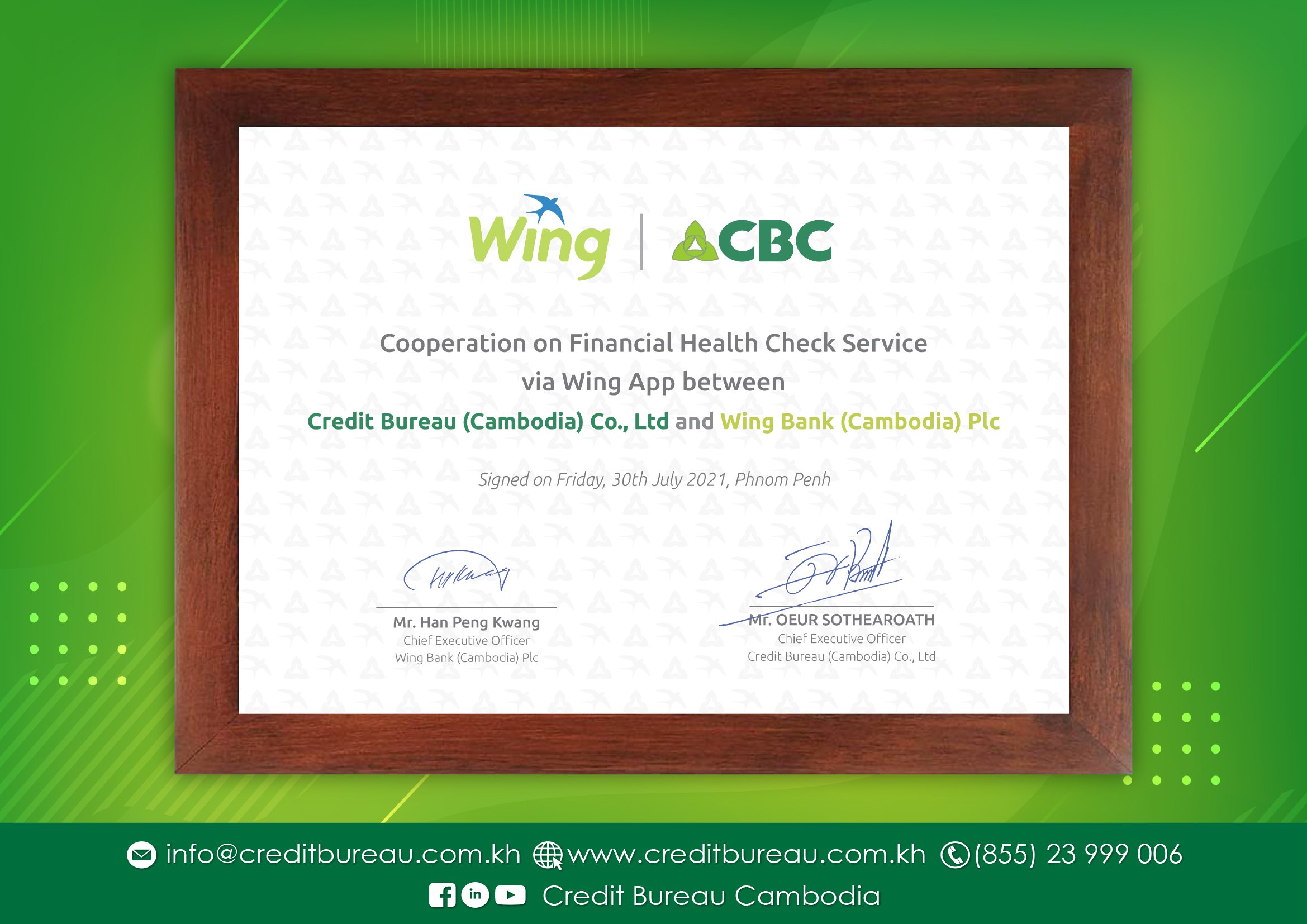 About Credit Bureau Cambodia
Since 2012, CBC has been the leading provider of financial information, analytical solutions and credit reporting services to consumers and financial institutions in the Kingdom of Cambodia. CBC assists customers in managing the risks and rewards of commercial and financial decisions through a range of solutions: Consumer Credit Report, Commercial Credit Report, K-Score, Data Analytical Report, Portfolio Monitoring Service, Portfolio Review Service, and Customized Solutions.
About Wing Bank (Cambodia) Plc:
Wing Bank (Cambodia) Plc – the bank for every Cambodian – is driven by the vision to provide every Cambodian with convenient access to financial services relevant to, and for the improvement of, their daily lives.
Wing Bank has revolutionized the way Cambodians access financial services by introducing instant, secure, and convenient Mobile Financial Services since 18 August 2008.
Today, Wing Bank serves the entire Cambodian population with 100% coverage of the districts in Cambodia thanks to the innovative Wing Money App, nearly 10,000 Wing Cash Xpress agents, over 55,000 merchants, and partnerships with industry giants such as Mastercard, MoneyGram, AliPay, WeChat Pay, Western Union, Visa, and Ria.
Wing Bank provides an array of advanced financial products both for individual and corporate customers. These include loans, deposits, micro savings, credit referral services, money transfers, utility and insurance payments, supply chain payments, payroll services and even phone top-ups. In addition, Wing offers retail payments via "WingPay", and also has introduced the "WingMall" e-commerce platform.
Both small and large companies alike are now using Wing's payroll and disbursement services, speeding up payments. Over 80% of Wing's agents and 50% of customers are women, making Wing a shining example of gender inclusion in the region. 
Wing Bank is committed to providing financial, gender and digital inclusion to the unbanked and the under-banked, allowing every Cambodian to enjoy convenience and security when it comes to financial services.
For more information, please visit www.wingmoney.com