Let's meet for a new experience that will immerse the public in a warm and moist atmosphere like in Southeast Asia!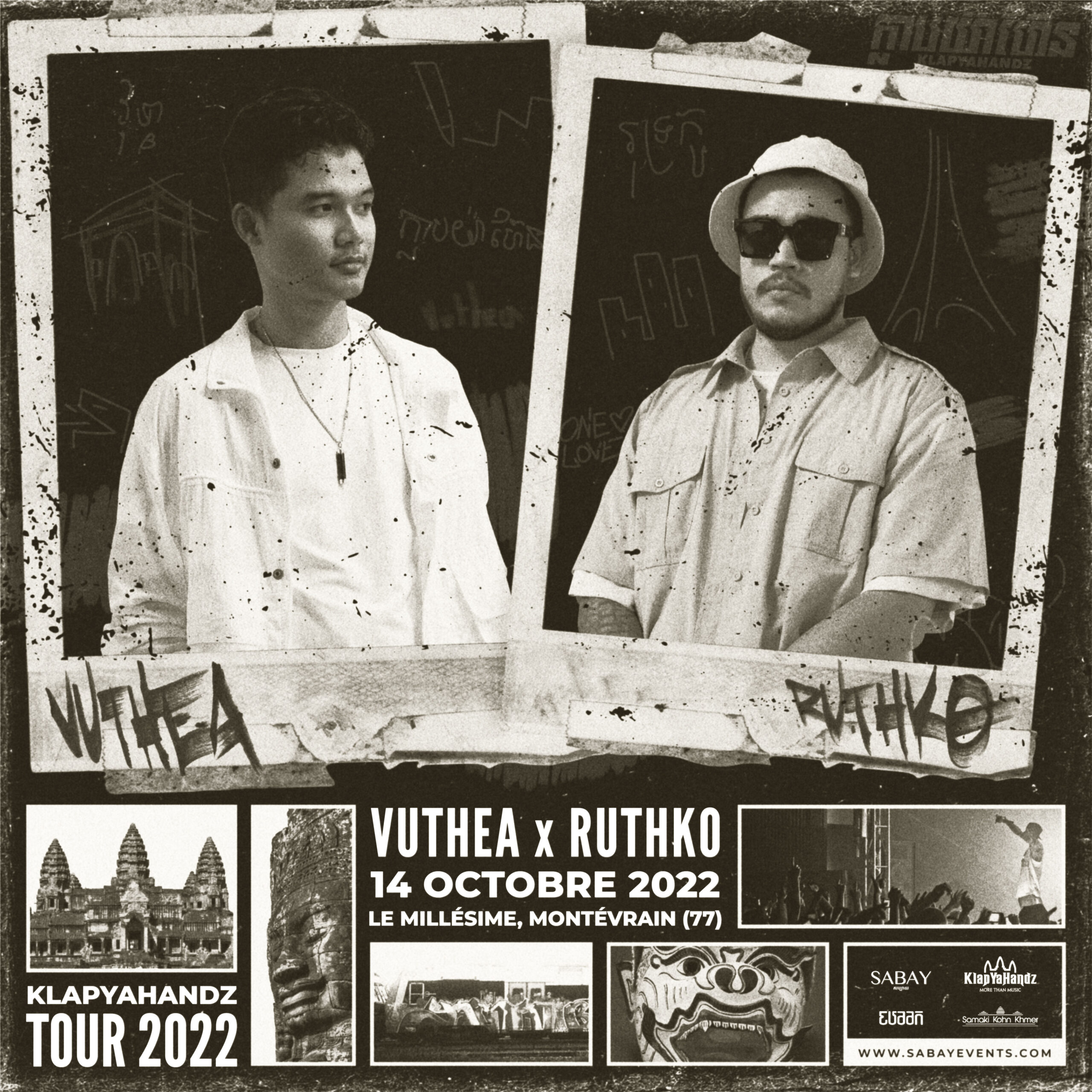 With the success of the first edition, KlapYaHandz music record is invited for the second time by Sabay Events on October 14th, 8pm in Paris, France. The Khmer artists – Vuthea & Ruthko – will have an exceptional Live Performance in Paris to represent Cambodian Hip-Hop and present to the world the engagement and artistic renewal of Cambodian young through the musical scene.
In partnership with Samaki Kohn Khmer Association, Sabay Events is going to organize and introduce this modern Cambodian music live for the second time, in order to create a link between France and Cambodia through these emerging young talented artists. Fusing between traditional and modern music, KlapYaHandz has created a sound that brings all generations together for all Khmer across the globe.
The Sabay Events movement was born in 2016 by Dara, a Khmer born in France, who discovered the talent and emergence of Southeast Asian young after several trips in Cambodia. He decided with Sabay Events to share their wealth through the artistic scene and the culture. His goal is to offer French people a new musical and cultural repertoire. Furthermore, it allows Asian artists to export to a new continent, thanks in particular to Dara's multiple events (festivals, exhibitions, roundtables, screening-debates, food market).
KlapYaHandz's goal is to provide access to new sounds from Southeast Asia to a diverse audience. Emerging in Europe and highly valued in Cambodia, these artists through their talent will offer an incredible experience to all people who wish to discover Cambodian hip-hop.
Ticketing is available on: www.sabayevents.com
KLAPYAHANDZ RECORDS
After returning to Cambodia in 1993, Visal Sok, France-Cambodian, was among the pioneers that initiated the Hip Hop movement. Visal, later, continued to create his own music label, which is known as KlaYaHandz Records, in 2005.
Composed today of 12 artists ambassadors of the young Khmer generation and 1 international group, KlapYaHandz now has more than 660,000 subscribers with more than 177 million views on Youtube from all around the world. Two key artists of the urban music scene in Cambodia have been invited in Paris: Vuthea, Ruthko as well as KlapYaHandz founder Sok Visal.