Cellcard recently launched another first-to-market product, Time To Rise. The reveal was made via a press conference attended by Royal Group management teams, Cellcard's management team, Cellard key partners and influencers, Baramey Music's management team and artists including VannDa.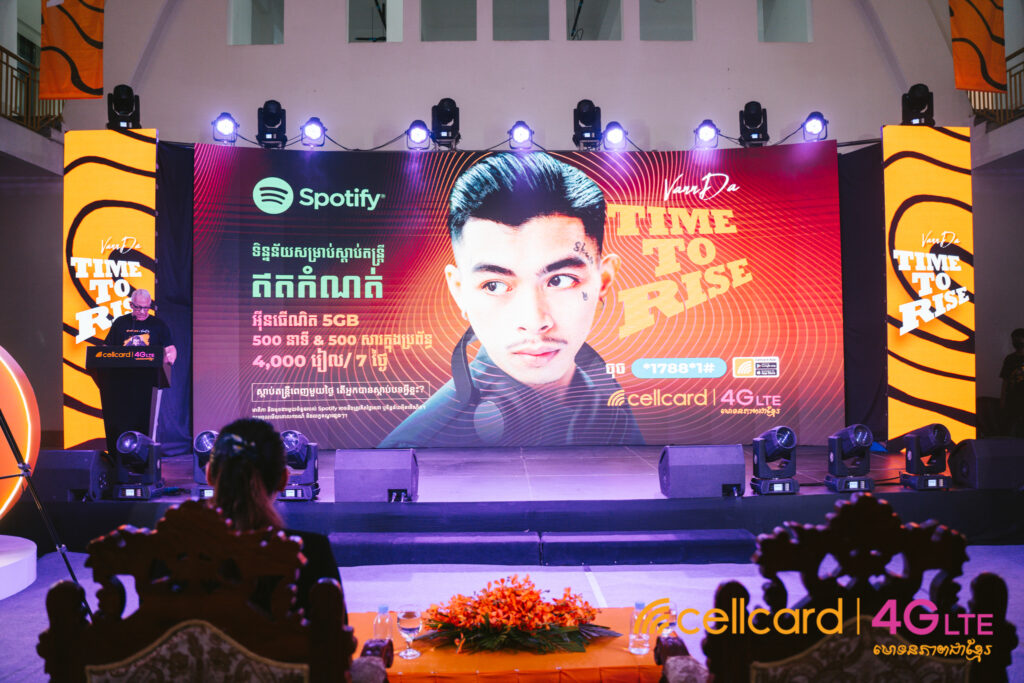 According to Cellcard CEO, Simon Perkins, the product is a result of months-long collaboration between the two companies, as well as Spotify Global. Considered as one of Cellcard's major product lines for the year, the launch is positioned as part of the brand's 25th anniversary celebration. 
"We're very excited to launch Time To Rise, especially on the occasion of our 25th anniversary. Time To Rise is a step towards the realisation of a mutual vision shared between Cellcard, Vannda and Baramey Music to elevate Cambodian talents and to connect Cambodia to the rest of the world. Time To Rise combines Vannda's influence, Cellcard's extensive network, and the introduction of Spotify, a global music streaming platform to deliver connectivity and access, to not just local content, but content from all over the world. The introduction of Spotify via the Time To Rise product will make it easier for artists and everyone to use the platform in Cambodia, enriching their digital lifestyles, inspiring a new generation of talents, and leading to new opportunities and developments in Cambodia's music industry." – Simon Perkins, Cellcard CEO
"Our aim is to connect more local and global artists with users in Cambodia, and the Time To Rise plan makes that possible. By allowing unlimited data and the Spotify free plan together with Cellcard, we are looking forward to welcome even more Cambodians to the Spotify platform." – Niklas Lundberg, Head of New Markets for Spotify.
The Time to Rise product range offer bundles inclusive of unlimited Spotify streaming data, extra data allowance, calls and SMS, as well as 1-year balance rollover. The range consists of 2 SKUs;  4,000 Riels plan with 5GB, 500 on-net calls and 500 on-net SMS for 7 days, and 24,000 Riels plan with 40GB, 4,000 on-net calls and 4,000 on-net SMS for 35 days. The product is available as a subscription plan for those who already have a Cellcard SIM, and as a SIM pack with exclusive Time To Rise and Vannda merchandise for the higher SKU SIM kit, which includes a fabric mask, sticker and VannDa photo card in limited quantities.
The Time To Rise product line is inspired by VannDa's hit song of the same title, which broke Cambodian history when it hit 1M views within 24 hours of launch, and propelled VannDa to stardom. The Time To Rise song has been included in Apple Music's top 100 songs 2021, Lifted's Best Videos 2021, and performed LIVE in the ASEAN Music Showcase 2021.
Time To Rise SIM packs with the 4,000 Riels plan is available at all dealers nationwide. Meanwhile the Time To Rise SIM packs with the 24,000 Riels plan and Time To Rise merchandise is exclusively available at all Cellcard stores, convenience stores and delivery apps such as Nham24, SmileShop, WingMall among others.