Mr Swapnil Deshmukh (left), Ms. Chheng Chinneth and Mr. Andrew Shin, President of PPCBank (Photo by WheninPhnomPenh)
Small Café with a Big Heart and an Ever-Growing Community. Within just one year, Socials Coffee has opened three branches.
Socials Coffee has announced the launch of its third outlet at PPCBank Head Office along Norodom Boulevard at a Grand Opening ceremony in May . Socials Coffee started as a pilot project in collaboration with PPCBank to provide employment opportunities and to promote inclusiveness within work spaces for people with physical disabilities, focusing on deaf people. Since its inception last year, Socials Coffee now has three branches, with the third one beginning operations today, serving customers from 8am until 8pm, seven days a week.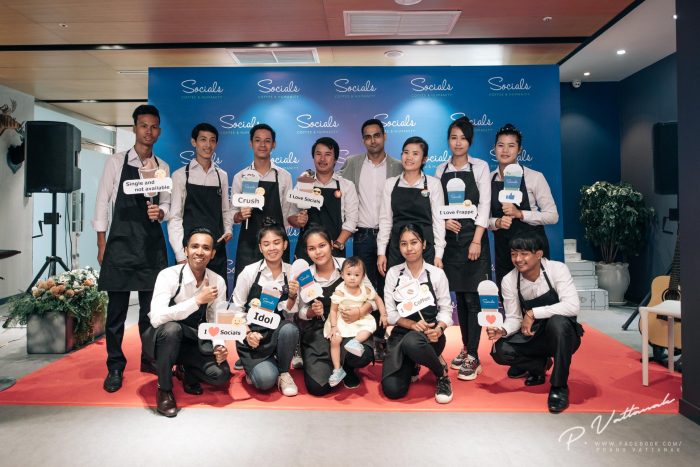 Socials Coffee was founded by former banker, Mr Swapnil Deshmukh. Socials Coffee is the first cafe in town to appoint a deaf person as a team leader, in charge of the entire operations of a branch. Socials Coffee has now the honor of being ranked among Top 3 Coffee Shops in Phnom Penh on world's largest travel website "Tripadvisor.com".
"We are blessed to receive so much support and love from our customers. Customers frequently visit Socials Coffee, because they love our drinks and our service. As a result of their love for Socials Coffee, customers are able to support Cambodia's deaf community," said Socials Coffee founder, Mr. Swapnil Deshmukh.
"We have been successful in our first phase in setting up a much-loved coffee brand that is run by deaf and speaking staff together. We will now embark on our second phase of the journey to partner with other cafes to help them train deaf staff and also to run cafes managed by deaf staff," he added.
Swapnil Deshmukh one day walked into a quiet cafe where coffee and drinks are served in silence, an inspiration that leads to Socials Coffee (Coffee + Humanity)
PPCBank has been a major supporter of Socials Coffee by providing space for the cafe to operate.  It has also played an important role in leading to the expansion of Socials Coffee to its third location.
Mr. Andrew Shin, President of PPCBank, said he hopes that this could be a model to inspire more social businesses in the kingdom
"We are delighted to see Socials grow by leaps and bounds – a concept that we welcomed into our branches, has been proven beneficial for every party involved: to the founder with the big heart, to the deaf community in Cambodia that now have employment opportunity, to all Socials' customers who discovered this gem, and, of course, to all of PPCBank customers, who enjoy delicious drinks while banking with us. It's flattering for us to know that we helped to get this project off the ground. We are inspired by Socials' desire to make Cambodian society more inclusive; once Swapnil asked for wheelchair access, we happily revamped stairs to our headquarter facility to accommodate the request. We will continue to support Socials by further providing space in our branches, by running collaborative promotions and providing them catering opportunities with us. I hope other corporate businesses will follow suit.," said Mr Andrew Shin, President of PPCBank.
Socials Coffee outlets have their special drinks listed in Braille script. This allows visually challenged customers to know the special drinks on the menu.  Socials Coffee is also committed to an eco-friendly business model, and therefore, drinks are served with metal straws for dine-in customers and bio-degradable straws for take-away drinks.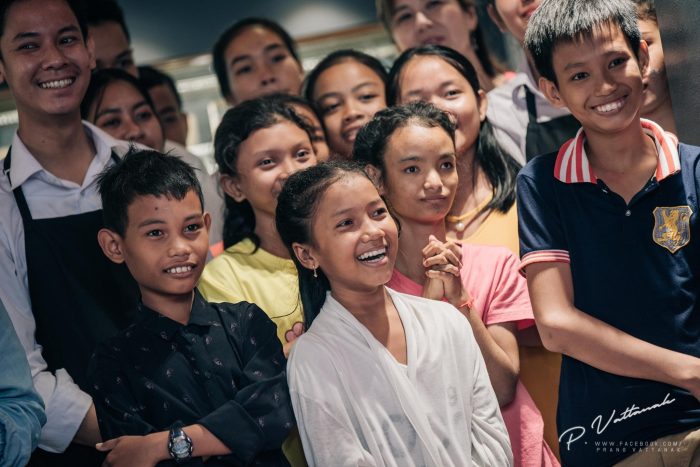 Keeping in tune with its delectable selection of beverages and drinks, Socials Coffee serves Avocado Espresso, Egg Coffee, Coconut Latte, and has expanded its menu with a focus on health to include juices focusing on detox, belly fat burn and skin care.
Socials Coffee is keen to expand its operations in neighbouring countries such as Vietnam and Laos in the second-half of 2019.