The Entrepreneurship Development Fund (EDF) of the Ministry of Economy and Finance and the Young Entrepreneurs Association of Cambodia (YEAC), Siem Reap chapter, announced today that they conducted a Zoom workshop titled, "What's Next? Key Challenges and Opportunities Amidst Crisis for SMEs in Siem Reap." A total of 100 participants were in attendance, including members of the YEAC, the Chamber of Commerce, the Cambodian Women's Association (CWA), the Siem Reap Provincial Department of Commerce, the Cambodia Association of Travel Agents (CATA), and non-profit organizations such as JCI Cambodia and PEPY Empowering Youth. The online workshop took place from 8:00 am to 12:00 pm, and was live-streamed via the Facebook page of the YEAC.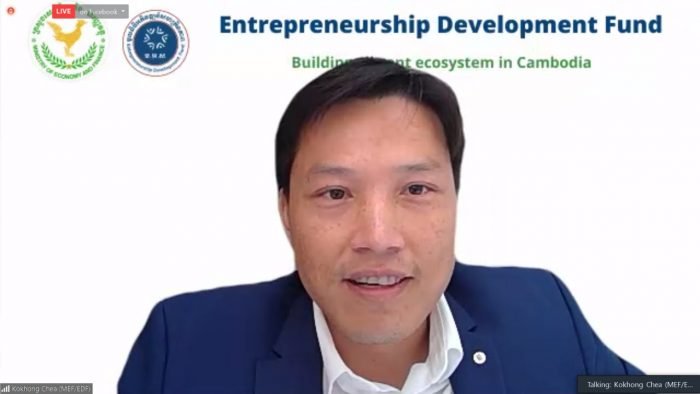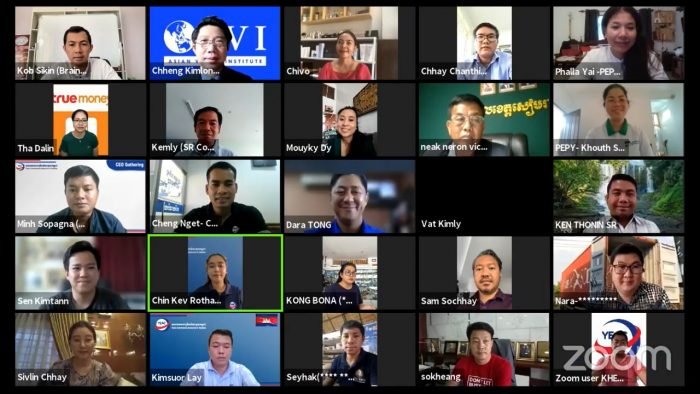 The workshop took place as many businesses, especially in Siem Reap, continue to face challenges due to COVID-19, such as the decline in tourists, the impacts of construction of 38 roads, and the migration of labour to other provinces. Through intensive discussions among the expert panelists, the workshop addressed these challenges and offered practical advice on how entrepreneurs and SMEs can better access opportunities to grow their enterprises during and after the COVID-19 pandemic.
In the Discussion portion of the workshop, a panel of high-profile speakers from different institutions were each allotted three to five minutes to answer several questions regarding access to entrepreneurial opportunities in the following sectors: Tourism & Hospitality, Agriculture Products, Transportation, and Commerce, and Digital and Technology. The panelists, which included Okhna Sok Piseth, CEO of GGEAR and LG, H.E. Dr. Tann Monyvann, Deputy Director of Mong Rithy Group, Lok Chumteav Chhay Sivlin, President of Cambodia Tourist Association (CTA), and Mr. Chy Sila, CEO and Founder of Sabay Digital and Domino's Pizza, also weighed in on how local entrepreneurs can avail government financial support during the COVID-19 pandemic.
"Cambodia's recovery from the economic effects of the COVID-19 pandemic should be a top priority for the government and private sector groups. As more of the local-global population gets vaccinated, and as the levels of infections and deaths from COVID-19 decline, we can expect borders to open again, and for trade and commerce to resume," said H.E. Chea Kok Hong, EDF Secretariat Director, and Deputy Director General of the General Department of Policy at the Ministry of Economy and Finance.
"We would like to thank our distinguished panelists for offering strategic insights that will motivate local entrepreneurs and SMEs to diversify their business plans so that they stay resilient during the pandemic, and can be prepared to take advantage of the many opportunities that will certainly arise once businesses and industries return to normal. We would also like to extend our gratitude to our EDF team, the YEAC, and our partners for creating opportunities like this workshop which promote access to entrepreneurial opportunities, the sharing of experiences in solving and overcoming challenges, emotional and mental support, and an environment where entrepreneurs can learn new and innovative ways of thinking."