In response to increasing demands of digital banking services, namely mobile banking, Foreign Trade Bank of Cambodia (FTB) has officially launched new retail mobile app on 2/May/2022, called "FTB Mobile" in replacement of MohaBot. FTB Mobile is now available on both Google Play store and App Store.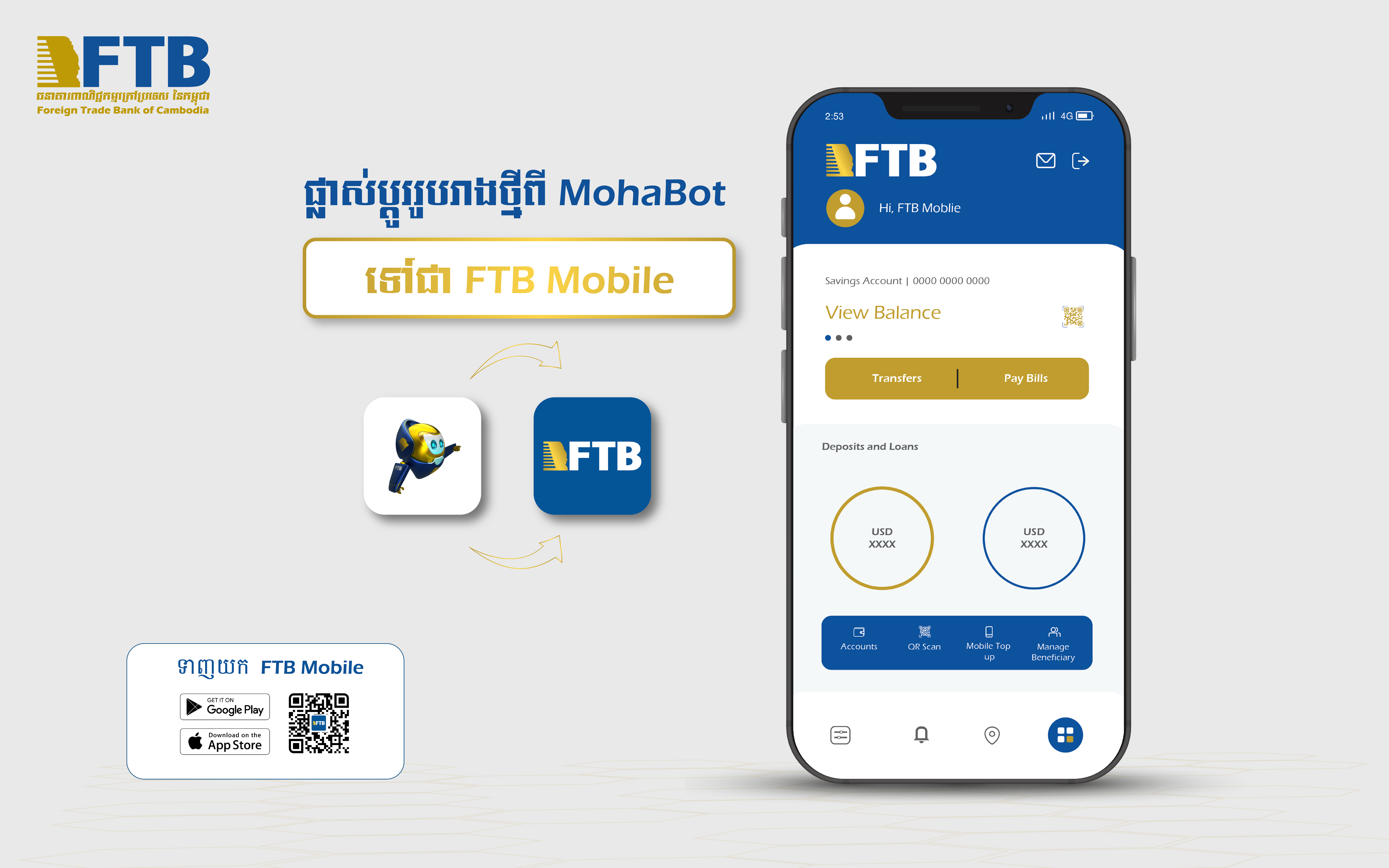 "Innovation has been embedded into FTB's mission, evolving ourselves for the benefit and satisfaction of our customers and for all generations," said Mr. Soi Sathya, Head of Digital Banking of FTB, "FTB Mobile is created based on the three core elements: fast, secure and convenient. With FTB Mobile, we aim to deliver timely and effective solutions to our customers, allowing them to access and perform banking services confidently anytime anywhere in this digital era." 
In 2017, FTB launched MohaBot, one of the first mobile banking apps that introduced in Cambodian market at that time. After 5 years of serving customers with convenient and secured way of performing banking transactions, MohaBot is now replaced by FTB Mobile which is crafted with the latest technology including additional banking functions and a completely new look and feel, but still representing FTB's corporate brand identity. 

"We drive innovation with customer-centric. Behind great innovation, there is a great team of human support. That is why with FTB Mobile, we are committed to serve our customers with care and empathy with 24/7 support team responding to customers' enquiries without them losing a sense of connection." said Mr. Sathya. 
Among many services available on the new app, customers can do balance inquiries, fund transfer to local banks, schedule bill payments, international fund transfer, paying goods/services via QR Scan and even apply for loan on this new app. 
About FTB
As the first commercial bank in Cambodia, a truly local bank trusted since 1979, FTB has played crucial roles in helping to promote and develop the local market and economy through relentlessly providing wide ranges of banking products and services to local customers. Based on strong business foundation and the potential of the local market development, FTB is committed to continually helping local customers to achieve further growth and prosperity, and steadily forging ahead with the vision to be the preferred commercial bank in Cambodia.