After a two-year hiatus, the much-anticipated Raveground is making a comeback together with Heineken®. On 25 June 2022 at OCIC, Raveground will be embodying a cyber-dystopian world theme and the dance floor will be powered by the high-energy beats of international headliner LNY TNZ and special guest DJ Mariana Bo supported by regional and local DJ stars.
In partnership with EDM Cambodia, Raveground is no stranger to Cambodian revelers. This event has become a household name that fans look forward to annually since 2015. Every year, Heineken® and EDM Cambodia continue to raise the bar and elevate the experience for fans. 
The cyber-dystopian world theme invites fans to step into a different world and escape reality as we know it for a few hours of high-energy euphoria. For electronic music lovers who have missed dancing the night away with good friends and making new memories with ice-cold Heineken® in hand, Raveground is an event not to be missed. 
Headlining the expected 4,000-strong event this year is EDM outfit LNY TNZ. Hailing from the Netherlands, LNY TNZ made his name in the Dutch music scene with his underground remixes and original tracks, fusing together a mishmash of sounds that defy genres in collaboration with a string of top international artists. LNY TNZ has toured some of the world's biggest music festivals such as Tomorrowland, EDC Vegas and Defqon, just to name a few.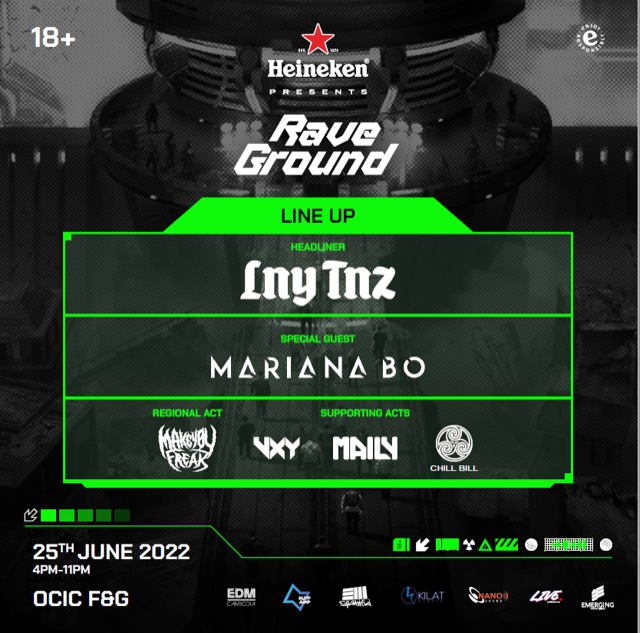 Raveground will also transport Mariana Bo all the way from Mexico to Phnom Penh. A rising star in the industry, her unique sound features violin alongside electronic beats, which brings a fresh blend of electronic and live percussion to the stage. Ranked 40th in DJ Mag's Top 100, Mariana has cemented herself as one of the world's most in-demand DJs. 
LNY TNZ and Mariana Bo will be supported by Thai DJ Duo Make You Freak and Cambodia's star DJs Maily, Chill Bill & DJ Duo VxY to build up the energy for this 7-hour music journey. ​
"Heineken® is all about bringing people together and sparking memorable social moments. We are excited to bring back world-class music events that can do exactly that. We look forward to seeing all the fans dancing the night away together with Heineken®," said Loic Le Laubriere, Marketing Director of HEINEKEN Cambodia.
"Together with Heineken®, we aim to continue growing and evolving the Electronic Dance Music scene in Cambodia. We look forward to elevating these experiences and being at the forefront of music events," said Raveground's organizer & co-founder of EDM Cambodia, Kim Sopheakrakboth. 
To be a part of what promises to be the most memorable event of 2022, get your tickets today on LIVE. by Wonderpass app.
Link to download the apps: https://wonderpass.asia/download
Event & Ticket Information:
Heineken® presents Raveground 2022 takes place on June 25, from 4 pm to 11 pm at OCIC Building (F & G), Chroy Changva. 
General Tickets can now be purchased for $20 and will be available at the door for $30. They can be purchased via the LIVE. By Wonderpass app from the Android or Apple app stores.
This event is for those aged 18 and above who must be fully vaccinated.
For more information on the event and tickets, visit www.edmcambodia.com.
For more information on Heineken®, visit:
Facebook: https://www.facebook.com/heineken
Instagram: https://www.instagram.com/heineken_kh/