Written by Rina Som
When tourists think of Cambodia, Angkor Wat is the primary figure that appears in their mind and then it is the friendliness of Cambodian people. For us the city dwellers in Phnom Penh, we think about Kompong Som province which is a coastal area and also the popular tourism destination during national festival because it has wonderful golden beach. However, in this blog you are reading now, I will walk you through a place that you hardly heard of, or even know it is exist on earth in Cambodia remote northeastern part.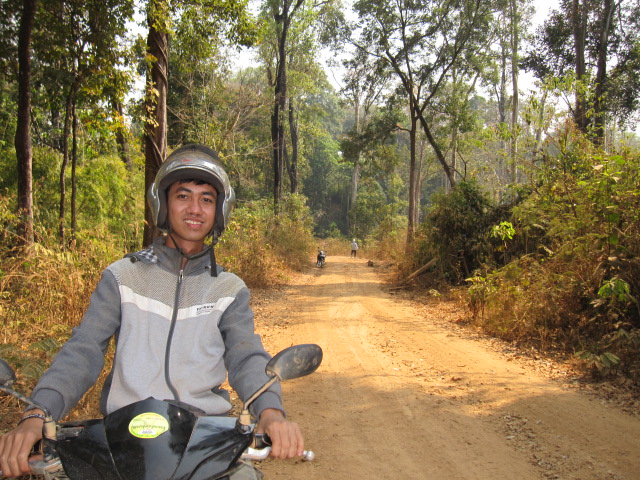 It is Ratanakiri province, also known as the land of dragon because its shape is similar to the tail of dragon ( Asian dragon). Excitedly speaking, I'm very delighted to set off with my two classmates to explore the dragon realm since it is the place that i always dream to visit. Why does it sound so difficult to travel to Ratanakiri? Because it takes around 10 hours to travel and the road is quite bumpy. Thus, not many local tourists from central Cambodia take the journey there. Sadly, they also don't get chance to see how beautiful Ratanakiri is. Ratanakiri is one of the dense forest regions in Cambodia which is currently under devastation due to deforestation and illegal logging. When i arrived the territory of Ratanakiri, it was night time at around 7:00 PM, so I could not see much the view. Along the way to Banlung [the city of Ratanakiri], the road was completely dark except the light from a very few cars and the stars; some people in the bus were resting, while I enjoyed looking at the stars above. Soon, we arrived the city and took Tuk Tuk to Ratanak Sambath, a newly opened hotel which costs 15$ per night which include free swimming pool (it has really nice room and bathroom). The moment we got into the room, we just collapsed for a few minutes before we went to a market which was five or ten minutes walk from the hotel.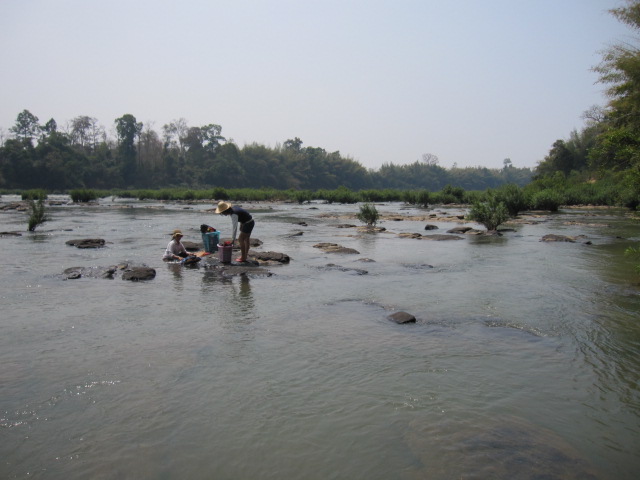 In the second day, we rent a motor bike which cost us 10$ per day (there are many types of motorbike you can choose) and a motor taxi to guide us. Then we traveled around 45 minutes on a red dusty route to Teun village to meet a school director to discuss about planting trees in school. As we were travelling, we saw hundreds of rubber plantation on each side of the road; of course, it belongs to the rich people and as I heard from local people that Vietnamese people were employed to work while most Khmer people just do farming and feeding animals in family. By the time we arrived our destination, we were fully covered by red dust like our clothes become red, our face turn redish, even in our nose. Nevertheless, I felt very wonderful with this because you won't experience it everyday in the city. When the meeting finished, we continued to Lum Phat where we could wash our body in a cold stream surrounded by thick forest. There was no one selling anything near the stream since it is quite far from the main road. The beautiful view of Lum Phat was amazingly beautiful but not as beautiful as Tatai in Koh Kong. The journey continued to visit a waterfall area which was 20 minutes from Lum Phat in the forest. The road was very bumpy that driving car to get in is not really good idea, especially in Rainy Season. On the way to see Ka Tieng waterfall, I felt like I lost direction because everywhere are forest, cassava field…When we arrived the waterfall, I could not believe that Cambodia has such spectacular waterfall inside dense forest. But comparing this Ka Tieng waterfall to Kinchaan
waterfall, I would prefer Kinchann. Kinchann has wooden suspension bridge, indigenous house which is tall, and paradise view of waterfall. We three did swim at Kinchann waterfall, it was really cold. After that, we travelled to our two last destinations: Yak Lom lake (giant crater) and Konseng lake. Imagine how it would feel to bath in a crater? It's freaking amazing! Yak Lom Lake is around 70 meter deep and the water is very still and clean, surrounded by vast land of thick forest. I jumped with a life jacket into the lake, it felt really really great! It's warm on the surface and cold at my toe. The place was really great for shooting film because of its spectacular view. I wish my trip would last a bit longer so I could enjoy swimming there. We soon moved to Konseng Lake where we had dinner and met a new foreign friend who came from Europe to Southeast Asian for vacation. It was a wonderful dinner the lake and enjoyed the sunset. I highly recommend for all of you out there who fond of nature should spend at least once to visit Ratanakiri to experience the beauty of forest, waterfall, giant crater and the life of local indigenous people. This was my wonderful trip ever, and thank to my friend Vathna and Sokhim for such special moment.