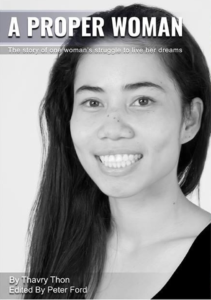 To start with, the publishing industry in Cambodia has not taken off yet. Many Cambodians still do not read a lot of books, but that does not mean that nobody reads at all. The explosion of the popularity of social media saw many Cambodians jump to Facebook and other social media applications to communicate while the instant article feature on Facebook allows Khmer and English articles to be instantly displayed on Facebook. This might have propelled more reading among the Cambodian social media users.  However, very few initiatives have started to encourage more and more Cambodians to read and publish books.
A Proper Woman is a 206 page book which has just released in this early January, gaining a lot of attention from the Cambodian public. The interesting thing about the book is how a true story of this Khmer woman is portrayed in such a fascinating way giving readers such a different taste from other Cambodian books. Personal yet captivating, the book touches on how not just the author but thousands of other Khmer girls were raised and what obstacles they faced growing up. The insights from this Cambodia book can help you understand the struggles of being woman in Cambodia or other countries in similar transition.
To know more about this book, our writer, Sonen Soth, sat down with and interviewed the author, Miss Thon Thavry.
Q. Please tell us a bit about yourself.
Before I started this book, I was and still am the managing director for Toursanak, an educational adventure company. We organize school trips or family trips for people to come and explore Cambodia in different ways than normal costume tours would. We arrange a lot of home-stays, trekking, camping, and educational sessions about Cambodia. To visit Cambodia is not just come and visit Angkor Wat alone. We want them to immerse themselves in Cambodia more than just what holidays would, but to learn something and bring back memorable lessons learnt. And besides doing this business, I also do part time translation and research work. If I see value in the project which I can learn something from, then I will accept the work. And now I'd say writing is another career I'd like to take on because I see how people benefit through my writing. I've also began to get the knack of writing for my readers.
Q. Are you now a full-time writer?
I am not a full-time writer, yet I dare say I am more like a night time writer (she laughed).
Q. Tell us more about a few of your children's books back in 2011.
The first two books were products of my dream. I'd always wanted to be a writer when I was young and then when those two books came out, I knew that my dream came true, but I also knew that the books are not the last books that I would do. It was totally just the beginning. And then I wrote the third one called "Let It Shine Cambodia", and I also wrote about myself, but it was way more concise as I combined 10 short inspirational stories into one book published in 2014 in Taiwan. The book was translated into English, Japanese and Chinese. Now that I am waiting for the contract to end, I will self-publish the book  and promote it by myself just like what I've been doing with "Proper Woman". I adore A Proper Woman because it is my sweat and tear. It has made me more more independent that I could imagine. I could publish this book without having to go to a publisher inside or outside Cambodia. With Let It Shine Cambodia book, I have to respect the contract, and the publisher has two other translators for two different languages. I cannot do anything besides leaving it for them to promote.
Q. What got you interested in writing about yourself and your family? 
What fascinated me the most about writing my own story was the quest to understand how to break social norms and to explain to readers how it feels to live through social pressure in quite a conservative country like Cambodia. I do not disagree we have to learn to adapt some foreign culture, like you know, when we act independent without letting our own culture interfere it. I disagree with some of the Cambodian social norms. Now that I have the courage to say I disagree with these norms, they did not help shape me the way I wanted myself to be. I believe that there are so many Cambodian women out there who feel the same as I do in terms of, for example, exploring the world outside alone, experiencing the challenges, challenging themselves personally and professionally, and trying something very different.
And all of sudden, the rule of the norms says you cannot do this because the norms say so and because the norms pass through from a generation to another, creating a never-ending cycle which I do not want to end up in. It is then difficult for me and for them to be who our parents want us to be but to be ourselves. I have been challenging the social norms and this society that says no women can dive deep or go far even if they were given a chance. The past 10 years, I have seen myself tread on different paths from most of my classmates in high school and university. I have lived my life independently, and I love who I am because I am living the life I always want. With this book, I want to share experiences and lessons learnt. And hopefully people who read – either boys or girls – can find more courage to follow their own dreams and not tread on the same path that someone else sets for them.
Q. Why did you start writing this book in English rather than writing in Khmer?
I wrote it in English first because as an independent writer I need to expose my name to the international community in order to be recognized and get my book to as many hands as possible. That's one thing. Second, I want to prove that Cambodia also has writers even if we had been shocked at the four-year atrocities. Furthermore, I also want to challenge the stereotype that everyone has when they say Cambodians do not like reading or publishing.
The desire to prove just that is burning inside me, and my strong hope is to help publish so many beautiful stories and to inspire others to do the same, so that many lives will be positively impacted. But, then again, I don't know for sure, just maybe or maybe not. (she smiled). That's just my hope. And, thirdly, because I don't receive any funding or support from any NGO or organization to publish the book, I needed to find a way to support myself since I had invested a total amount of 10 months working on this English book. I had to learn to be an independent writer and publisher, from choosing an editor to a printing house plus strategizing publicity and sales myself. People always ask me the same question as to why I write it in English and why not in Khmer. I always have to tell what Buddha always says, "Before you help the others, you have to help yourself first." And this is why I do what I do.
And in a couple of months, maybe in April, I will start the Khmer vision which will reach many Cambodian readers. I will have to work a lot with a few NGOs who work with young girls and women, so that his book will reach them too.
Q. Do you think it would make a difference between Khmer version and English vision? Because our language it might make the story even closer and stronger? And, will it be in other languages?
I think so. I will do the Khmer version myself. I will not translate the book from English to Khmer because I do not want the real flavours and tastes of the book to be lost in translation. It will take a couple of months, and perhaps also needs proofreading.
I will also see if others would contact me. I will think about it. For this year, it will be only Khmer and English.
Q. How many hours per night did you spend writing this book?
I don't know how to count days or hours. But sometimes if I finished dinner from 9pm to 11pm, I would sit down, write and work with my editor. When I finished one chapter, I would send it to my editor. I always waited to see him editing on Google documents (real-time editing) so we expedited our work. I would receive comments and questions from him quickly online, so then I would answer the questions or comments as quickly as possible.
I wrote all the time even when I led the tours. I scribbled down on my notebooks as I enjoyed handwriting more. When I came home, I typed everything in my computer and sent it to my editor. It took about two and a half months to gather the information, and then I started to transcribe all the voices. Afterwards, I began to make it into stories. And I met up with my editor quite often, and came back to do the work again. It took seven months to finish up the story, and three months to work on the design and lay-out of the book, proofreading, book marketing & publicity, and the like.
When the layouts were finished, comments came in. Some friends of mine read the book in more details than me.  I really appreciate this process as a single author of the book. When I sent it to one person, he or she sent back with valuable feedback. And, then I'd need to go back to my original document and check every sentence while comparing it to the feedback I received. And I made some changes and worked with the designers again. The work seems never-ending, so you always have to do your job and grieve at the same time.
Q. What kind of research did you do to write A Proper Woman?
I needed to gather information from my family about where they were actually from and the stories during the Khmer Rouge. I asked them a lot of questions, and they narrated everything that happened. I felt closer to my family than ever. Also, I did some research about a female code of conduct on the Internet, and asked my friends if they have similar stories and what their challenges were.
Q. Can you share a part that you edited out from the book?
This is a difficult question. The last chapter "Be the captain of your own Life" was the chapter I wanted to write a lot longer, for instance, I talked a lot about Daniela Papi, how she inspired me and all of that. I tried to do some sort of conversation. "My girl, you are amazing. You can do it…" It's like a conversation. Then when I talked to my editor, he told me to just cut it out because sometimes even when you read a thick book, you might find a very small piece of inspirational information from the book that does not help. He suggested for me to just make it short and meaningful. Of course, less is more. We still keep the original ideas, but we cut out some of my writing like almost a half A-4 page. The conversation that Daniela and I had was made into a storytelling type.
The same happened with the Thunderstorm Chapter. I was so inspired by that particular event that I wrote 12 lines of conversation. Then my editor advised that I make it into a drawing (I can draw), so we removed the conversation, and I tried to do the drawing instead, but it was so difficult that I had to do it more than 10 times till I could no longer do it. We then decided to get rid of the conversation and did not put back in the picture. From this process, I learn that it is important to let certain things go, and hold on to something else more meaningful.
Q. In the book, are there any parts that the people you wrote about did not know about it or just find out when they read what you have written?
I am not so sure with this. Oh my brother, Rithy Thul. He said that normally he does not like reading so when I gave him the book on the 15th of January, he said within 2 hours he read till chapter 9 (laughing) and so he said, "Chapter 9 is about me. The character was hiding under the bed and you forgot to mention that we had 2 pigs and the 2 pigs died after the storm one month". And I told him that in the next edition I will talk to him about this chapter and add "the 2 pigs died and you were crying but you were not so scared".
Q. Why did you decide to put photos in your book?
Because I wanted to show the readers the three generations of my family: me, my mom and my grandma. I don't want the readers to just imagine the characters, but they can have the real pictures of the characters. Also I ended my book by giving a kind of space because there might be a series of the book.
Q. What is the most difficult thing you went through during the whole process of finishing the book?
Proofreading and working back and forth with the designer. I felt really bad for my designer because I needed to sit down together with him, go to each page together, and explain everything to him to make sure he knew what I wanted to show the readers. If a small thing changes, the whole things needs to be changed as well. I felt so nervous when it came to proofreading because I was afraid of doing everything all over again.
Q. How has the whole process of writing the book changed you?
I learnt to be patient. Earlier I thought that writing the book just required me to sit down and write, and ask my editor to proofread it again and again, and work with designer and send it to the printing house. It did not work that way.
Also, it is not true thatall my ideas that come out from my brain would be all put into the book. I cannot guarantee that all my ideas or perspectives of the story can be there 100 percent so I asked for feedback from other people like my editor to make the story even better. That's one lesson-learnt. Another part is I have learnt that your work is not anyone else's priority so do not expect too much from others that they will have to help you the way you want your work to be done. It was very tough and challenging, but I am very proud to do this project mostly by myself yet I appreciate people who have helped me thus far. I leant to make better drawings after training myself to do it over 10 times. I also learnt a lot about my own family. After research, I only realized that almost 20 people from my mother's side died during the Khmer Rouge.
Q. This book is a big reflection of your family like you open up the curtain of your family background. Do you find it hard to face people when everyone knows you by reading about you?
The book is nothing shameful to be shared. The story tends to inspire the others to believe in their dreams so the story of the wars and most of it are also very relevant to the other families too. The story ends with what happens next after the war. And nothing to be shameful of, really.
Q. Do your parents support you as a writer?
Yes. Not just a writer. But since high school they have supported me with everything I do.
Q. Are there any tips how you balance your time for writing and spending your personal time?
I have dinner with my brothers once a week. And with my parents may be once or every 2 months a month. When they come to Phnom Penh we sometimes take them to try exciting things like eating Japanese food or watching movies which is something they had never tried before. I call them every week. With my boyfriend, we give each other time and see each other at the weekends. And that's balance. And I have plenty of time to do what I want to do or I go on the trips with my brothers.
Q. How are you gonna spend the money you earn from the book?
The money will be covered my production costs (laughing.) If the production is covered, I would pay for my travel to go somewhere new. I also sell my book to buy the other books to read to keep me learning.
Q. What is your last message for other Cambodian writers?
When you do something right you think you really love and want to do, it is natural that the universe will try any way possible to help you. For example, I did not ask or expect any reader to write something good about my book and post it on social media, but they did it anyway. If you love what you do, not for the sake of money, things will fall into place.
Note: The story is edited for clarity (by Kounila Keo). 
Order it from Amazon (kindle version) or buy it from Cambodian bookstores in Phnom Penh, Kampot (Kelper's Kampot Bookss), and Siem Reap (Footprint Cafe)
$12 (paperback) and $6 (kindle version) on Amazon, $11 at bookstores. If you are a student and show your ID, you get a special price ($7).