How is New Year 2017 going for you?
This might be a question we might not realize we ask ourselves pretty often . The New Year and the Chinese New Year have just flown by, and the Khmer New Year in April does not come fast enough. However, we believe that it is important to balance between working hard and playing hard.
Phnom Penh city dwellers might sometimes run out of ideas where to spend their weekends, and Cambodia is not short of public holidays, in fact one too many! The question always asked on any travel site or forum is always "Where should I go if I have just two days or 48 hours for a weekend getaway?
That is why When in Phnom Penh Team would like to recommend the first series of our simple but fun 48-hour itinerary for any local resident, traveller, or tourist who finds him or herself in Cambodia for the first or countless time. We believe that this is to help you enjoy your 48 hour weekend getaway without breaking your pocket. If this itinerary is something you have done and want to suggest a new Cambodian itinerary, please feel free to contact us on our Contact Page. We will be very happy to receive your feedback and your wonderful itinerary, and even publish your itinerary for the benefits of the travelling community.
Travel to Kampot Town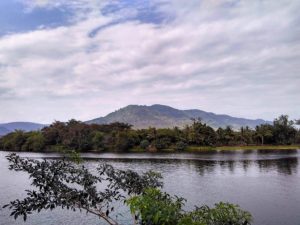 Many local residents including expats are fond of Kampot province. It is a very lovely town and province of Cambodia where there is abundance of sunlight, colonial buildings, and seafood. Yes, you heard it right. Seafood there is fresh and affordable. Crabs, shrimps, squids and you name it are available at different restaurants. A plate of fried squids with green peppercorns is between 5 USD and 10 USD. Perhaps you've also heard it before: Cambodia has the best green, black, or white peppercorns.
Remember Kampot province is just 3 hours away from Phnom Penh, and it is really easy to travel there by booking your bus ticket via BookMeBus which allows you to choose any departure time and a pick-up point at your own convenience. If you leave Phnom Penh at 8am, your expected arrival time is 11am. Prices of a bus ticket range from 7 USD to 10 USD. Giant Ibis and a few other bus companies that are not listed on BookMeBus also offer quick trips to Kampot provinces. Kampot bus stations are located in Kampot town.
Eat and drink at Natural Coffee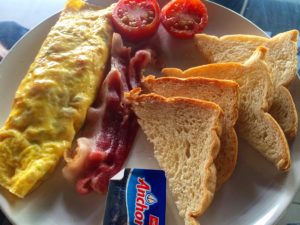 Cambodia might not be so well-known for the best coffee in the world, but who says we do not have good coffee? Natural Coffee makes coffee using Feel Good coffee which is of great quality and is chemical free. A cup of hot cappuccino is 2 USD or less. The cafe and restaurant also offers a pretty good set of menu. You can order Lok Lak (fried beef marinated in tamarind sauce) or any seafood dish. Prices are between 3.50 USD and 5 USD.
Address: Street Old Market, Kampot Town, Phone: +855 99 990 898 
Rent a motorbike at Bison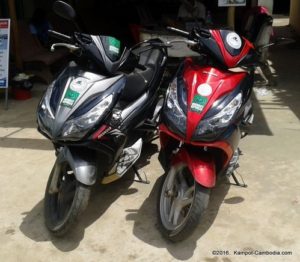 After your coffee and perhaps your lunch, think of how to move around Kampot with ease. If you know how to ride a motorbike, rent one in Kampot. Some motorbike rental places do not allow local travellers (with a Cambodian passport) to rent their motorbike for some security concern, so they prefer a traveller with a foreign passport to rent it from them. Some offer it at 4 USD within 24 hours. However, Bison Tours, known as a reliable company, rents out their automatic motorbikes to a local (with a Cambodian passport) and a foreign traveller for 5 USD each within 24 hours.
If you are not into riding a motorbike, there are really affordable Tuk Tuks around. They tend to charge less than other Tuk Tuks do in Phnom Penh.
Address: Street Old Market, Kampot Town, Phone: +855 12 442 687
Stay at Bokor Hill Station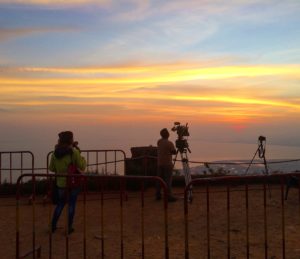 If you have not heard of Bokor Hill station, formerly a notorious casino haven in Cambodia, it is definitely time for you to go and explore the place. Spend about one hour and a half riding up Bokor hill, about 1040 metres high, and enjoy chilly weather up there. Thansur Bokor hotel is a bit pricey (up from 60 USD per night), but there are single and double rooms in other more affordable guest houses for 20 USD per night on Bokor hill. Do not forget to bring a sweater because the temperature will drop between 15 and 12 degrees celsius towards the evening and at the dawn, especially from December to February.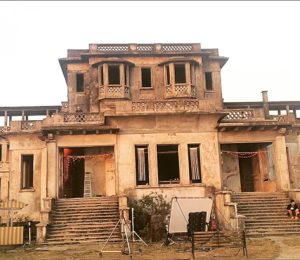 What should you do up there? Climb up to the old casino building. This several-floor former casino building used to be so famous that many interesting stories came out of it. As mentioned earlier, Bokor used to be a notorious casino place where wealthy Cambodians back in the 60s gambled away their money and wealth. Some lost so much in one night that they jumped from the cliff behind the building. Till today, there is nothing there to hold anybody back from falling or jumping to death. Currently, the building is under renovation. Some tourists might be lucky to climb up and see great views of the sea of forests behind the building, but words have it that the company that owns the building might restrict entry in the near future.
Behind the building, watch one of the best sun sets you've ever seen and if you can wake up early the next day, sun rises. Do not forget to bring your selfie stick because you might be too excited to take selfies or photos with your own hands.
If you've done all that, you can now go check out the casino inside Thansur Bokor Hotel and the hotel itself. The Thansur Hotel casino does not require you to pay at the entrance or ask for your ID to get in. Thansur has more than 600 rooms, and at every special occasion such as the Chinese New Year and Khmer New Year, the whole hotel is filled up with local travellers who go there to experience really cool weather at Bokor.
Or stay at Bokor Lodge
If you decide that you do not want to spend the night at Bokor Hill Station, you can climb back down, but be sure to do so before it gets dark as the locals repeatedly advise motorbike riders  and even car drivers against doing so after the night fall.
Bokor Lodge has a really cool atmosphere, and its location is really easy to find. Be sure to book a room there before you arrive, but they also accept a walk-in check in.
Relax at Green House Resort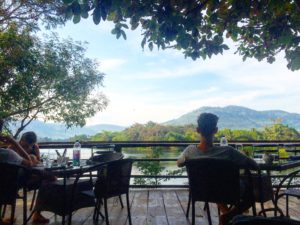 Bid goodbye to Bokor Hill Station in the morning, and ride down to Green House resort. This might take another one hour and a half. Google Maps will bring you to Green House resort if you own a local sim-card and Internet data. There are also some road signs that will guide you to the resort. Please note that you need to book online a room at Green House Resort, but you do not need to input your Master card or credit card detail. That is to say, you won't need to pay in advance but you are required to book a place online so that the owner knows for sure you are certainly coming to stay at their resort. Green House Resort does not accept phone bookings.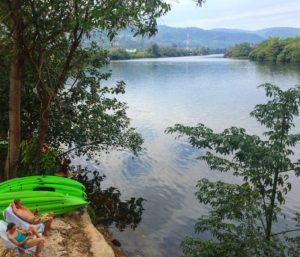 Hidden away from the hustle and bustle, the resort offers a beautiful and super clean bungalow with cold and warm water, a flush-down toilet, for 25 USD a night. Although there are almost no mosquitos at the resort, please still bring a mosquito repellent.
Even if you do not stay at Green House Resort, you can still go and enjoy their menu set and delish food at their cafe and restaurant (between 4 USD and 8 USD). Some preferred activities at Green House Resort include sleeping on the hammocks, canoeing, swimming in Prek Kampot (the waterway), gazing at the sunset, or just grabbing the motorbike to go to Teuk Chhou waterfall about 15 minutes' ride from Green House Resort.
All the best with your 48-hour weekend getaway! 
BookMeBus is one of our affiliates. Each bus ticket purchased through links on When In Phnom Penh to BookMeBus generates affiliate sales for us.