Maya Gilliss-Chapman, a Cambodian-born American, came to our attention when she recently hosted a hackathon and challenge "Silicon Valley to Phnom Penh" in which more than 10 groups of young Cambodians in Phnom Penh participated by coming up with the best innovative idea. Back in Silicon Valley, the organization she founded a few years ago, Cambodians in Tech, aims at connecting Silicon Valley in San Francisco with Phnom Penh tech communities. Before forming the initiative, she tried to find Cambodians working in Silicon Valley, yet got a little disheartened to find very few Cambodians working there. "Spotting a Cambodian in Silicon Valley is like spotting a unicorn," she told @WheninPhnomPenh. This led her to initiating a connection of these two tech worlds.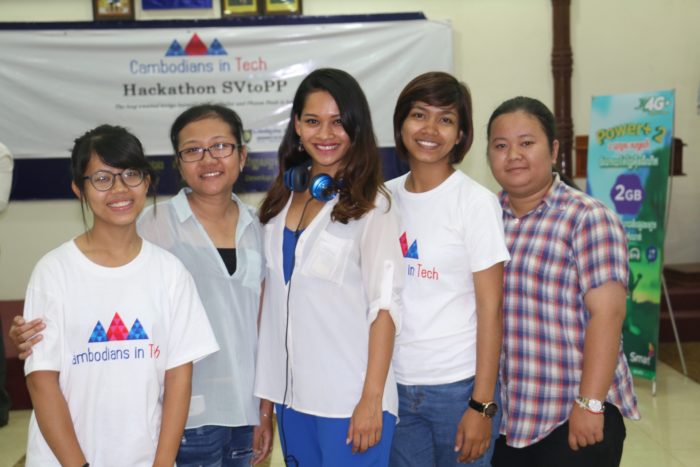 WIPP: We're curious about your personal story. Please tell us a bit about your background. 
Maya: Sure! I was born in the Kandal Province of Cambodia and was orphaned at a young age. I was fortunate enough to have been adopted and brought to the United States where I was able to obtain my B.A. from the University of California, Berkeley and work in Silicon Valley. I'm currently the Founder and CEO of Cambodians in Tech. Throughout the years, I tried to find a the best way I could give back using my unique talents and connections. At the same time, I wanted to find a way to connect with the culture and community that I was removed from. In 2009, I taught English in Pursat province. In 2012, I was a Junior Resident Fellow at the Center of Khmer Studies in Siem Reap. However, I eventually realized that I could make the most impact at the intersection of technology and Cambodia.
Ending up in Silicon Valley was an incredible opportunity for me because it's one of the most innovative and affluent communities in the world. However, spotting another Cambodian in tech is like spotting a unicorn. I've worked at large tech companies and smaller startups and I've never worked with another Cambodian in tech. So, in 2014, I founded Cambodians in Tech with the goal of increasing the number of Cambodians in the tech industry while creating a network for existing Cambodian technology professionals.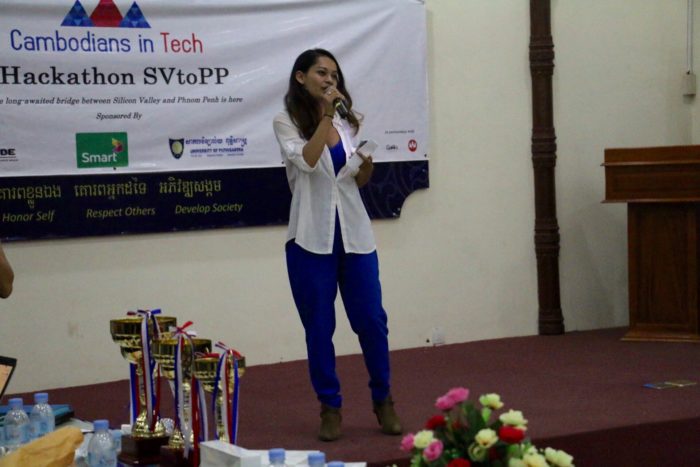 Q. What inspires you to connect Silicon Valley with Cambodia?
Maya: Diversity and inclusion in the tech industry is very topical right now. However, the leaders of this movement don't put their efforts towards helping communities they don't understand. While it's amazing that the black, latino, LGBT and female entrepreneurs are getting much-needed support, it's frustrating that refugee communities aren't even part of the discussion. I figured a great way to start this discussion is by connecting leaders in Silicon Valley to Cambodia, in order to drive awareness of our history, struggles, and the incredible progress we've made.
The entrepreneurial spirit is alive and well in Cambodia and the youth are incredibly innovative and already building amazing apps to solve real-world problems. However, Cambodia continues to be overlooked. I had a small window of opportunity to shine the light on the mobilizing tech scene in Cambodia, so I took it. Innovation will continue to happen in Cambodia, but in order to get to the next level, tech entrepreneurs in Cambodia will need access to the knowledge, resources, and connections that only come from experienced tech entrepreneurs. There are already so many efforts to bring investors and funding to Cambodia's tech scene, so instead of doubling those efforts, I aimed to solve a different problem. I believe the knowledge from Silicon Valley's entrepreneurs is just as, if not more, valuable than money.
Q. You organized an event recently in Cambodia, so how was the outcome of the event? And, what are the next steps?
Maya: Recently, Cambodians in Tech hosted Hackathon SVtoPP, the first hackathon to connect Silicon Valley to Phnom Penh. The results were as follows:
Best Project: GuideInsider
Outstanding Team: Flexible Khmer Keyboard
Promising Team: Nhor Nhim (Smile) 
GuideInsider, an app that connects tourists with tour guides, is currently pitching investors and I'm with them every step of the way. We have mentors from Silicon Valley on standby to help them, and some are even eager to fly to Cambodia for in-person office hours. We are dedicated to helping GuideInsider become successful, but the goal of Cambodians in Tech isn't to just host hackathons. We want to implement initiatives that are sustainable.
All participating teams are welcome to connect with mentors from Cambodians in Tech if they are serious about their projects. We will host another hackathon in 2017, and we hope that the participants of Hackathon SVtoPP 2016 (who were all invited to join CiT) will attend as mentors. In order to call Hackathon SVtoPP a success means seeing this year's participants pass on the knowledge we shared with the next hackathon class.
Q. We talked quite a bit now about your businesses, but we want to know you personally. Since you've been coming to Cambodia, you might have been culturally sensitized about this country. What's your most favorite movie about Cambodia? And, why?
Maya: I really enjoyed A River Changes Course by Kalyanee Mam. First off, I greatly admire her. She is an extremely accomplished, intelligent, and kind woman who I had the pleasure of meeting when I was a student at UC Berkeley. Further, this film brings awareness to some of the effects of Cambodia's rapid development by showcasing the different worlds and lifestyles that are being led within one country.
Q. What's your most favorite place you've visited in Cambodia? Why?
Maya: I loved Pursat and going for walks along the Pursat River. Once, I was going to Wat Preh Sdey with some friends and I saw a Zumba class for the first time. I had no idea that the town heads to the river at 5pm to exercise, so I was really surprised! Eventually, I caught on and got some exercise in too.
Q. What's your most favorite moment when you were in Cambodia? Tell us more.
Maya: My time as a CKS Fellow in 2012 holds most of my favorite moments in Cambodia. There are too many to say, but that whole summer was full of inside jokes and epic fails that have made the CKS Fellows lifelong friends.
Q. What's your suggestion or advice to young Cambodians who want to achieve their dream?
Maya: Be passionate – if you're not driven by passion, you will never achieve true success. Be kind – strong relationships will get you far. Be thankful – you are the product of other people's kindness. Be on time – if you're early, you're on time. If you're on time, you're late. If you're late, you're out. Be scrappy – any dream worth pursuing won't have an easy journey. You'll have to be clever and resourceful. As I always say: The only person you can count on is yourself. Make your own luck.
GuideInsider Sokna Ly said:
An event like Hackathon is one of my favorite events. What a golden opportunity to meet talented people, use my real ability to challenge with a lot of talented people! This encourages us to do better, redesign the app, and rewrite all codes because we were in rush back then to finish everything in time. So the plan now is to start everything from scratch and also plan our app release before the Khmer New Year 2017. Once ready, we'll bring it to a big competition like "ITC Award" and others.
Additional reporting by Chhaly Samsokrith