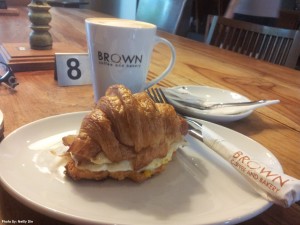 For the last couple years, coffee has become my new liking. I don't have that much knowledge about coffee, but I do have my personal preferences. So, I often, in my spare time, go around Phnom Penh to try different types of coffee in various coffee shops in town.
Thus far, BROWN(s) has been my favorite coffee shop. It has many branches in the city, but I go to the one on street 51 most often because it is closer to me in terms of distance. The overall decoration is nice. Even though it seems that the owners try to play with different designs for each branch, I find they are all not that far different from one another. What I enjoy the most about this specific branch is the service. I am not sure if it is because I am a regular so staffs have come to recognize me, but I am impressed. They are not perfect, but I can see that they try, and are well-trained. The staffs are very friendly. The service is acceptably speedy if one of the staffs doesn't happen to forget your order. It happened to me quite a few times that my order was forgotten, and I have to say I was not too happy about that.
Coffees are okay there for me. I haven't tried every type of coffee on their menus, but some of them. Their Americano and Espresso are nice and super strong as they are supposed to be. Hot Latte and Cappuccino are my frequent orders. I enjoy them every time I taste them in my mouth.
As for Brown's dishes, they are alright. Some are delicious. My favorite is Crispy Chicken Parmesan. However, for the last couple months, I haven't really eaten there anymore because they haven't really updated the menu. I think they will need to eventually because the current menu is not that big, and people will soon get tired of what they have had there.
BROWN makes good bakery and desserts. The croissants and chocolate muffin are yummy. The three-chocolate cake is to die for, but the recent-created macaroons are too sweet for me.
The atmosphere is one of the most important parts that attract me though I tend to avoid when it's crowded. The crowded periods are usually during lunch time on the week day and from roughly 9AM to 4:30PM on the weekend. Avoid those particular times, and I will likely get the quiet, chilling BROWN all by myself.