One of the interesting things about hanging out with someone you don't know very well about is that he/she knows what  you don't, such as a great place to eat and drink and to play! A couple of friends along with some acquaintances and I picked up a place that we all agreed as a 'place for us all'.
Liquid Restaurant and Bar
We all voted for Liquid Restaurant and Bar on street 278. I was the only one who was new to the place while the rest had been there once or twice already. My first impression was that the bar felt so welcoming. I bet we all have seen most bars  decorated in dim red light, and chairs as well as tables are omnipresent in very limited space. Liquid Bar consists of fewer tables leaving enough space for breathing. There is a long red sofa at the left side of the bar while the opposite stands a half-circle-like backlit bar. I personally prefer sitting at the end of the sofa, for there is a table set nearby, and I could cheer my friends while they were losing the game. 😛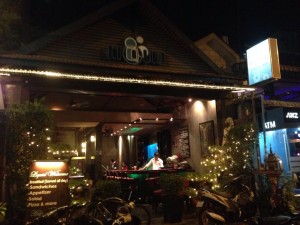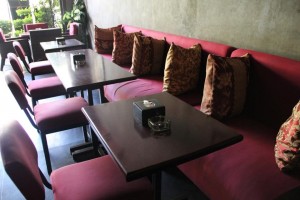 Pool
Mentioning about the poll, how could I miss it? Of course not. A black board written with names of customers who wish to play the pool was hung on the grey wall. The rule is that the next person whose name written on the board will have to compete with the previous winner. That means the dummy like me would have to beat a pro in a chanceless way. It was very embarrassing, but very enjoyable. I was the centre of the attention of comedy that night. We surely had a belly laugh like when the end of the my stick touched the white ball while I was aiming at the right direction. They all laughed and gave me a second chance. Another embarrassing moment was when my friends advised me to hit the black solid ball at the far end of the table, and I exclaimed, "That's too far!" I felt great although I lost the game. At the bar, people are very friendly and kind, both the staffs and the customers. They didn't make me feel stupid after all the stupidities I displayed. 😀 I guess I found a clique!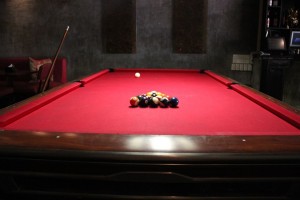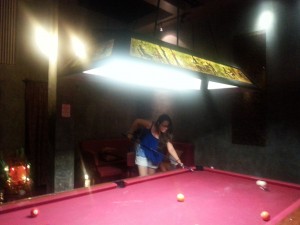 Food & Drink
The foods at Liquid can also be found on the menu at other places. But,  the thing is that the taste is really nice, a kind of taste that both locals and expats can enjoy. The normal size of each dish can be shared with two people. If I want to have big dinner, I will just go there and can save some bucks on a unnecessary side dish. The price is very affordable. I can have a giant hamburger for $4, and the amount does justify the price.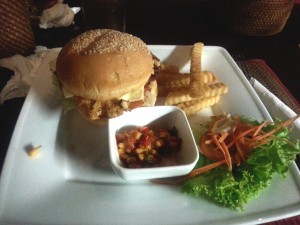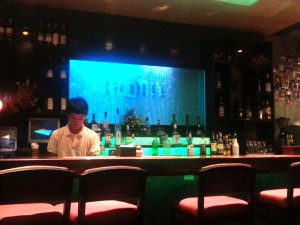 They also have an extensive list of cocktails. Though I could not get an Expresso Martini, Mojito and Singapore Sling were amazing. The drink was a little light, but the good thing is that you can enjoy with your peeps without being drunk so quickly, isn't it?
One drawback I can find with it, though, is the rest room. I don't know whether other people care about this or not. Maybe they don't use it as much as I do, but to me I do think its an important place. The rest room at that time had an unpleasant smell. The two rooms were used by both male and female without limiting one for just one gender. They of course should have had separated one from the other. Besides this, I love the place for its friendliness and memories it left me with. Liquid Restaurant and Bar could be a place for everyone to enjoy for fun and relaxation. Of course, they need to improve by investing a bit more in the toilets.