Psst.
There is now a bus that can take you from Phnom Penh to Bokor Mountain.
This past weekend, we had the chance to test out a new bus service, Bokor Transport, which goes from Phnom Penh to Kampot to Bokor Mountain. Thanks to a tip from BookMeBus, we were made aware of the new service and used them to book Bokor Transport tickets online.
Bokor Mountain is a hot destination for tourists who are looking for adventure with a sprinkle of eeriness. Most people book a bus from Phnom Penh to Kampot and then book a separate bus to go up the mountain, so this new bus is a game changer.
Of course, the convenience of this bus means a steep price tag ($10 one-way) so we wanted to break down our experience so you can decide whether or not it's worth shelling out the extra cash.
Bokor Transit is run by the ever-glamorous Sokha hotel. According to the Sokha hotel's website, the bus leaves from the hotel at 7:00am sharp and then arrives at the night market at 7:15am.
Since we weren't guests at the Sokha, we caught the bus at the night market across from the riverside. We received an email telling us to arrive at 7:15am, so we did. The bus wasn't there at 7:15 so we waited awkwardly for about 15 minutes (fending off numerous tuk tuk drivers) until the bus swiftly picked us up in front of the night market entrance. When we say swiftly, we mean that it literally drove by us, stopped for a few seconds to open the door so we could get in, and then proceeded to go on its merry way.
Efficient.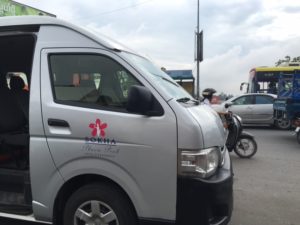 With so many busses around, it was hard to know exactly where to wait for the Bokor Transport bus, so we took this photo to show you exactly where we were scooped up: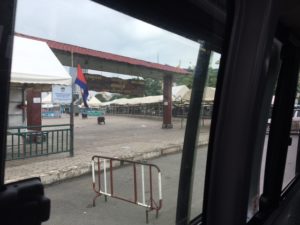 The bus is small, but high quality. It seats nine people and is extremely comfortable. Since we were testing the new bus, there was no one else on it, so we could sprawl across the seats and take a much-needed nap (a 7:00am bus is a struggle.)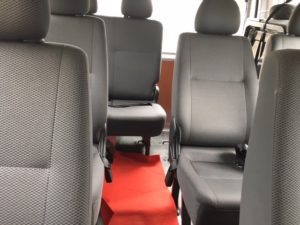 Bokor Transport comes with all the bells and whistles. Most importantly, it comes with free WiFi (is it really free if you paid $10 for the ticket!?) and secondly, it comes with snacks. Okay, well perhaps snacks are more important than WiFi…
I digress.
Check out this breakfast box they provided for us. It comes with a mediocre croissant and an apple that is trying really hard to belong, but just doesn't quite fit in. Definitely not a five-star meal but good enough for a hungry traveler!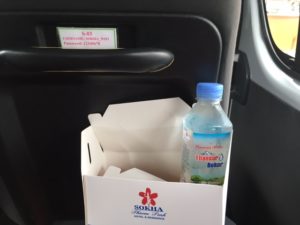 The bus comes with a drop down T.V. which plays Adele, Adele, and more Adele. We were greeted by Adele's emotional music video for "Hello" and then taken on an moody journey with "Rolling in the Deep." By the time we finally made it out of Phnom Penh she was crooning longingly to "Someone Like You." Once the play list ended, it started again –– from the very beginning. If you aren't an Adele fan (how dare you) you might want to bring your own music and headphones.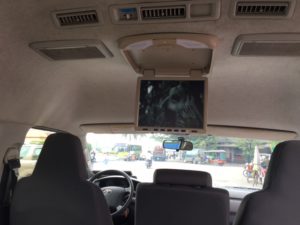 The driver was really nice. I had the sniffles and was immediately handed a box of tissues. It was no ordinary box, of course, but a wooden box with the Sokha logo delicately placed upon it. As I lay down, a pillow was thrust under my head before it hit the seat.
The ride was smooth with one brief stop at a gas station (bathroom break) and the next stop was in Kampot at a gas station across from the Durian roundabout. We decided to get off there and go for a swim.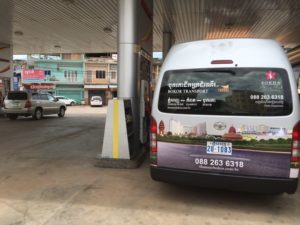 Our driver said the stop would be short and then he would take us up the mountain, but alas, the river was calling. Perhaps next time.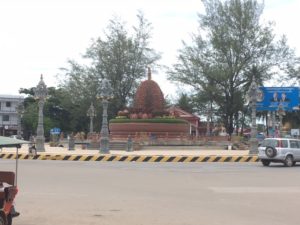 Bokor Transport was awesome, but we decided to take a $5 bus back to Phnom Penh. However, if you're looking for an extremely comfortable ride to Bokor Mountain, or even Kampot, take a ride on the lavish side and book Bokor Transport here.
Recap:
Bokor Transit can now take you from Phnom Penh to Bokor Mountain
Quick stop in Kampot for those who have a change of heart
It's $10 per person, one-way
Free WiFi and snacks
Note: One of our When in Phnom Penh contributors made a trip using the bus last weekend