Recognizing that the path to net zero can only stand a chance when private and public sector institutions work together, the annual Green Business Forum by the Green Business Committee of EuroCham Cambodia brought together industry leaders, businesses, initiators, and policymakers on 9 June to discuss how to accelerate the Kingdom's progress towards meeting its green economy goals.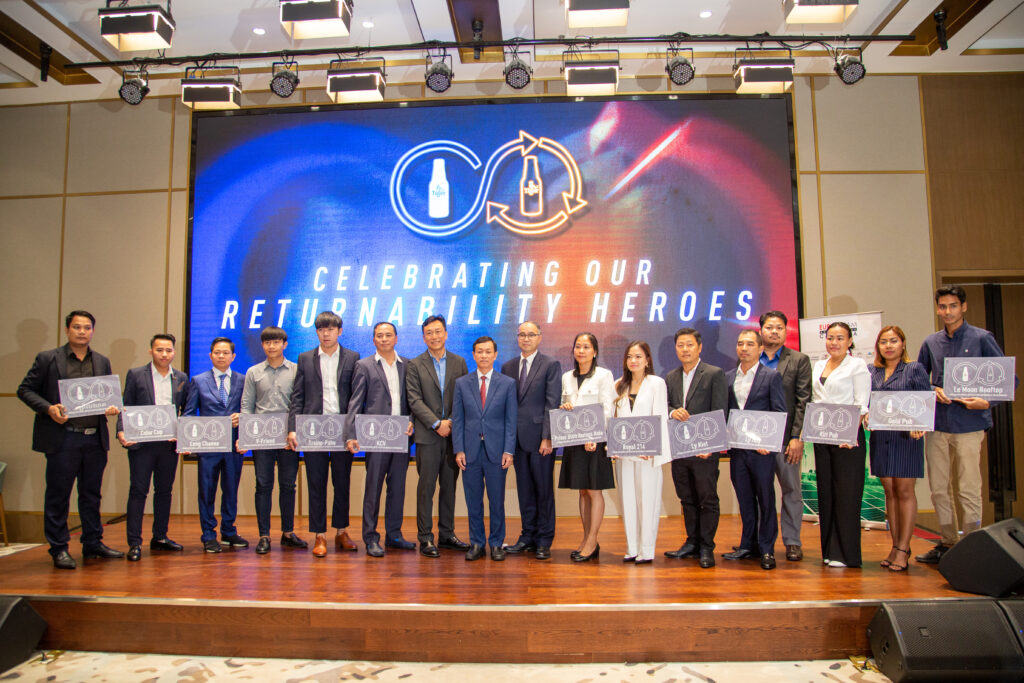 The forum also marked the roll-out of a new glass bottle return program in Cambodia, piloted by local F&B and hospitality businesses in Phnom Penh since February 2023. With the presence and support of the Royal Government of Cambodia's high representatives, and in partnership with HEINEKEN Cambodia, the forum wrapped up with a celebration to recognize 14 Cambodian businesses and entrepreneurs for their role in championing the bottle return program.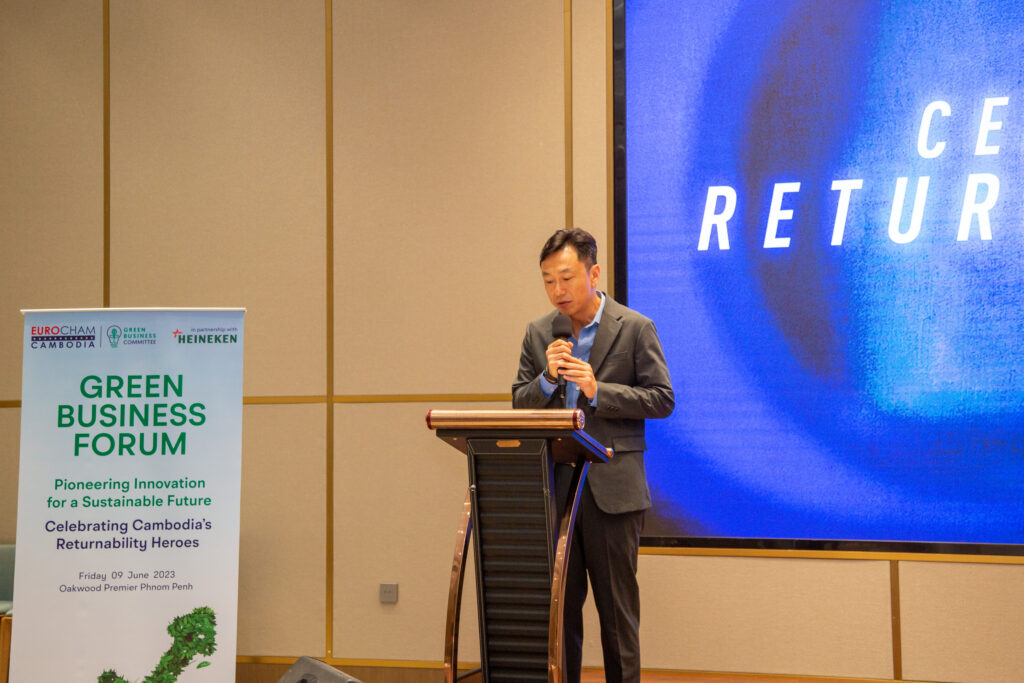 His Excellency Tin Ponlok, Secretary of State, Ministry of Environment, who officiated the opening ceremony of the Green Business Forum, said: "We are celebrating today the pioneers of a program that has the potential to make returnability and circularity bigger in Cambodia. Our natural resources are not infinite. If we want to continue to grow and make Cambodia an attractive place to live, we need to transition towards business models which are more resource efficient. The circular economy is a big part of the solution. It is encouraging to see businesses taking the lead in this endeavor, and I hope this will inspire others to follow, so that circularity and returnability can become mainstream practices in the years to come."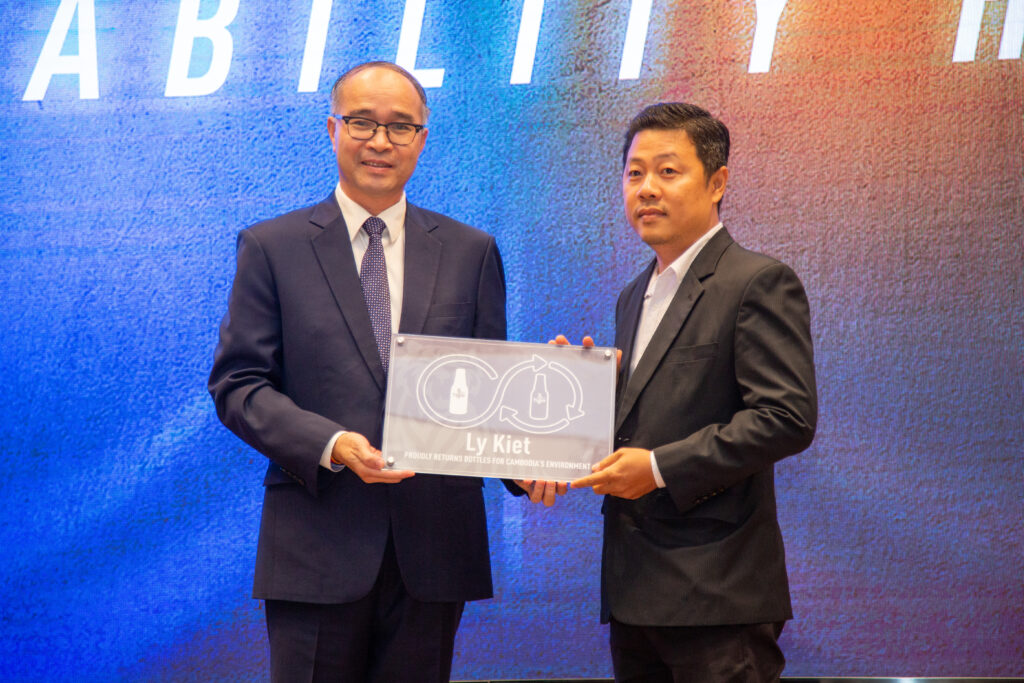 Presiding over the official celebration of Cambodian heroes, His Excellency Chuop Paris, Undersecretary of State, and His Excellency Ken Sereirotha, Director General of Knowledge and Environmental Information from the Ministry of Environment, together with HEINEKEN Cambodia Managing Director, Mr. Samson Wong, presented awards to: V-Friend, Prel Leap, Traino-Pabu, Royal 214, Gold Pub, KC Restaurant & Sky Bar, Kiri Pub, Color Cup, Le Moon Rooftop, Prime Distributors Asia, Leng Channa, Ly Huy, Ly Kiet, and KCV.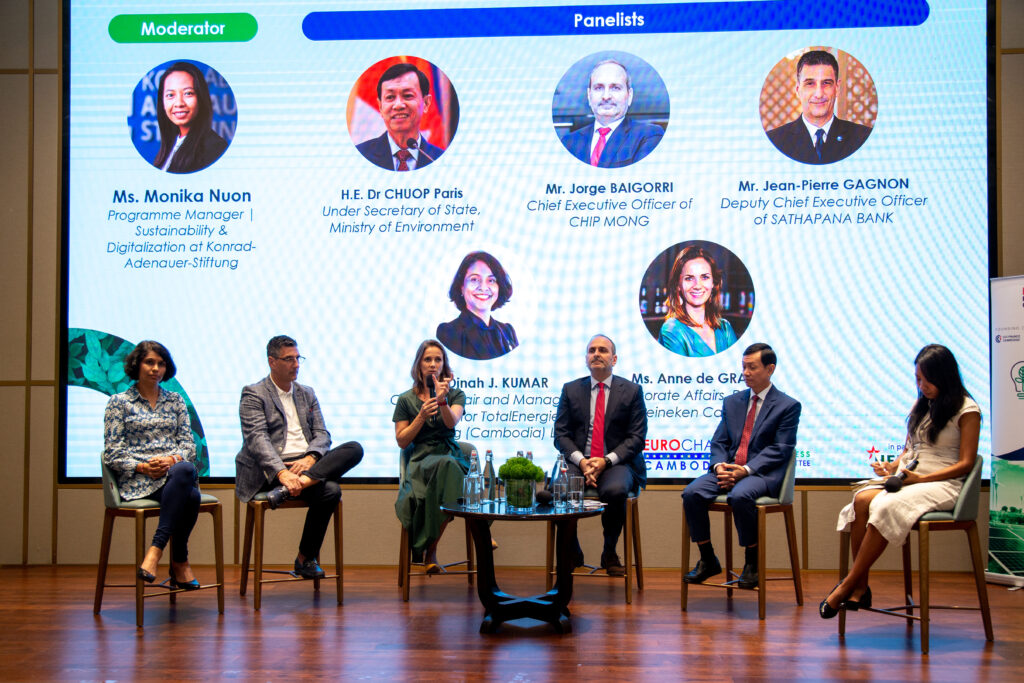 Mr. Tassilo Brinzer, Chairman of EuroCham Cambodia, remarked, "The annual forum underscores the urgent need to embrace a future where sustainable practices become the norm. It's a vision that requires stronger collective action. Getting it right will open a whole new world of green investments to deliver sustainable economic value for the Kingdom."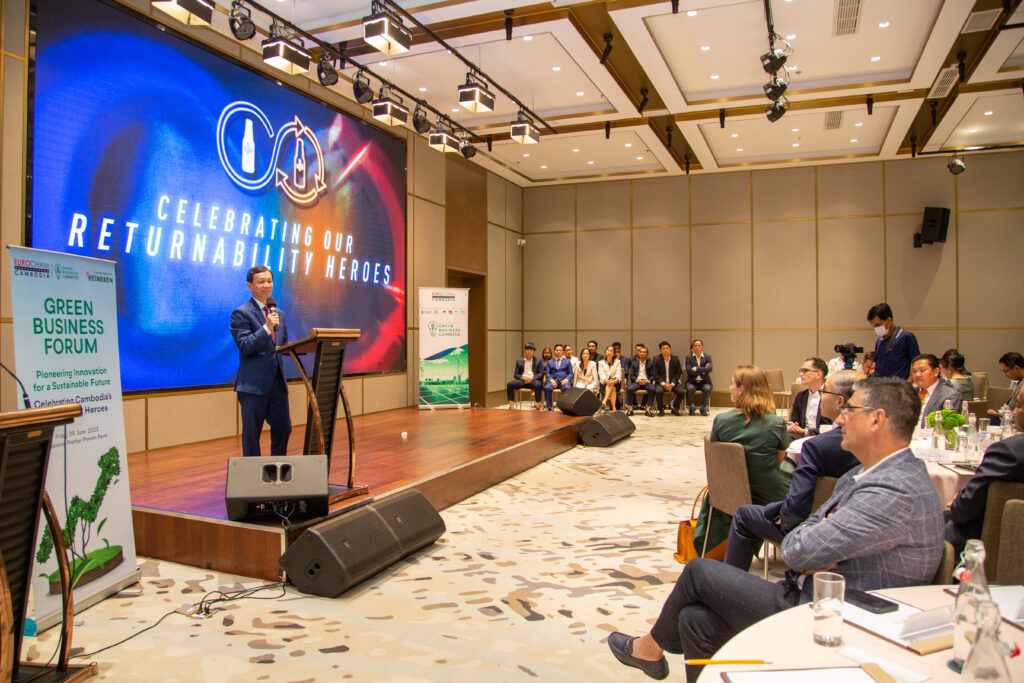 Initiated by HEINEKEN Cambodia, the glass bottle return program strongly supports the brewer's "Brew A Better Cambodia" ambition, which sets clear and ambitious targets for boosting circularity and decarbonizing not only its production by 2030, but also its entire value chain by 2040. With packaging an important contributor to the brewer's full value chain's footprint, accelerating returnable packaging is therefore key to realizing these longer-term commitments. Working with the F&B and hospitality industry is also an intentional step, as it holds most of the brewer's glass bottle volume in the market.
"Returning glass bottles is only the first chapter of our returnability journey. We won't stop there," shares Samson Wong, Managing Director of HEINEKEN Cambodia. "We also recognize that the path to circularity will be a long one, perhaps challenging at times, and we can't do it alone. We've long invested in building a system that could support a larger scale bottle-return program one day. All our bottles are already returnable. Now we need more to join the returnability movement and make it bigger. We welcome all, including other beverage players, to work together towards a circular value chain."
Shereen Teh, Head of On Trade at HEINEKEN Cambodia added, "As the returnability movement starts to gain momentum, consumers will soon see more of their favorite bars and restaurants returning glass bottles in the industry's efforts to cut waste. Bringing people together while also making the world a little better, it's what drives our purpose at HEINEKEN Cambodia and what we hope will inspire many more in the industry."
About HEINEKEN Cambodia
HEINEKEN Cambodia is one of the leading brewers in the Kingdom, established in the country in 1994. Driven by its purpose to brew the joy of true togetherness to inspire a better world, the company creates great experiences for consumers and customers with a portfolio of high-quality local and international brands, including Heineken®, Tiger, ABC, Anchor and Gold Crown. With its national footprint and state-of-the-art brewery in Phnom Penh, the company employs 700 people and supports 120,000 indirect jobs across its value chain. Committed to the sustainable development of Cambodia, HEINEKEN Cambodia aims to ''Brew a Better Cambodia'' with a focus on the environment, social sustainability and responsible consumption on a path to a net zero, fairer and healthier world. HEINEKEN Cambodia is part of the HEINEKEN Company, the world's most international brewer.
About EuroCham Cambodia
The European Chamber of Commerce in Cambodia (EuroCham Cambodia) was created in 2011 by French, German and British business associations in Cambodia to act as the official chamber of the European business community in the Kingdom. Since then, it has grown to over 300 members and 5 national chapters, comprising 11 European countries. EuroCham Cambodia's core activities are to promote, support and represent its members and European business interests in dialogue with the Royal Government of Cambodia, with the aim of developing a more efficient and fertile business and investment environment for all.
EuroCham's key objectives are to:
Consult & advocate on key issues related to doing business in Cambodia;
Promote investment in Cambodia;
Work to improve access for European business to the Cambodian market, and vice-versa; and facilitate business between small and medium size companies of Cambodia and EU Member States;
Provide services relating to economic, legal, technical, financial, market and other business issues in the EU and Cambodia and industry-specific information to investors;
Promote a strong European Union business identity vis-à-vis the Cambodian business community;
Work closely with Cambodian stakeholders in supporting inclusive and sustainable growth of the Cambodian economy.