Phnom Penh, June 14, 2021 – After concluding another legendary season of the UEFA Champions League last month, Heineken® continues to bring its fans another world class football experience with the UEFA EURO 2020. As the official global sponsor of UEFA EURO 2020, Heineken® invites Cambodia's football fans to celebrate the rivalry of this highly anticipated international football tournament.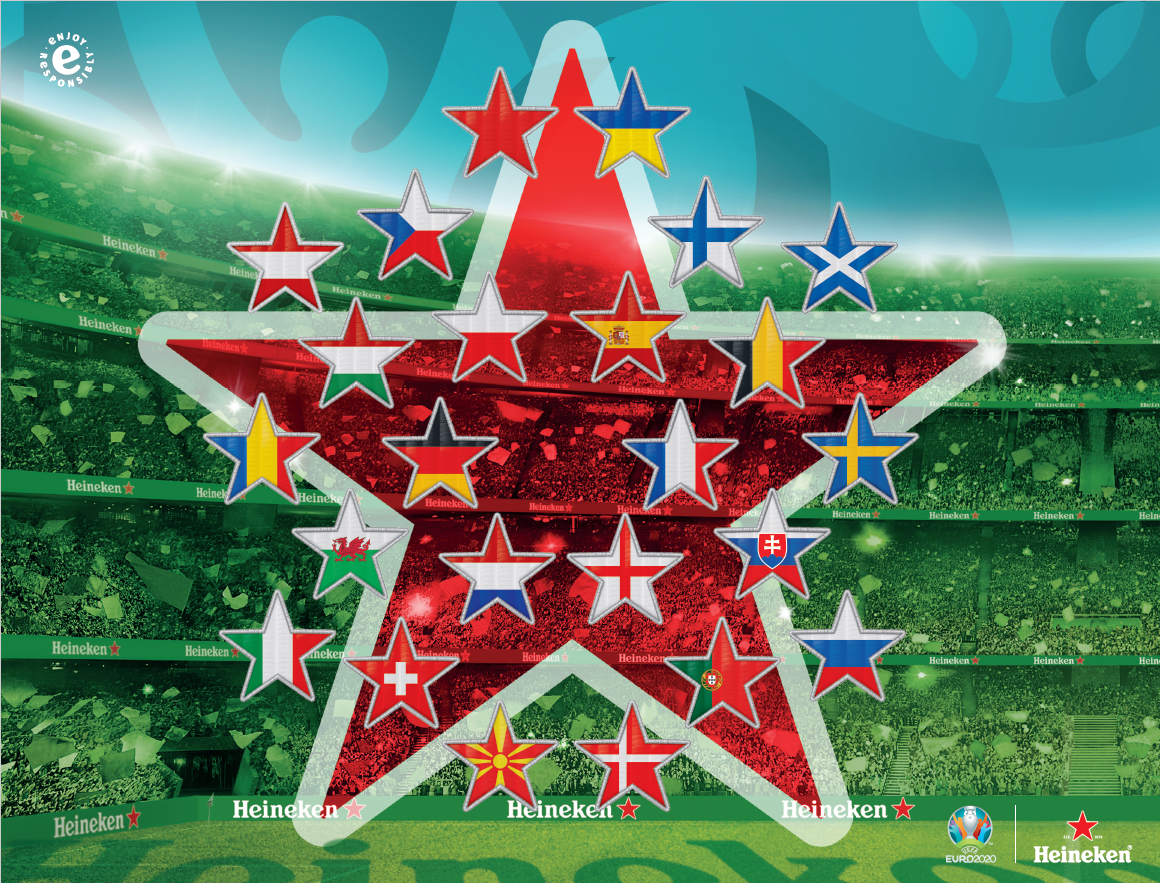 To kick off EURO 2020, Heineken® introduced their "Enjoy the Rivalry" global campaign, which features a TVC that captures the passionate fans who support their teams responsibly and the intense competition between the European teams in a lighthearted way.
UEFA EURO 2020 will be hosted by 11 countries for the first time in celebration of the tournament's 60th anniversary with the Final happening in Wembley Stadium, London. Matches kick-off from 12 June at 2am (Cambodian time) until the finale on 12th July at 2am as we follow the 24 nations battling it out to become champions of EURO 2020. 
 "Our consumers are at the heart of everything that we do. We know that Cambodians are very passionate about football and Heineken® recognizes that. Hence, we are very excited to bring two world-class tournaments, the UEFA Champions League and the UEFA EURO 2020, to our consumers," said Loic de Laubriere, Marketing Director of HEINEKEN Cambodia.
From now until 31 July, order a Heineken® 12-can pack and receive a complimentary limited-edition Heineken® EURO water bottle and cap. This promotion is available via online home delivery services including Nham24, Grab, Muuve and Foodpanda, as well as at selected Fairplus supermarkets. 
Alternatively, buy a case of 24 Heineken® cans or bottles from Aeon Mall (1 or 2), selected Lucky Supermarkets or Makro to receive 2 Heineken® EURO water bottles. You can also pick up a 6-can or 6-bottle pack of Heineken® from Smile Shop, KIWI, AEON MaxValue or Circle K and collect a complimentary Heineken® cap.
Should fans decide to watch EURO games at a bar, there will be special promotions running in selected venues around Phnom Penh giving out limited edition Heineken® EURO country jerseys, with 5 exciting designs to collect. Heineken® encourages fans to #SupportResponsibly by practicing social distancing when out in public and to remember that when you drink, never drive. 
For more details about Heineken® campaigns and promotions in Cambodia, follow our Facebook page: www.facebook.com/heineken