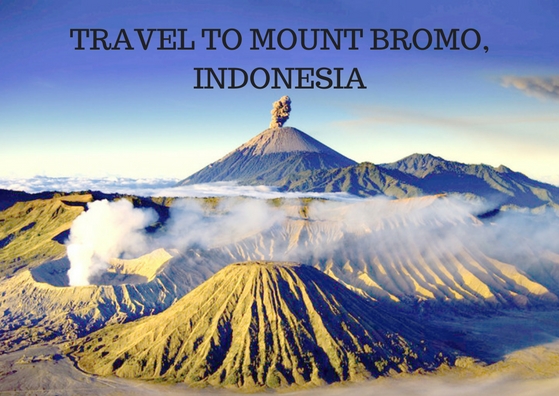 Note: This is a guest post by Nitin Pradeep Kumar who is based in Singapore. He hiked to Mount Bromo, an active volcano located in East Java, Indonesia in September 2016, and would like to share his world travel experiences with our readers on WheninPhnomPenh.
=========================
Blaming myself for not bringing along woolen gloves did not help.
It was really cold at 3 am in the morning as we travelled through Bromo Tengger Semeru National Park in a four-wheel drive jeep. It was hard to fall asleep though I wanted to because of the bumpy ride, and I had already hit myself on my head at the same spot twice – again not because of my height.
The driver did not seem to mind though – droopy eyed and with a lit cigarette hanging perilously on his lips.  I looked across to see my friend looking uncomfortable due to a lack of sleep, which strangely made me feel much better about my miserable state.
The viewpoint at that moment was basically in all darkness. When you get there, you might realise this is a popular tourist destination as you wade thorough the crowd to reach the railings facing the cliff. Although it was not recommended, I decided to climb over the final railing and wait for the sunrise to happen.
Now, when you are in front of everyone, and it is just the cold wind blowing against your body – you begin to ask if this is actually a good idea. It was pitch dark and the ten or so of us who were there unconsciously huddling up next to each other. The next one hour felt like an eternity.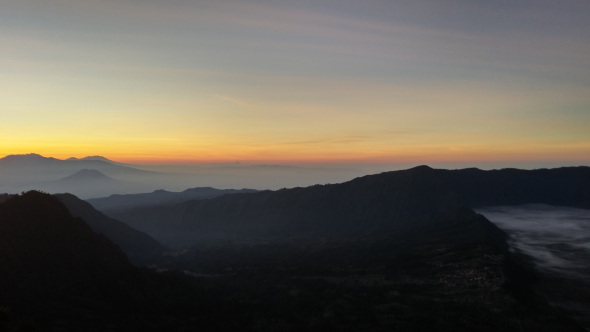 Suddenly, I was greeted with this breathtaking orange sky across the mountain range. I finally got to see the face of a girl who stood next to me. We stared for a while at each other before smiling and acknowledging how difficult it was to stand right there in the cold wind. Yes, this is not the time to act cool in front of people, even if it was a woman. Taking photographs or videos was also a challenge. My fingers quickly became numb as soon as they was out of my pocket. My point being – either choose to be the stud you think you are or simply bring wooden gloves. So, lesson learnt for myself and a warning for you, do not forget to bring gloves to cold places like Mount Bromo.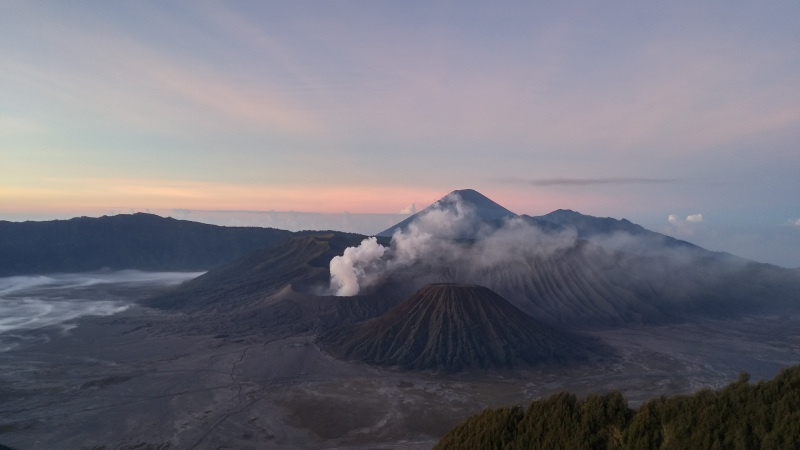 Patting myself on the back for braving the cold and being on the front lines – the view of smoke fuming out this majestic mountain was worth it, though. I quickly forgot about the chilly wind blowing against my body for a while. Looking down the ridge I saw some of the locals sitting high up on the trees to get a even better view. And looking up I saw those new fancy drones hovering above your head – but I preferred my spot still.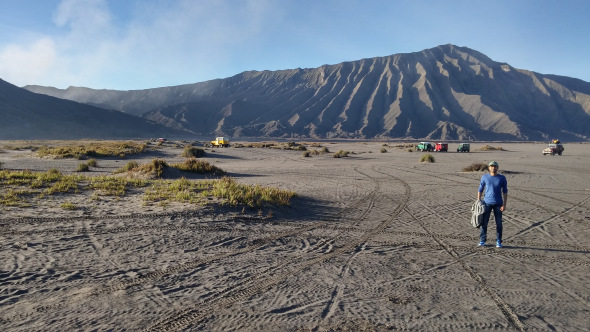 When we drove down to reach the foothill of Bromo, I realised the weirdness of this place. There is greenery all around except this shallow, though surrounding the active volcano. All you see is shades of gray and rightly so – soft ashy dust.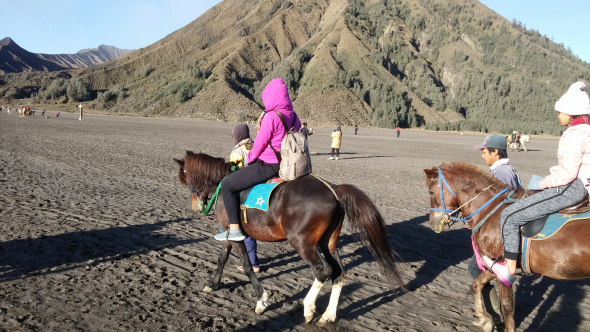 It was actually a short walk to the stairway to the mouth of the volcano. We chose to walk – we were after all young fit adults. Horse riding was for the frail. Again – unless you're a total badass I would suggest bringing something to cover your face. The wind or the horses riding past you can create this cloud of ash dust that just blows onto your face non-stop. There is no ducking my friend. Even the guides here are thoughtful enough to bring a shawl to cover up once in a while.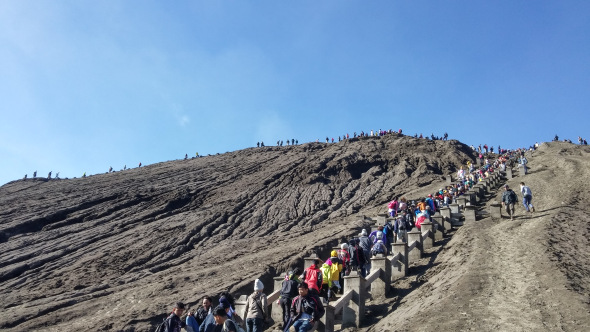 This is definitely not the 200-step stairway to heaven, but my initial excitement was not there when I reached the top. On one side, you have the deep crater spewing sulphur gases at you and on the other side is well, a deep ridge. Its so easy to fall either side – after all its loose sand – correction ash dust thats under your foot. Oh, I forgot to mention the strong wind at the top and that strong pungent smell of sulphur (if you haven't smelled it before, it smells like a bad or rotten egg). There is no place to hold on to on either side – and I could feel myself move a bit when I take photos of the volcano. This is a real adrenaline rush. Not for the faint-hearted, really.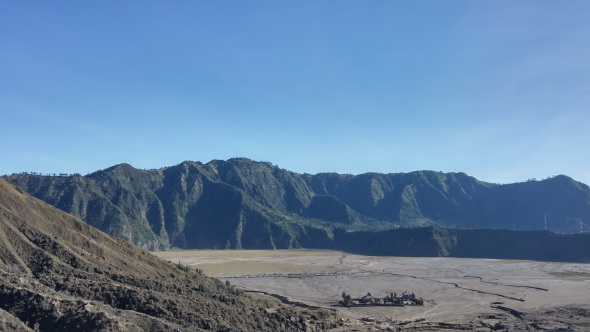 But consider this. You get to see this amazing view of the plain down below. The temple we passed by looks so tiny from here. No – I did not do the selfie with the volcano – I didn't want to turn up on social media titled "Crazy dude falls into active volcano while trying to take selfie". Because getting popular after you are dead is not worth it. Trust me.
I dare say that Indonesia is truly one interesting country that offers so much to you adventurers out there. You do not need a long holiday to do all this hiking. I spent four days overall hiking Mount Bromo. If you have a few days off your boring work, why not head your way to Indonesia? Currently, a lot of budget airlines offer good discounts and promotions.
Disclaimer: WheninPhnomPenh reserves all the right to the photos and text posted in the article. All the views/opinions expressed by the writer are in no way representative of WheninPhnomPenh. Get in touch if you'd like to use our content.