If you go to AEON Mall, currently the biggest one in Cambodia, it is hard to miss Miam Miam, the newly opened French-Japanese restaurant on the 2nd floor. A new food concept in Cambodia, Miam Miam is where you can find very unique French delicacies made with Japanese ingredients.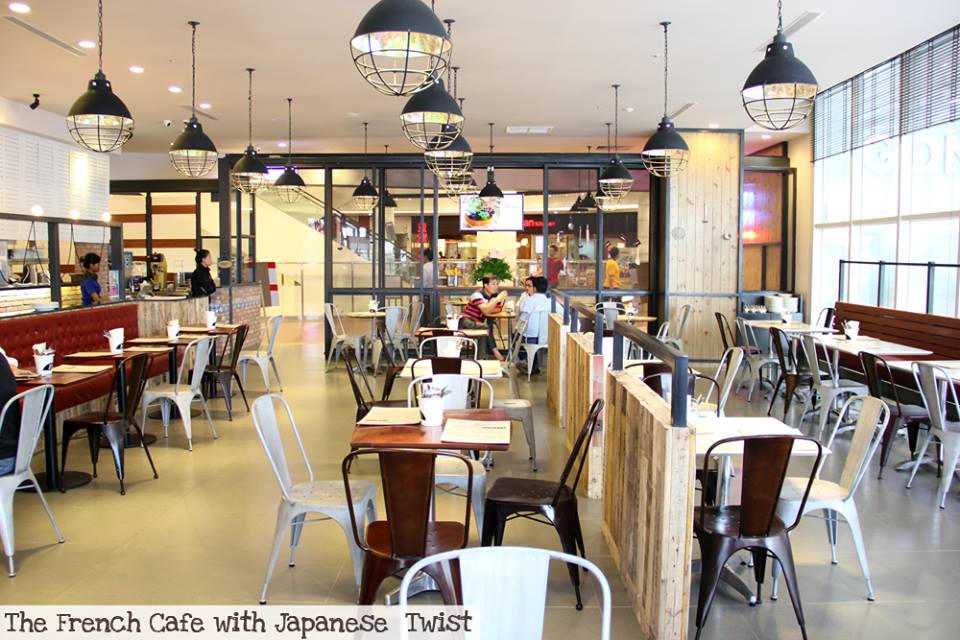 This fabulous restaurant has a very chic looking interiors and can serve up to 80 to 86 customers at a time. What makes Miam Miam-means Yummy in French-standout is not just the design but also the food, which has a very unique flavor and the reasonable prices. This combination is not easy to find in Phnom Penh or Cambodia.
If you are a Japanese food gourmand, you do not need to fly to Japan to taste original flavors because Miam Miam has imported ingredients from Japan. Just open for about a fortnight, Miam Miam is rapidly attracting more and more customers with its special dishes, drinks, and desserts.
The Squid Ink Pasta is the best example of this (and it is also one of my favorite dishes in the menu). This dish is black with big rings of chopped squid and cute little tomato slices. The black colour is because of the Japanese-imported squid ink. The pasta was beautifully done and I loved eating the squid which was well cooked but had a sensation of a fresh one.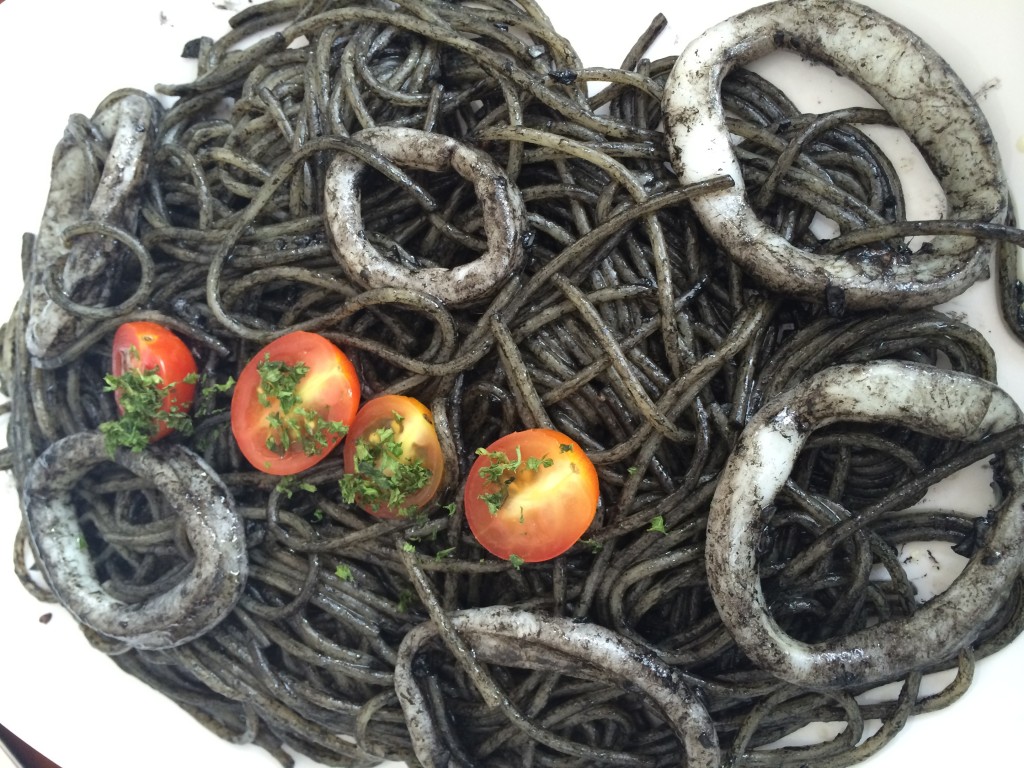 Another must try dish is Riz Au Curry. It is baked with rice and homemade Japanese curry, pork, frankfurters, broccoli cheese and egg. Guess what, I am in love with the curry! It tastes similar to Indian curry but not spicy; under the egg lies a secret baked rice portion. Having both together, I just could not lift my face up from the plate.
Miam Miam Spaghetti was so special. As soon as it was ready, the restaurant staff gently placed the dish in front of me and then two empty plates. Suddenly, I realized that the restaurant was so friendly towards sharing. You don't need to ask them to bring the plates for you. The portion at Miam Miam restaurant is definitely for two.
I couldn't ignore how amazing the Vanilla Soufflé was! Made from homemade Vanilla custard, the big round Vanilla Soufflé is folded with light and airy meringue and comes to the table airy and puffed up. The puffiness doesn't last long so if you don't take a quick bite the Soufflé will get flat (so be quick! eat eat eat!). It tasted simply wonderful with just right amount of sweetness and my tongue already misses the airy goodness. Fun fact: Soufflés are normally served only in fine dining restaurants but you can try it in Miam Miam without paying fine dining prices.
Accompanying the Vanilla Soufflé is the Caramelised Banana Pancake. Just by looking at it, my mouth starts watering! It looks that delicious! The first bite of Caramelised Banana pancake freshens my mind and releases all my stress. I had it with ice-cream on top and for those who love pancakes and ice-cream this dish is absolute must try! It melts your heart and makes you ask for more. Topped with bananas cooked in deep caramel sauce and garnished with toasted almonds this is heaven on a plate.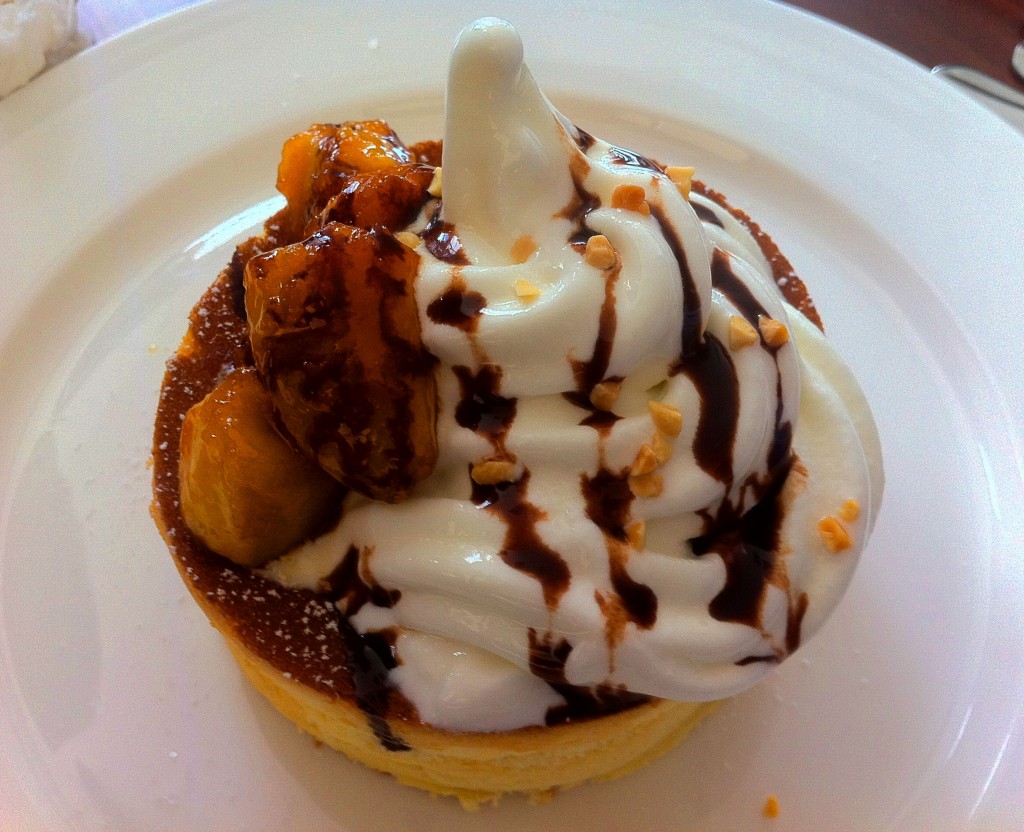 And not to forget the specialty drinks – the Iced Matcha and the Hand-dripped Coffee were simply superb. On my next visit I am going to order the Peanut Butter and Banana Milkshake, was too full to try it this time. The quality of food served at Miam Miam is extremely high. All the dishes are made from scratch and the cooking begins only once the order has been made. This way every customer is served only fresh food. I would highly recommend to dine-in so that you can enjoy the freshness of the food especially of the Soufflés.
This food journey ended with a lovely green tea latte.
Note: The average price of food is $6.90, a drink $2.50, and a cake $2.90. Find more about Miam Miam here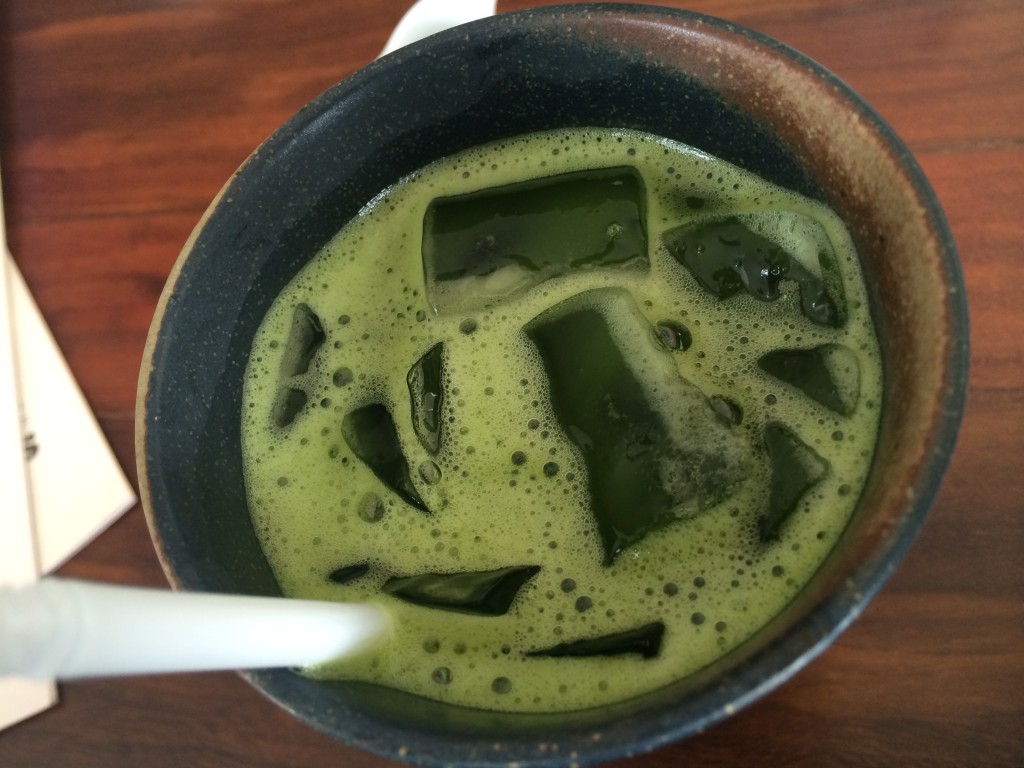 Iced Matcha