By Ratana Sopha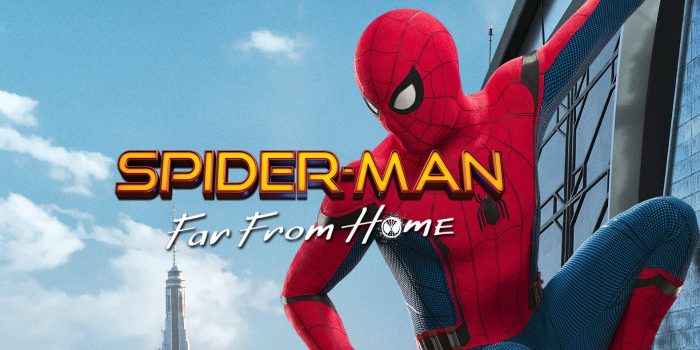 As the follow-up to the massively successful Avengers: Endgame as well as a wrap for the Infinity Saga that has spanned 22 movies over more than a decade, Spider-Man: Far From Home had quite a bit to live up to. And it did not disappoint! Far From Home has managed a superheroic mix of heart and action that will engage you for the entire 129 minutes (and some more).
The story begins after the events of Endgame and finds Peter Parker (Tom Holland) getting ready to go on a Eurotrip with his pal Ned (Jacob Batalon), his crush MJ (Zendaya) and the rest of his classmates. As you've probably expected, the trip doesn't go smoothly. Elementals from a parallel universe is wreaking havoc on Earth (in particular, you guessed it, the European continent!) and Peter is called on to assist Nick Fury (Samuel L. Jackson), Maria Hill (Cobie Smulders) and the parallel-universe superhuman Mysterio (Jake Gyllenhaal) to put an end to the Elementals' attacks.
Far From Home continues the Spider-Man films' tradition of providing a grounded, human optic on how someone like Peter comes to grasp the immense responsibility thrust upon him. While being Spider-Man affords him with superhuman capabilities and hero status, Peter is still just a teenager. He spends the film mostly preoccupied with the crush he has on MJ and is endearingly silly, awkward and innocent. He's gullible and prone to making decisions on impulse, and struggles with his sense of self-worth.
On top of all of these usual teenage struggles, he's also had to come to terms with the death of Iron Man – the loss of his father figure – of which he's constantly reminded throughout the movie. And then he's also got to live up to people's expectations of him being Spider-Man, the superhero who people are looking towards to take up Iron Man's mantle. That's a lot for a teenager to handle. And Tom Holland embodies this struggle to perfection through his version of Peter Parker. The scene where he finally breaks down in front of Happy (Jon Favreau) at the end of the second act was agonizing. It makes you wish you were there to give him a long hug and tell him that everything is going to be okay.
But Far From Home isn't just teenager drama. It's a superhero movie, after all. On the action front, the movie delivers in spades! Action sequences are fast-paced and tightly executed. You just can't get enough of Spidey swinging his way around beautiful European cities, dodging obstacles and taking down his opponents. The villains certainly give Peter quite a hard time and put his skills and capabilities to the test. The scene where he engaged his Spider-Sense elicited huge cheers from the audience at the press premiere. The accompanying visuals in various fight scenes further make the experience as exhilarating as you would expect. On the comedic front, humor was sharply delivered and sprinkled all around, characteristic of a Spider-Man movie and a welcome contrast to the heaviness of Endgame.
The brilliant action scenes and humor actually make the quiet, reflective moments even more gut-punching and heartfelt. Not only are you allowed some time to take a breather from all the web slinging and explosions, you're also given the opportunity to peer into internal conflicts, make sense of external illusions and façade, and connect the dots in between, both within the movie and as a reflection of the society we currently live in. Along the way, you get to see Peter grow as a person and as a superhero. All of this certainly makes the viewing experience quite wholesome.
All in all, Spider-Man: Far From Home definitely holds its own and delivers a fitting conclusion to the Infinity Saga, propped up by an amazing cast and propelled by an engaging storyline. And make sure you stay for the credit scenes!
Spider-Man: Far From Home is directed by Jon Watts and is cinemas now. Check local movie theaters for showtimes.