Patch presents new works by eight artists who recently graduated from Sa Sa Art Projects' Contemporary Art Class 2020. The exhibition being held from 10th – 26th March 2021, at Sa Sa Art Projects (address below), is a culmination of a six-month program through which the participants engaged in classroom lectures and discussions, site and studio visits, and development of new works.
Coming from diverse educational backgrounds and professional fields, the eight participants produce new works employing various media from painting, sculpture, mix-media, installation, performance and video. They explore and question a range of topics including education, environment (climate change), religion, memory, human right, Covid situation, technology and economy.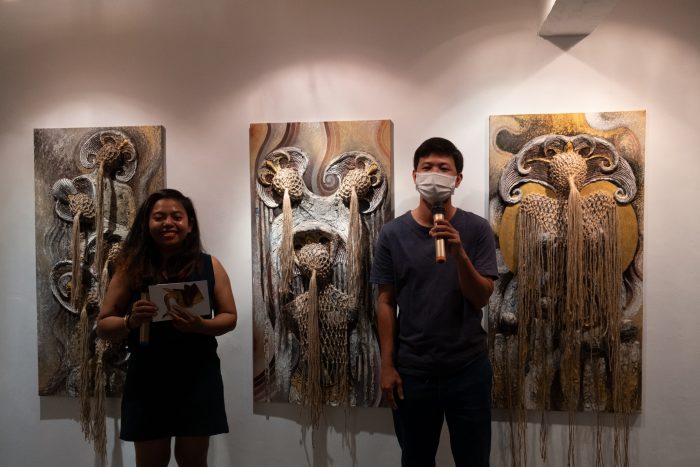 Contemporary Art Class is part of Sa Sa Art Projects' education program aiming to support young artists in developing their emerging artistic practices and building critical knowledge. The class involves three-month weekly meetings, followed by another three-month period for participants to develop new bodies of work. In the class, participants discuss different topics of various disciplines such as history, art and cultural history, politics, philosophy, and geography, facilitated by Sa Sa Art Projects' co-founder Khvay Samnang and a number of invited guest lecturers and speakers. This critical discussion in turn informs and deepens the participants' artistic practices and research for their new works.
Guest lecturers and speakers included Sopheap Pich, Leang Seckon, Soung Sokro, San Phalla, Vuth Lyno and Roger Nelson.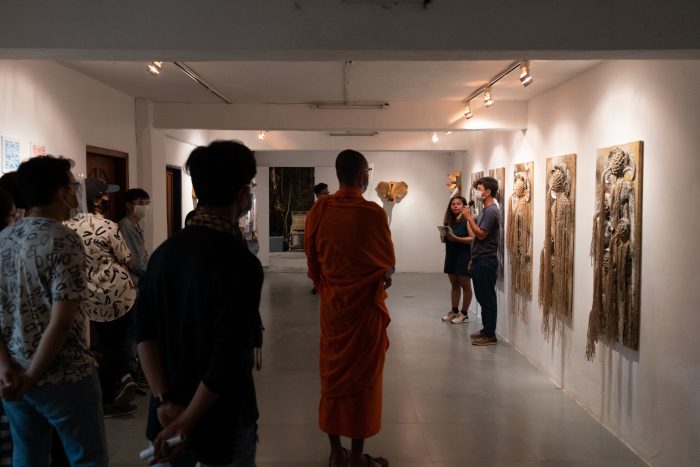 About the artists
Keo Sreypheak, Kouch Kimchour, Chea Chansoksambath, Phe Phearom, Phy Phorn, Sour Eliza, Soung Pheakdey, Ing Porlin.
KEO Pheak (born 1991 from Battambang)  she is an exhibition coordinator. In 2012 she went to visual art at  Phare Ponleu Selpak. Her currently living in Phnom Penh and passionate about contemporary performance art. She also doing research about environmental issues, sharing education, and recycle. For her artwork is focusing​​ on women's, social-environmental issues and discrimination on the basis of race.
KOUCH Kimchour (born in 1996) is a young emerging artist from Siem Reap province. He graduated in department of interior design from Royal University of Fine Art in 2019. He is an assistant interior design of architect. After studied at Contemporary Art Class, it's given him more knowledge on human livelihood. He is interested in the event that happened in society the people environment and technology.
Chansoksambath Chea (Born 2000) is a Phnom Penh resident currently a senior in Computer Science at NIPTICT. Despite the science major, he is also a freelance graphic designer and UI designer for various projects, ranging from social initiatives, to events, to various application development projects. He is fascinated by social issues, especially environment and sustainability. Outside art endeavors, he also has had various experiences in mobile application development, project design and implementation, environment, sustainable development, and more.
PHE Phearom  (born in 1998 from Sihanuk vill) graduated in department of Fine Art from Royal University of Fine Arts in 2019. He is currently work and living in Phnom Penh. He is a freelance interior designer, an architect and a young emerging artist. He is interested in kinetic sculpture which his work focus in moving or alive beauty techniques and technology that related to the society issue, the influent of development capacity, climate change, the division of nature, politic, the lost and individualistic.
PHY Phorn (born in 1995 from Siem Reap) is a senior in architecture and urbanis of Royal University of Fine Arts. He studied drawing from Small Art School from 2008-2018 and self taught artist. Most of his works reflect the society and nature through creative painting.
SOUR Eliza (born in 2002) is a freshment in architecture at Norton University. She studied Contemporary Art Class at Sa Sa Art Projects in 2020. She interests in environment, economy, war and human connection.
SOUNG Pheakdey (born in 1996 at in Koh Andet district which locates in Takeo province). He is fourth year student at the Royal University of fine arts in faculties are painting, and University of Indrawichea in law and the Sa sa art project in Contemporary and Documentary photography class 2019.
ING Porlin (born in 1991, Kampong Cham Province) was a student of Architecture and Urban Planning in the Royal University of Fines Art, graduated bachelor degree in 2015. Nowadays, she is working on architectural​ freelance projects with her team in Phnom Penh. Beside architectural creativities, she likes abstract drawing and DIY craft. Most of her artistic forms are combination of geometric and organic form. She is keen on creating contemporary art works which show about existing problems in society and art concepts that motivates people to have critical thinking of any philosophy, that has it's value in social development and culture of humanity.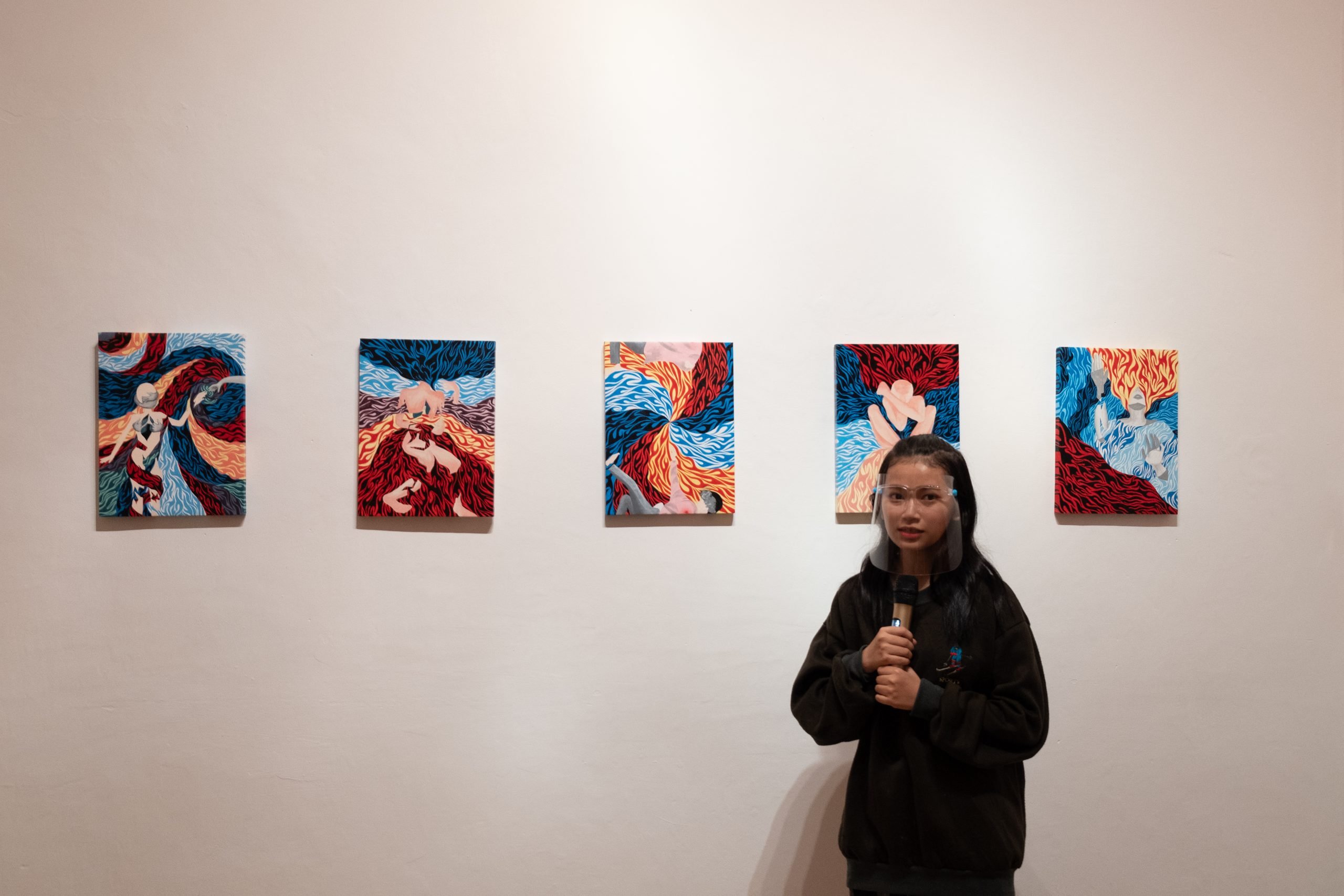 Image: Soung Pheakdey, Patch, 2021, mat, acrylic on monk's robe and wire, 65 x 65 x 50 cm.
Opening: Wednesday, 10th March 2021, 6-8PM
Exhibition: 10th – 26th March 2021
Sa Sa Art Projects #47, St 350 (off St 95), Phnom Penh
More information: [email protected], 092 961 974
Contemporary and Documentary Photography Class 2020 is supported by Rei Foundation.