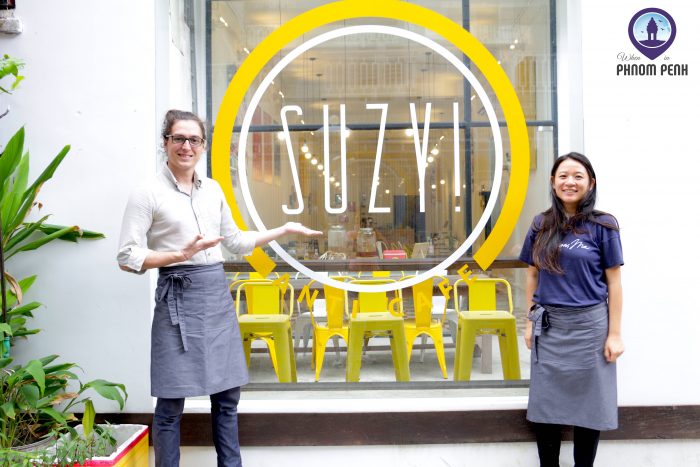 When in Phnom Penh spoke to Claire Hoi, one of the co-founders of Suzy, Phnom Penh's first anti-café which opened more than a month ago. Claire shared with us her inspiration behind opening the first anti-café to satisfy the demand of professionals that look for cozy space to work, meet and interact with friends and co-workers. Anti-cafe is a concept of having a cafe or a venue that offers working space, food and drink, where customers only pay for the amount of time they spend in the place.

Suzy's concept is super interesting and relatively uncommon in Phnom Penh. Suzy provides drinks, snacks, and space for study, work, meetings as well as sharing sessions for an all inclusive price of USD 1.95 for the first hour, and USD 4.95 for the whole day. Drinks available include: coffee (espresso, americano, latte, cappuccino, macchiato, chocolate), fruits and flowers teas and infusions, home-brewed iced teas, and small snacks like cookies. You can also print up to 10 pages (for free) and book the space for meetings & events in advance.

Please introduce yourself and your life before this. 
I am a French-Cambodian, born and raised in Paris. I have been living in Phnom Penh for nearly 8 years. Before moving to Cambodia, I have worked on projects in NGOs on Human and Children's rights in Paris and Brussels. In Phnom Penh, I have worked in a local NGO for a year. I am also a certified French piano teacher and in 2014, and I have founded the French music and art school Ocarina with my partner in business and in life, Remi. I am in charge of all pedagogical aspects of the school and I also teach.

Why did you decide to bring Anti-Cafe concept to Cambodia? Are you the only one in Cambodia right now to do this? 
When we were working on building our school Ocarina, Remi and I used to work daily from coffee shops. We realized that in regular coffee shops, you are implicitly entitled to stay only as long as you kept ordering. We didn't want to work from co-working spaces as we wanted to keep the possibility to work without commitment. We also preferred to work outside from our home, to be more productive. We couldn't find the perfect space to get our work done. 

In summer 2017, we discovered the concept of Anti-café in Paris, and we instantly fell in love with this! The brilliant idea, originally from Russia, is a space combining all that is convenient in a co-working space (quietness, bright space, high-speed wifi and a printer), the pleasure of being in a coffee shop (delicious drinks, great service !) and the comfort of your own home (no pressure of consumption, no pressure of time, big tables, free-flow drinks and snacks).

Remi and I have decided to adapt this great concept to Cambodia, where many students and remote workers need good places to study or work. And we added up our own touches for more convenience : a free printer, a unique « Order cards » system, homemade natural iced teas, our own creative tea blends, and a syrup/toppings/cookies buffet!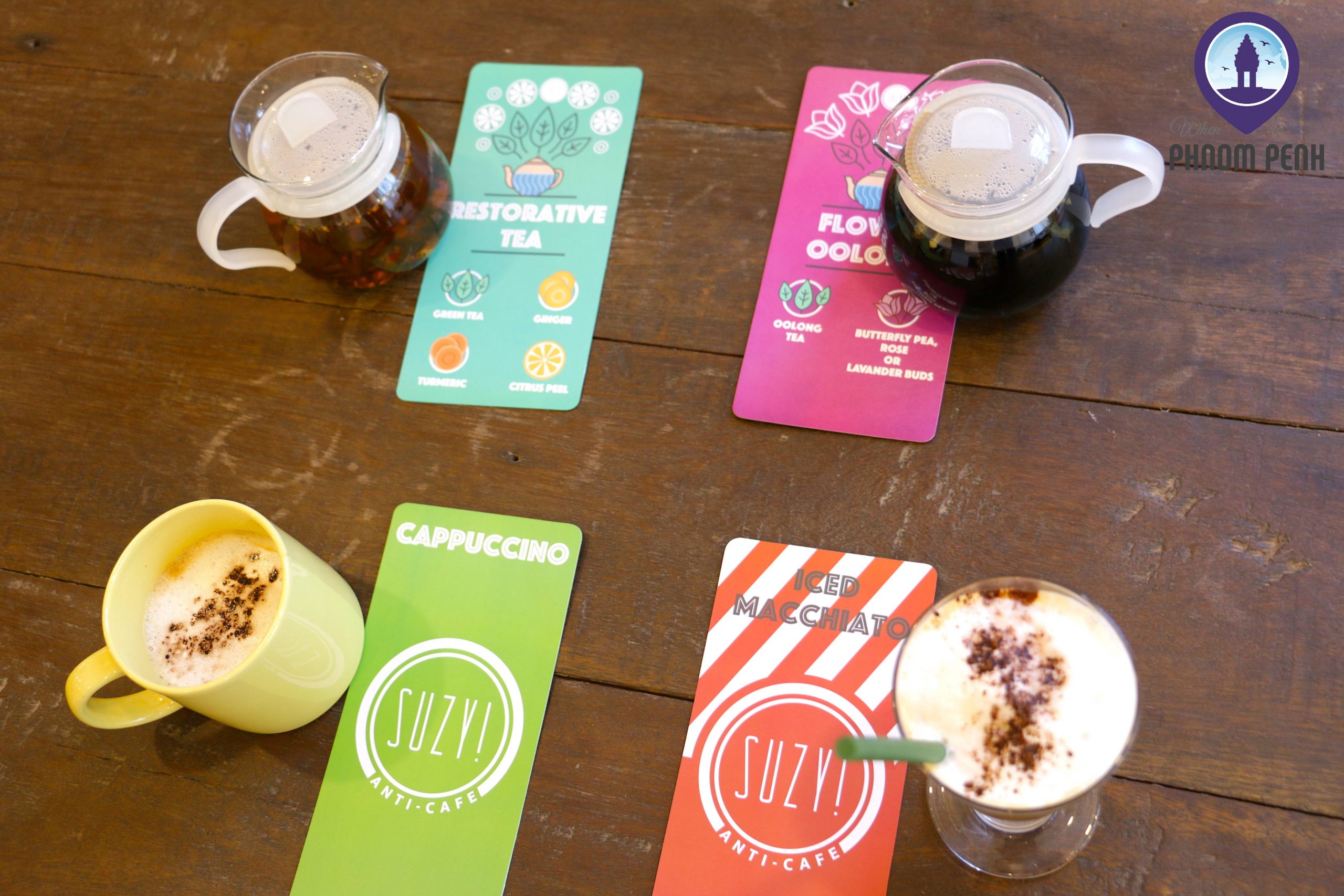 Order Cards


What inspired you to set up the business here? 
We arrived in Cambodia in 2012 and we never left. I have a profound attachment to this country, which is where my roots are. I am grateful to have the opportunity to develop my ideas here and contribute to create a new space for Cambodian youth to work, study and spend some comfortable and affordable time!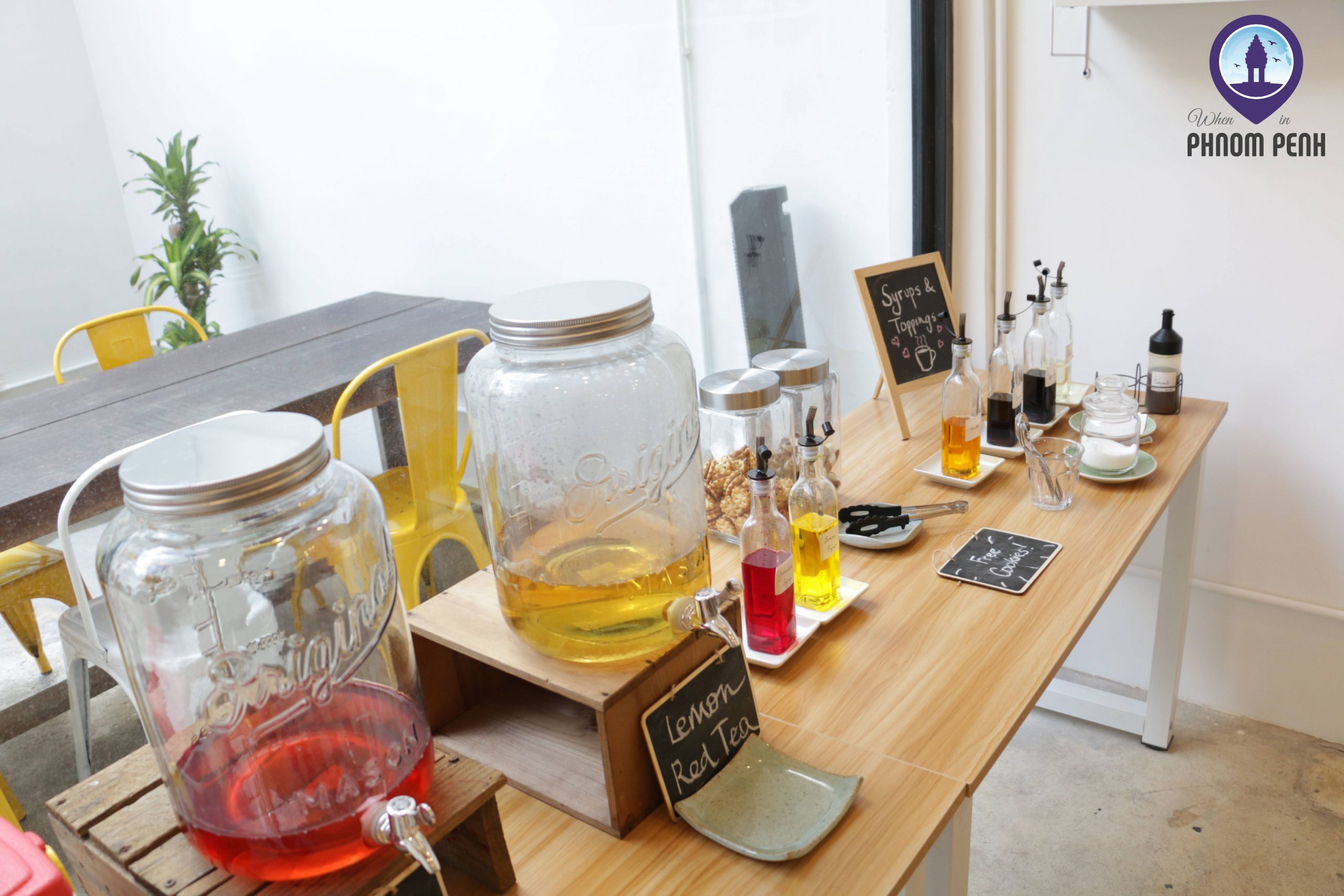 How has Covid affected you and your business? 
Initially, we had planned to open mid-March. We actually did, but closed our doors only 5 days after, in order to contribute to the effort of prevention of COVID.After a month of closure, we have officially re-opened our doors on April 27th. 

Obviously, we are affected, as at the moment, students who need a good affordable place to study, aren't as active with all schools being closed.However, we have had a good word of mouth since the opening, notably on social medias, and we meet new people everyday, who become regulars. We are thankful for the support we have received.

What has people's reaction been towards your concept/business? 
We have received only very positive feedbacks so far! We are happy to see that the need for a co-working coffee place we had experienced is a real demand amongst many people. Our visitors are also often surprised and amused by the original system of Order cards, that Remi and I imagined and designed from scratch, and that is so convenient!

We saw that you host events as well? What have you been trying to do with the space? 
Now that the space is created, we have many ideas to make the most of it. We love to meet new people, and our goal is to open our space as much as we can to the community. So far, we have hosted events as diverse as the filming of a debate, a stitching club gathering and a start-up meetup! In the future, we plan to organize language exchanges, board games meetings and pop-up sales promoting local brands and local producers. 

In a nutshell : we are opened to all ideas and are happy to host any events or gatherings. Bookings of the space are free!

Price range: 1.95 USD for the first hour, and 4.95 USD for the whole day
Address: 59A street 350, BKK3, Ville de Phnom Penh 
Opening Hours: 8:30am to 7pm
Check out their Facebook page for more information.

Content brought to you by @Mekhala