It is never too early to plan for the next adventure, especially when it comes to treating the travel bug. Travellers will have fun curating another bumper year of travel with Emirates' 2019 global fare promotion.

For a limited time, jet-setters in Cambodia can look forward to great deals to key destinations in Emirates' global network with special Business Class and Economy Class fares. With return fares starting from just US$251, travellers have another compelling reason to embark on new adventures from today till September 30, 2019, if they book the special fares from now till January 28, 2019.

Even better – Emirates' global network of destinations will enable all travellers – whether they be daredevils, culture vultures or wellness enthusiasts – to plan their dream holidays. With Emirates' 2019 global promotion, it will be easier for travellers from Cambodia to fly in style to their dream holiday destinations; whether it is to the ultramodern metropolis of Dubai, the historical and culturally-rich European capitals such as London, Brussels, Amsterdam, Paris, and Rome, or even the United States' leading cultural and financial capitals such as New York and Los Angeles.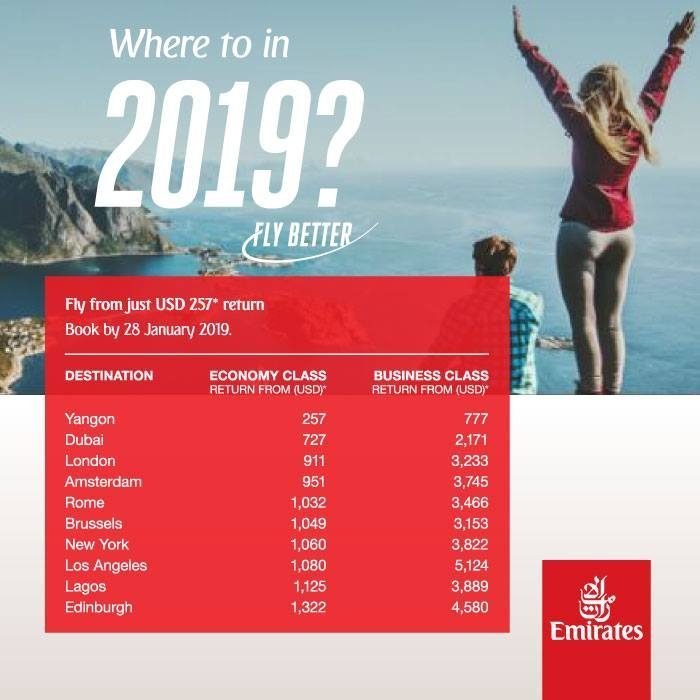 The good news does not end here, as Emirates Skywards members can enjoy earning double Skywards miles during this promotion period. If you have not signed up already, Emirates customers can join our award-winning frequent flyer program, Skywards, which allows customers to enhance their travel experience and be rewarded every time they travel. Skywards Miles can be earned when one travels and can be redeemed for rewards, tickets and a host of products and services from Emirates and a wide selection of partners. Join Emirates Skywards online and start enjoying rewards today.

Fly Better, unmatched in-flight and on-ground experiences
Emirates believes in making every flight experience extraordinary. By making continued investments in refreshing the world's biggest fleet of Airbus A380s and Boeing 777s, passengers travelling with Emirates can Fly Better on every single flight.

Passengers traveling from Cambodia on the Boeing 777 on Business Class enjoy unprecedented levels of comfort with wider and more ergonomic seats. Kick back, relax and choose from up to 3,500 channels of the latest TV and on-demand content in multiple languages with Emirates' award-winning ice inflight entertainment system.

Economy Class travellers can also experience the comforts of flying with Emirates' unique offering that is loaded with extra value. Amenity kits ensure that passengers arrive feeling refreshed, and environmentally-friendly soft fleece blankets make family traveling with children feel cosy at home. Inflight meal services, inspired by destination, are served to children first, ensuring that they are attended to. Young flyers will be nothing short of inspired with the non-stop entertainment on board, featuring the latest cartoons, animated movies and Disney classics. Ignite the wanderlust in young travellers with Emirates' Lonely Planet Kids packs, filled with interesting trivia facts and creative craft.

From Emirates' Hub in Dubai and onwards, passengers from Cambodia can experience the A380 aircraft to 50 destinations, while the A380 Business Class offers travellers their own personal minibar and with the A380 Onboard Lounge, travellers can choose to enjoy their flight in private, or network. An onboard shower spa, fine dining and lounge bar are some of the exclusive experiences for First Class travellers onboard the A380.

Passengers across all cabins can share their travel experience on social media and stay connected throughout the flight, with pre-loaded 20MB of free Wi-Fi data.

Emirates operates a daily flight to Dubai from Phnom Penh via Yangon, where passengers can connect onward to North America, Europe, South America, the Middle East and Africa. With the vibrant and dynamic city of Dubai as its hub, Emirates provides travellers with direct connections to more than 150 destinations in 85 countries and territories, including 42 destinations in Europe, over 20 destinations in Africa, 50 destinations in Asia and the Pacific, 13 in the Middle East and 17 in the Americas.

A transit like no other at Emirates' global hub

Whether visiting Dubai for a unique vacation and family experience or for a short stopover, Dubai's captivating appeal is sure to impress. The stopover package provides travellers with the opportunity to explore the endless attractions in Dubai including the Dubai Mall (the largest shopping mall in the world), Dubai Parks & Resorts (the largest integrated theme park destination in the region), and the desert safari. Emirates provides a choice of over 99 hotels as well as a 'meet & assist' service at Dubai International Airport to facilitate the airport formalities. The package can be booked until 48 hours prior to departure.

Emirates passengers with return tickets to Dubai and travelling in Economy Class can enjoy an additional 10kgs of excess baggage on their return journey during the Dubai Shopping Festival 2019 – a highly anticipated five week festival offering extraordinary discounts and rewards in various shopping outlets. The offer is applicable to bookings made until February 2, 2019, for travel up until February 4, 2019.
Emirates flies daily from Phnom Penh, via Yangon, to Dubai. For more information on booking flights on Emirates, travellers can contact Emirates' Cambodia office at 023 998 168 or email: [email protected]. To book flight tickets, please visit www.emirates.com/kh, or contact your preferred travel agent. Fares are inclusive of taxes and applicable surcharges. Other terms and conditions apply.