By Sotheavy Nou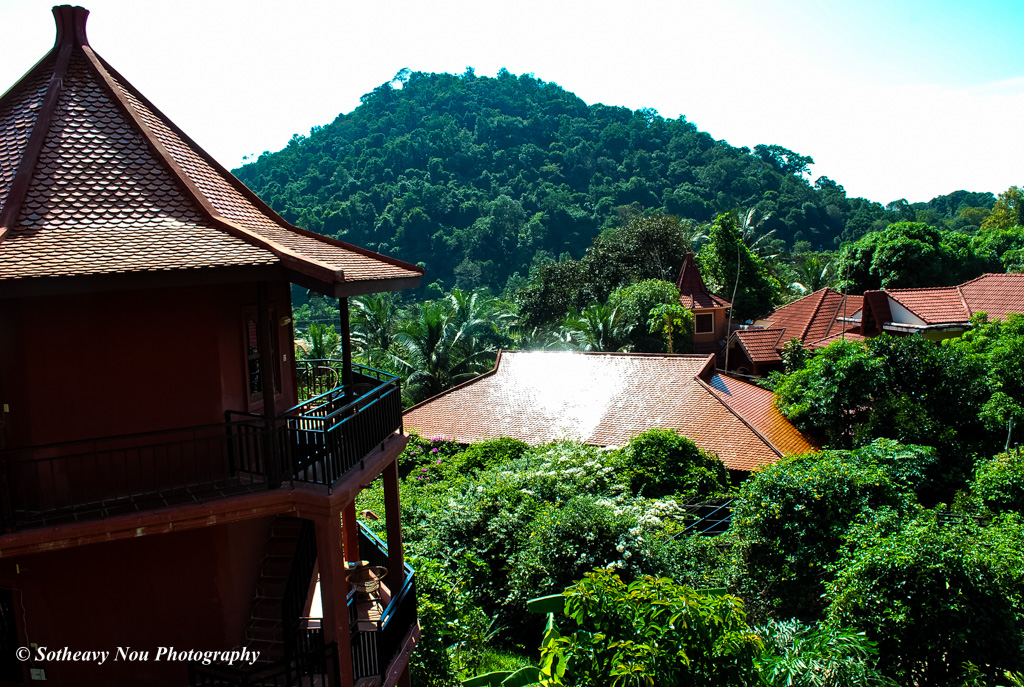 If you visit Cambodia and are looking to enjoy the beauty of the tropical kingdom without the fussy noise of tourists or beat the heat of the city, Kep is the place for you. Hidden away near the National Park, but just a tuk tuk ride away from the beach, Spring Valley Resort is an oasis of peace and natural beauty.
On arrival, the hum of cicadas greets weary travellers and a ginger lime drink is place in front of you as a friendly staff checks you in. Cobbled stone paths throughout the labyrinth complex were intricately designed with mosaics of flowers. The official flower of Cambodia, the rumduŏl.
The circular room for one had flowers placed on the big bed, was enough space for two people. the theme of the flowers continued onto the tiles of the bathroom floor. The shower is a basic showerhead with hot water. Basic soap and shampoo are provided.
Outside the room was a small table with two chairs overlooking a spectacular view of the forest hillside and lush ground floor of the hotel. Riddled with labyrinth pathways, the place is a nice place to walk around.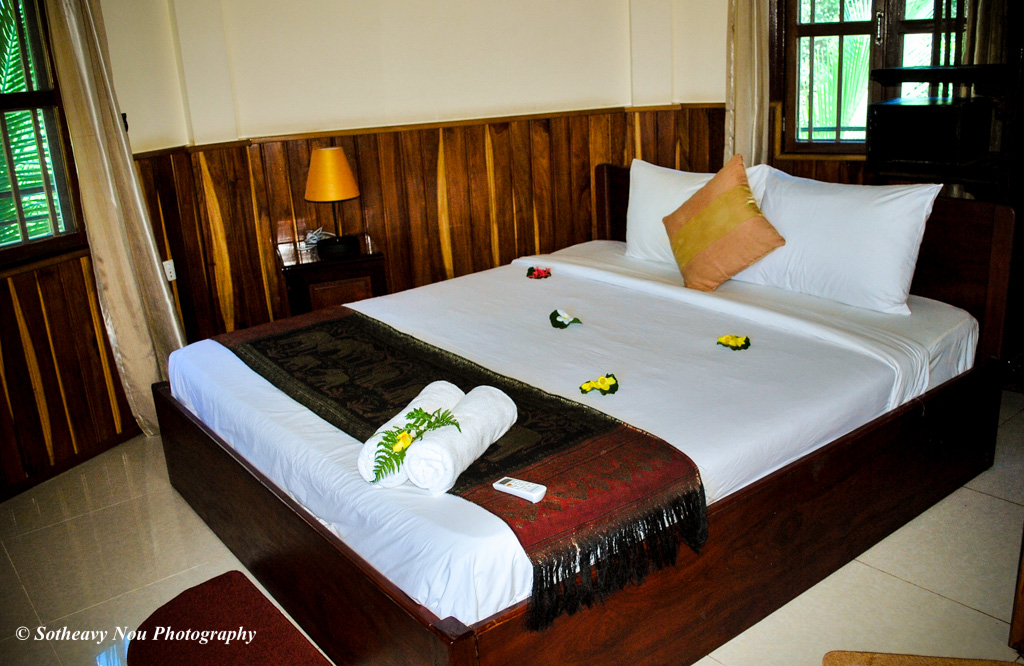 The staff
Clad in uniform black, each one of the staff greeted customers with a smile. A family relaxing in the restaurant was surprised to see one of the employees scramble to cut down coconut from one of their many trees, after the young child asked for one. Armed with a small hatchet, a young man climbed up the coconut tree in his bare feet and proceeded to hack cautiously at a branch of young coconut. Five others waited below the tree, waiting to assist, shyly joking with the climber on how to drop the coconuts down towards helping hands.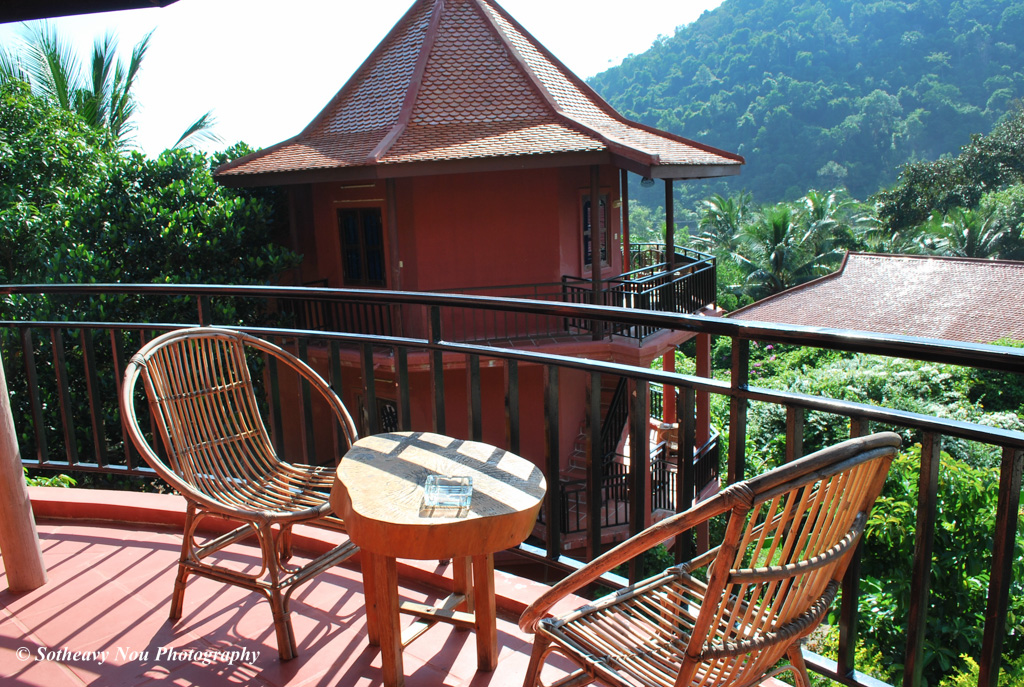 Food and Drink
Happy Hour every day is buy 1 get 1 free from 3:30pm to 5pm. The Coconut Rum was a delightful treat, made with real coconut juice and rum.
Every Saturday, Spring Valley promotes their "street food" with 8 different courses of local food made in Cambodia. The a pretty young lady with a glass eye led me on tour of the food, strolling down the lantern lit cobble stone paths, drooling aromas caused my stomach to rumble.
The first course was a STRONG tangy passion fruit vodka, which made candlelit restaurant seem more romantic as the night wore on. Second was noodle soup that is a bit sweet and spicy causing me to break out a sweat in the tropical heat. A fried short noodle call 'lord cha' was tasty seasoned with fish sauce. The papaya salad was crisp but without the traditional Cambodian shrimp paste which may be too strong for some fragile travellers.
Tiny grilled cupped pancakes call "nom kroich" was mild with a lasting savory aftertaste. While dish number four ( or five?) with deep fried vegetables and fruit were filling me quickly. The grilled pork with rice was hailed as delicious by the table next to me, whose party had gobbled every tasty morsel until it was gone.
So full from such a heavy meal, I was still waiting on dessert. The waiter had told me that the chef was known for his desserts, and with a name like "nom salap ptdei"( cake to kill your husband), I had to try.
Pounded rice flour (like a mocha) filled with palm sugar inside, complimented with a strawberry tart, chocolate granola cookie and coconut ice cream, was an explosion of flavors and cooling to the hot day. The homemade ice cream went well with the sweetness of the palm sugar, while balancing the dry tart. The whole dinner was only $12!
Breakfast was presented by a chef who made omelets of your choosing, rice or porridge, coffee and homemade pepper bread. The Kampot pepper in Cambodia which that area is known for was mild and was enhanced in the flavor from the slab of butter I spread on to a slice for myself.
Sunday night was never ending smorgasbord of seafood. Plate after plate, the grinning waiters placed in front of me: fresh tasty crabs with "koh kong" (spicy lime) sauce, sticks of BBQ shrimp and squid, along with small grilled fish. For dessert, grilled pineapples with coconut milk made me feel healthier after ingesting a whole ocean for just $15! The cheerful sounds of crickets and smell of night blooming jasmine flowers make the night seem alive and made me feel like I had found a hidden valley of yumminess.
Pool and Massage
Do not have a panic attack if you feel that the tasty food has made put on weight, Spring Valley has a luxurious pool near the restaurant. Where a refreshing dip or exercise can be followed by a nice private massage the resort has available. A nice selection of books at the restaurant can also keep book worms busy at this tranquil place.
Curfew
The resort reminds me of Disneyland at night, full of stories and fun…
For all you late night Party goers, keep in mind that Kep hotels and guest houses close around 9-10pm every night. If anyone wants to stay out late, please let the staff know or leave your key at the reception. I had to climb over the wall on my first night there, but apparently so did the owner! Do not forget to say hi to him and his lovely family when you meet them, for he is the man behind the enchanting valley, the reason why the restaurant is called Mr. Mab (Mr. Chubby), and with a urban fashion sense.