The Embassy of India in Phnom Penh, celebrated the 145th Birth Anniversary of Mahatma Gandhi on October 2nd, 2014. Every year this day is observed in the name – 'Gandhi Jayanthi'.
The United Nations General Assembly, on 15 June 2007, announced that October 2nd will be celebrated as the International Day of Non-Violence. Mahatma Gandhi, not only preached Non-violence but practiced it too. That is why he is adorned as a peaceful fighter not only in India but in countries worldwide.

The Father of the Nation, as he is called with much affection and respect all over the country was indeed a man of principles.. less known is the fact that he was also a staunch enforcer of cleanliness. The Prime Minister of India Mr. Narendra Modi, couldn't have had a better day to start his Cleanliness Drive throughout India than the birthday of Mahatma Gandhi!

The Embassy of India here, organized a day long event in this regard. It started with the Ambassador of India in Phnom Penh, H.E. Mr. Dinesh K. Patnaik, garlanding the Bust of Mahatma Gandhi.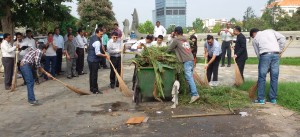 The majestic bust of Mahatma Gandhi can be located at Freedom Park, Phnom Penh. The Ambassador addressed the Indian diaspora and other friends of India in Cambodia who had gathered for the special occasion, and he also administered a pledge to the gathering committing each to maintain cleanliness at their respective homes and surroundings.

The Ambassador, Embassy staff and enthusiastic Indian diaspora members along with friends of India in Cambodia also participated in cleaning the area surrounding the Gandhi Bust at Freedom Park as part of the Clean India Campaign launched by Indian Prime Minister H.E. Mr. Narendra Modi the same day at New Delhi, India.