By Dosaikal

In the Kingdom of Cambodia, Fish is a staple, and it can unambiguously be said that "Fish enjoys almost the royal status of Rice."
The staple diet of Khmer is fresh water fish. With the abundant supply of fish (said to be 600 different species in the Tonle Sap lake), it is not surprising that the Khmer love to eat fish!

If you are in Cambodia during November to February, there is a week per month where you may be able to see lots of fishing activity along the riverfront in Phnom Penh. Here the Mekhong and Sap rivers come together and the fish is very plentiful during this season. The Khmer make use of this season and not only eat the fish fresh but dry, smoke, ferment and make it into fish sauce so they can use it during lean times as their main source of proteinhttp://www.cambodiauncovered.com/cambodia/fishing.html
A glance of the varieties of fish available at the market –
medium and small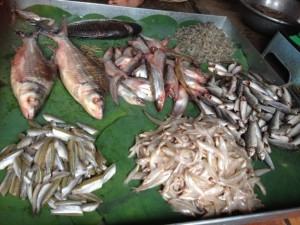 and bigger variety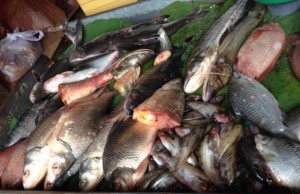 the favorite among Cambodians – fish head
shrimps and seafood too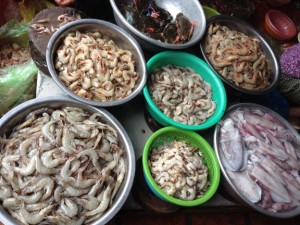 Trey Chamhoi – Cambodian Steamed Fish Recipe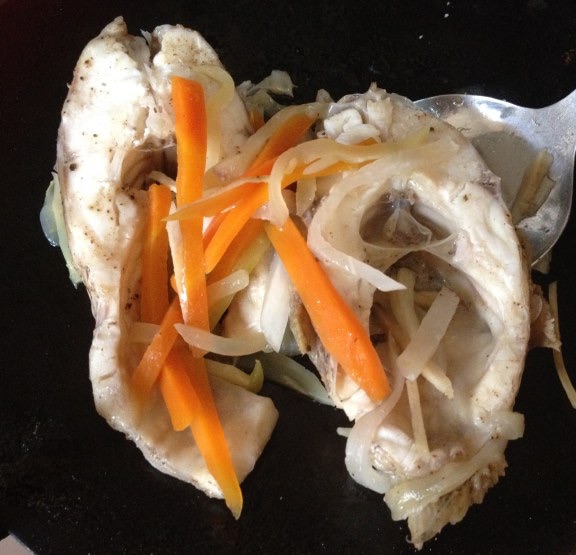 Trey is Fish in Khmer. This one is the version of my Khmer friend who also cooks good Indian food. So, please let me know of the changes you make in your Cambodian steamed fish!
Yet, I promise I did not make any Indianised Cambodian Fish..
Cambodia's preferred source of protein is freshwater fish, caught mainly from the Tonle Sap and from the Tonle Sab, the Mekong, and the Basak rivers. Cambodians eat it fresh, salted, smoked, or made into fish sauce and paste. http://countrystudies.us/cambodia/65.htm
This one has the flavor of raw mangoes and is steamed in banana leaf.
Facts about how I used the Fish
I used two fishes 1.75 kgs put together.
I did not use the head of the fish.
Each fish was cut into two halves.
So, I g0t 4 medium size pieces.
How many fishes to be used, depends on how many pieces each member would need.
I. Needed most – Any kind of Steamer
II. Ingredients (serves two to four)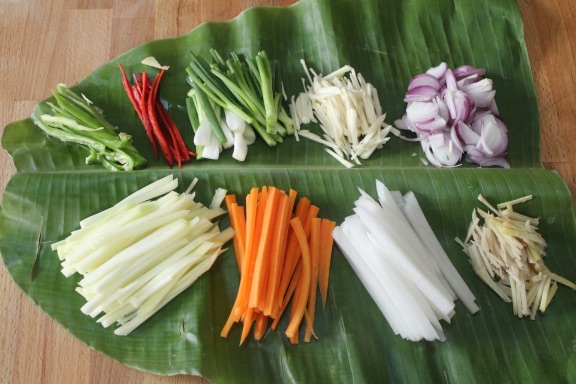 fish (any variety) – 2 no.s cut into 4 pieces
shallots – 4 no.s finely sliced
green chillies – 3 no.s
fresh red chillies – 3 no.s
spring onions – 2 or 3 bunches cut to the length of other juliennes
garlic – 6 cloves
ginger – 1 inch piece
carrot – 1 medium
raw mango – 1/2
radish – 1 small
salt – to taste
pepper powder – 1/2 tsp or as preferred
All vegetables finely julienned.
Instead of the above vegetables – can also use
1. capsicum in various colors – red, yellow and green
2. no vegetables and only mint and coriander leaves with ginger juliennes
3. any preferred vegetable of one's choice but I'd avoid those which let out water like cucumber or guards.

III. To wrap up in the steamer
aluminum foil to wrap up the steaming vessel first, so that the soup/broth that cooks with the fish doesn't fall in the water below
fresh banana leaf to cover the steaming vessel
steamer vessel with holes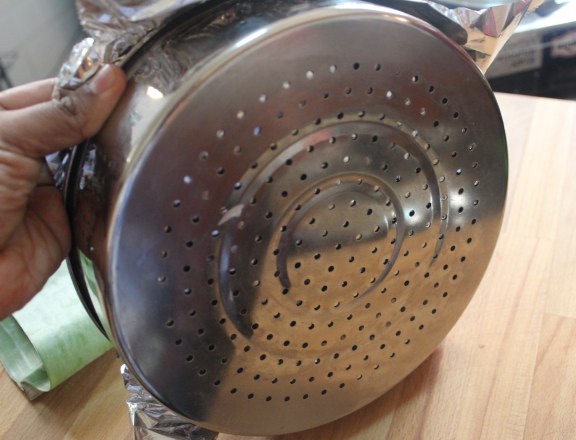 Method of Preparation

1. Steamer
Make the steamer ready by wrapping first with aluminum foil
Then place the banana leaves to cover the base
aluminum foil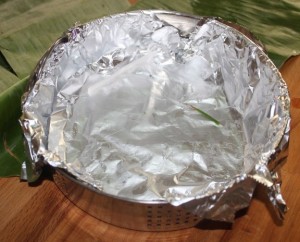 banana leaf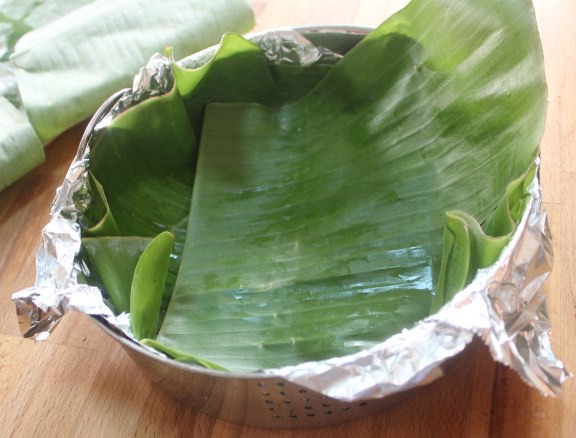 2. Fish
Cut and wash fish into two halves each
Rub salt and pepper powder on the fishes

3. Vegetables
Cut, slice and julienne the vegetables and mix together

4. To steam
1. Spread half of the vegetables on the banana leaf randomly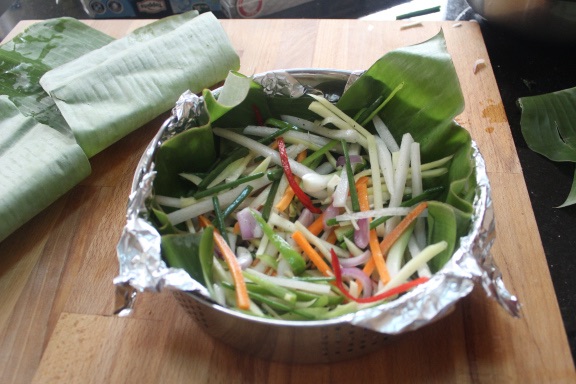 2. Place the fish pieces on the vegetable layer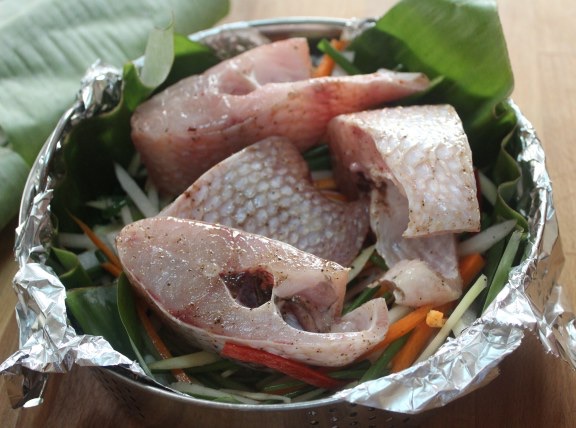 3. Cover the fish with the remaining vegetables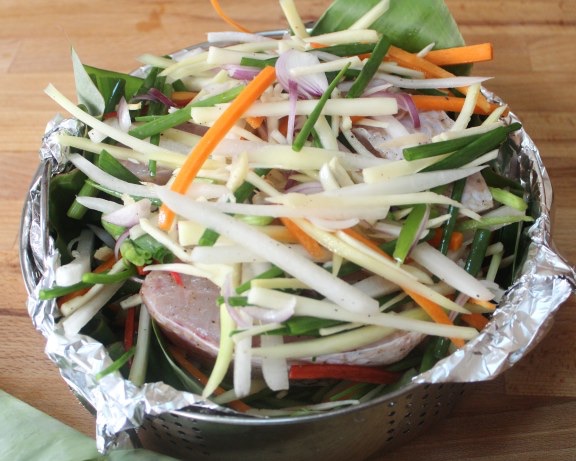 4. Close the veggie-fish combination with a layer of banana leaves and place the vessel inside the steamer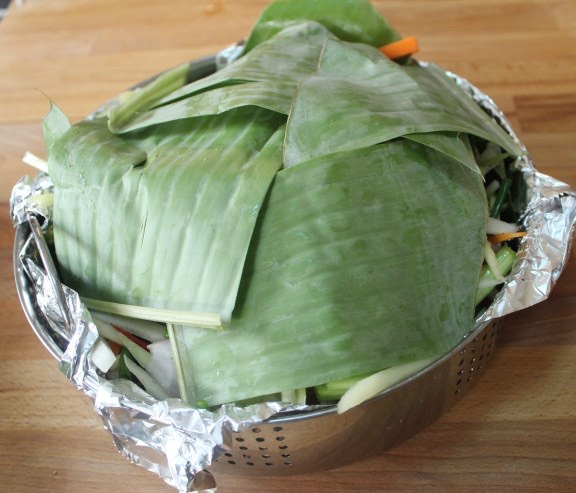 5. Close the lid of the steamer
6. Steam for 15-20 minutes
7. Serve with the vegetables and soup/broth that lies beneath
8. Serve with hot rice.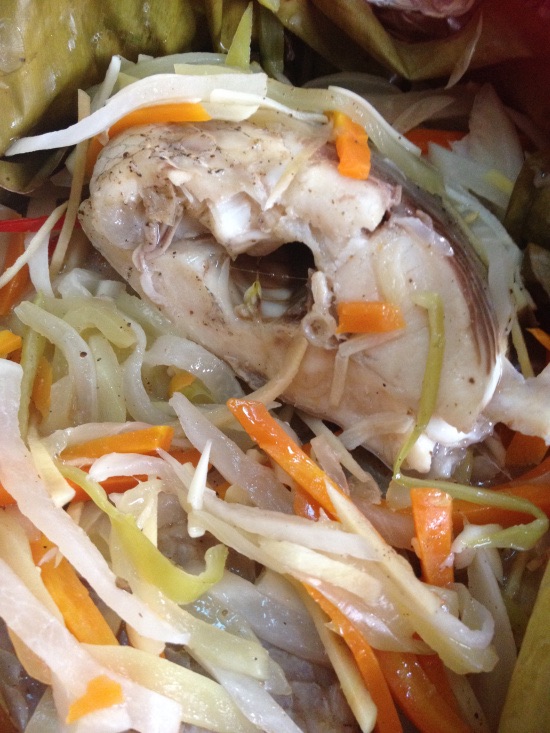 Ready!
I am 'Dosaikal' a food blogger (http://dosaikal.com/) who believes in strong traditional values and transfer of traditions to the next generation. I am always fascinated by different kinds of food from different parts of the world. I am especially impressed with the strong connection that south of india has with cambodia, in terms of food and temple architecture.