Author: Chav An Chin 
Cambodians in Tech, just as it sounds, aims to increase the number of Cambodians in the tech industry through community, education, and inspiration. Thought it was set up in the Silicon Valley in the US, it is also a community which encourages a Cambodian in Tech to meet another Cambodian in Tech. Besides its already existing programs that include Mentorship, Hackathon, and University Outreach, Cambodians in Tech is bringing Silicon Valley to Cambodia.
For just 3 weeks after Women's Rights Day, two women from the Silicon Valley, California, Kathleen Chaykowski and Evie Gillie will be the main guests of this event. Kathleen is a tech reporter for Forbes where she has recently covered the Snapchat IPO and written the August cover story. Kathleen described herself, "I cover tech with an emphasis on the people, companies and innovations in the world of social and digital media". It is also good to know that she also worked for the Wall Street Journal and Bloomberg.
Evie, on the other side, comes from a different background. Graduating with her MS in Computer Science from Stanford University, Evie interned in tech industry's giants like Google and Facebook. She joined Sift Science and then moved to be a software engineer at Flexport, a licensed freight forwarder that uses people and software to manage the complexity of international trade.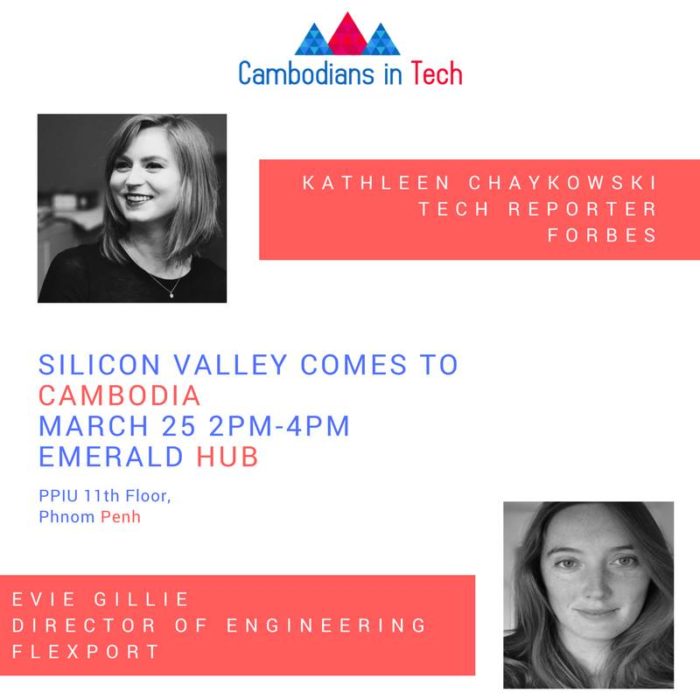 The two will engage in their tech talk, Q&A sessions which will be followed up by a panel discussion moderated by Malypoeur Plong, a young Cambodian tech entrepreneur. Malypoeur holds her degree all the way from Belgium and is the founder of Stops Near Me, a mobile app to guide people around the Phnom Penh Bus System. She has recently been invited to Women Techmaker Summit hosted by Google Singapore.
The event will take place this Saturday 25th at the 11th floor of Emerald Hub (inside Phnom Penh International Building). Happening from 2 to 4PM, the admission is free and open to all. Don't miss your chance to interact with these very inspiring women in tech and clear all your doubts!
For more information, please go to the event page on Facebook: https://goo.gl/63GICi.