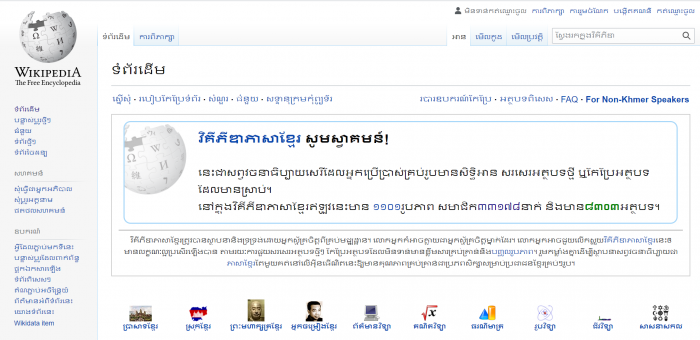 Wikipedia Khmer, time for a renaissance
From August 13 to 17 of this year, Wikipedia enthusiasts from around the world will gather online for their annual meeting, the so-called Wikimania. First expected to take place in August 2020 in the city of Bangkok in the Kingdom of Thailand, the event was first postponed to 2021 and finally brought online because of the current world crisis.
Wikimania is the Wikimedia movement's annual conference made possible by the volunteer community and hosted by the Wikimedia Foundation. Topics of presentations and discussions include Wikimedia projects such as Wikipedia, other wikis, open-source software, free knowledge and free content, and social and technical aspects related to these topics.
Various countries are organizing local events and watch parties, and for the first time, such an event will also be held in the royal capital city of Phnom Penh on August 17, 2021 at the Coco Club on Koh Pich Island which has open space and fresh air. The event is made possible through a special grant of the Wikimedia foundation. While the Wikimania World conference with live interpretation in Khmer language will be broadcasted live, an all-day edit-a-thon will allow all those interested to learn how to contribute to Wikipedia in both English and Khmer. In the evening, specific workshops in Khmer will be led by local Khmer and foreign contributors, to discuss the renaissance of Wikipedia in Cambodia and enjoy free food and drinks together.
Wikipedia in Khmer
Wikipedia in Khmer has grown incredibly since its inception on January 15, 2005. A small community has developed the first online Khmer encyclopedia with incredible zeal. On February 20, 2007, the Khmer Wikipedia had 100 articles. As of December 13, 2007, the Khmer Wikipedia had grown to 500 articles. As of March 3, 2008, the Khmer Wikipedia reached the threshold of 1,000 articles. Today, more than 259,314 edits have been made since its creation and more than 8,303 articles are available in Khmer language.
The rapid development of Cambodia has allowed for more and more people to have access to Wikipedia in Khmer, either through their cell phones, tablets or computers. For the first time since it was created, the Khmer Wikipedia received more than 4 million online visitors in May 2021 alone, a sign of the growing interest and use. The development of online learning over the past year has definitely been an important factor in this development.
However, while the number of viewers has exploded, the number of editors has fallen sharply. While the Khmer Wikipedia has 4 admins and 33,184 users, online 47 are still active users. Active users who contributed immensely at the creation of the Khmer encyclopedia are now married and successful businessmen, and short of time to volunteer for the encyclopedia. Meanwhile a new generation of Khmer online encyclopedians has not yet emerged. The purpose of the upcoming Wikimania get-together in Cambodia is to contribute to this renewal.
How to contribute to Wikipedia?
While computer literacy is growing fast in Cambodia, it remains low compared to other Southeast Asian countries. And while many people use Wikipedia, not everybody knows how it works. Wikipedia is a free online encyclopedia that anybody can contribute too. All edits are instantaneously uploaded, and accessible worldwide. This is what makes Wikipedia so fascinating. Though it is free for everybody to use and contribute too, Wikipedia has a number of rules and procedures. Wikipedia is not a place for advertising or propaganda. The style of writing should be encyclopedic and as neutral and scientific as possible. Repeated violations of standard procedures will lead to one's user account or IP address being blocked for a while, or even indefinitely, such as notorious User:Phnom Penh Skyline, who was an active contributor of Cambodia-related topics but who was banned from editing the English Wikipedia because evidence confirmed that he had repeatedly abused multiple accounts. If anybody can become an editor on Wikipedia, it takes time and learning to become an efficient editor. The Wikimania get-together in Phnom Penh, sponsored by the Wikimedia Foundation, will be an opportunity for those interested to learn more and become the co-creators of the first online encyclopedia in Khmer. A high-speed Wi-Fi Internet connection and a limited number of computers will be made available; participants are advised to bring their own tablet or computer. The event is free and open to the thirty first people who register a Wikipedia account and sign up on Wikipedia:Meetup/Phnom Penh/August 2021.
Article by Will Conquer