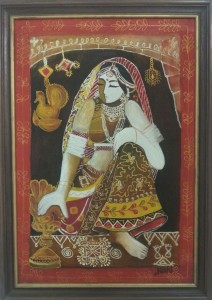 The Embassy of India in Phnom penh along with Indian Council for Cultural Relations (ICCR) is organizing a Painting Exhibition titled "Women by Women" at Royal University of Fine Arts (RUFA), Phnom Penh.
The event was formally inaugurated by H.E. Ms. Phoeung Sackona, Minister, Ministry of Culture and Fine Arts, Royal Government of Cambodia on August 19, 2014. This special exhibition named "Women by Women" is on till August 24, 2014.
The exhibition showcases the innovative art works – one each of 56 eminent Indian Women Artists. The 56 paintings in total, not only portray the thoughts, abilities and emotions of Indian women, but also represents the "Essence of Life" of Today's Indian woman.
India is a country of diverse languages, cultures, customs and beliefs which cultivate into various Art forms. Every art form is influenced by the culture and traditions of that particular society. Hence, people from different parts of the country have different ways of expressing things according to their culture.
This exhibition represents exactly the above mentioned fact. Women from different parts of the country have illustrated 'Women' in their own ways of depiction.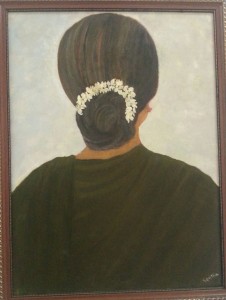 The status of women in Indian Society is something debatable. Further, the status of women in other societies including the Western world is still more debatable. The women in Indian Society, be in villages or cities need to perform multi tasks and are certainly multi faceted and multi talented beyond doubt.
In a country as diverse as India, one can feel the vast differences in a very clear cut image. Hence, India in many ways is a land of mysteries. Educated and proving themselves Great Achievers on one side and Illiterate and harassed by others on the other. The status of women is always a topic of concern.
The exceptional intellect of these artists expressed in their paintings is a representation of the lives of Indian Women.
Kudos to those involved in bringing forth such wonderful ingenuity to public eyes! It is truly something not to be missed with family and friends.
Entry to the Painting Exhibition is free and it is open for general public from August 20-24, 2014 between 1000 hrs. to 1630 hrs. at RUFA.