Many businesses in Cambodia are affected by the pandemic, and there have been a lot of efforts to bring into light the way how businesses can operate to survive in such trying times. Socials Coffee, in the efforts to help other businesses, puts together a panel discussion.
Want to know how your business can adapt and recover from a pandemic like #Covid19?
Read also: https://wheninphnompenh.com/interview-with-swapnil-deshmukh-of-socials-coffee/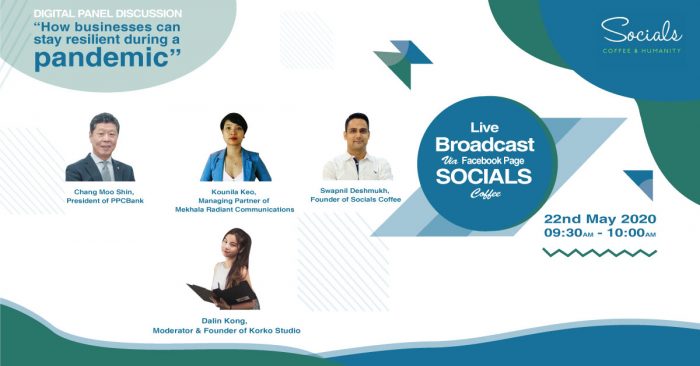 Learn more about what many businesses in Cambodia can do by attending this digital panel discussion with Mr Chang Moo Shin, President of PPCBank (Cambodia), Ms Kounila Keo of Mekhala Radiant Communications, Mr. Swapnil Deshmukh of Socials Coffee, with Ms. Dalin Kong of KORKO Studio as Moderator.
Watch it live here on Socials Coffee's Facebook page from 9:30am to 10am (Cambodia time) on May 22nd, 2020.
See also: https://wheninphnompenh.com/deaf-run-socials-coffee-opens-third-branch/
Watch:
From today to 2 weeks from now, Socials Coffee is running "Pay as You Wish".