As part of the 10 CEOs 10 Question series, we would like to present to you the interview between When in Phnom Penh and Swapnil Deshmukh of Socials Coffee, a social business that employs deaf people to be cafe baristas. Swapnil is the first business owner WheninPhnomPenh spoke to, in this interview series. The focus of the interview is what are the mechanisms which Socials Coffee has utilized in order to cope with a challenging time like the pandemic (Covid19), especially before Socials Coffee turns two years on May 22nd, 2020.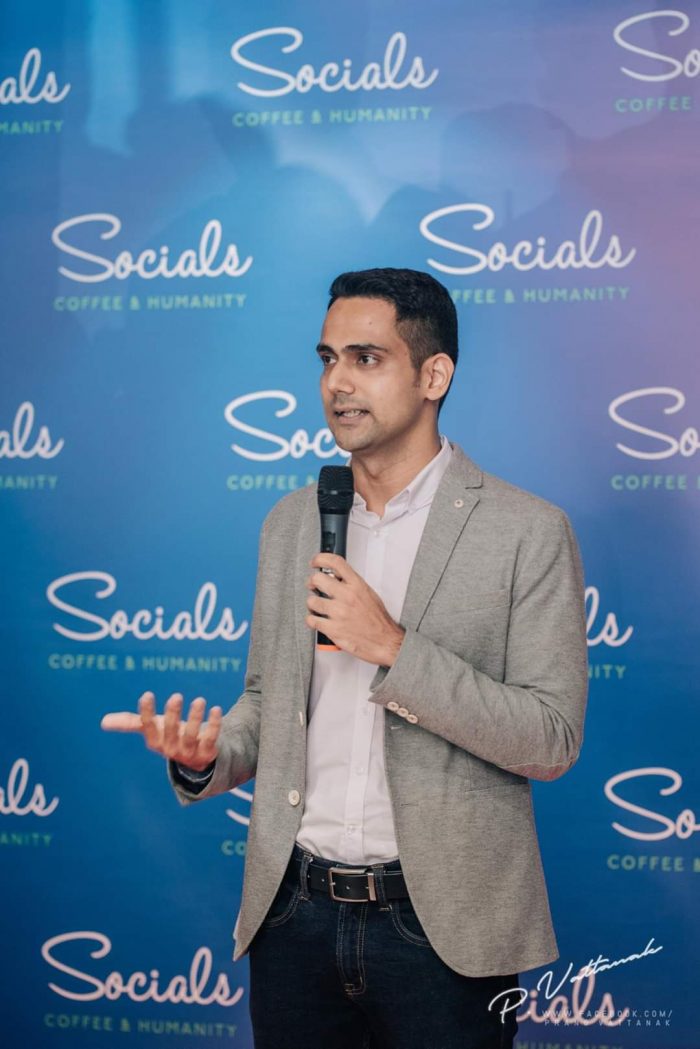 1) Please give a short introduction about your life (family, education, marital status) and how has your experience in your career and what achievements are you most proud of?
I am from India. I have an Engineering degree in IT and did my Masters in Business Administration, specialising in Marketing. I have worked in Digital Banking space for about 15 years now and am quite happy with what I achieved in the Digital space but my most proud moment was when I launched Socials – Coffee & Humanity. There are plenty of little moments every day at the cafe that make me happy, but I am most happy to see that my staff are empowered, independent and have a promising future ahead of them – and that I could play a small role in this journey.
2) When you first started out with your business, what were your most significant challenges?
About two years ago, in May 2018, we opened first branch of Socials Coffee with support from our partner PPCBank. While starting the business, I found that my biggest challenge was to find the right team. I firmly believe that if your core team is aligned with your mission, we can overcome typical startup growth challenges much easily. At Socials Coffee, we were lucky to find really good people, some of them are still working with us, who took upon themselves our mission to empower deaf people and made this journey easier and enjoyable. Also, finding good location was a big challenge as most popular areas like BKK1 or Toul Tom Pong have very high rental fees. Through our partnership, we could open our first location with PPCBank almost 2 years ago. PPCBank saw it as an opportunity to improve the PPCBank customers' experience while contributing to the deaf people of Cambodia.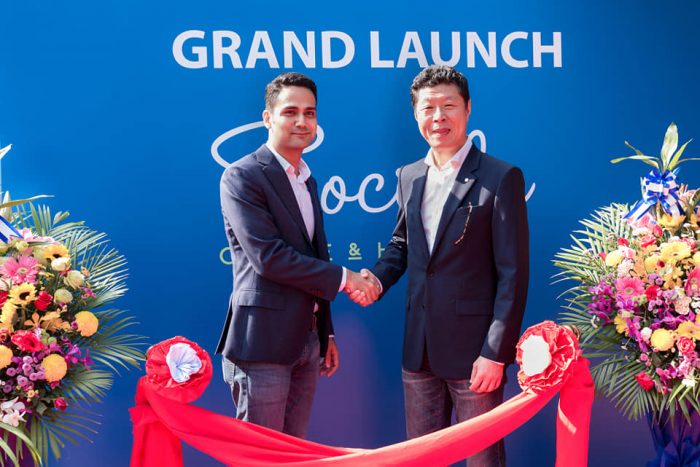 See also: https://wheninphnompenh.com/deaf-run-socials-coffee-opens-third-branch/
3) Over the years, what valuable lessons have you learned in your business?
One of the key lessons learnt is to put your people ahead of everything else. People are critical to success of any business – no matter what role they play. We have been very lucky to find such people who have taken upon themselves to make Socials successful. Secondly, if you have to fail – fail fast, learn from the experience and come out stronger in your next attempt. Thus, we keep bringing new drinks, especially focussing on health – like Belly Detox, Golden Milk, Eye care, etc. Customers love some of these innovative drinks and some they don't. We take regular feedback from customers to adapt and come up with our strategy to introduce new drinks.
4) What are your core values and how do you ensure your team is aligned with your values?
We are a social enterprise set up with the aim of generating entrepreneurship and employment opportunities for deaf people. All staff at Socials are expected to work towards achieving equality for deaf people, while preparing innovative drinks, delivering excellent customer service, being eco-friendly and socially responsible. This alignment happens through regular communication in the form of team meetings and detailed orientation cum training programs.
5) What are some of the behaviors or traits that you think are negatively impacting leadership?
Some leaders invest a lot in marketing or product development or other areas of business but don't invest enough in their people. For any business to be successful, you need a good core team and it's important to identify and invest in the core team early. It's important to get them aligned to your vision, understand them, empathise with them and I don't see many leaders and businesses do this today.
6)      How has your company/business been affected by the current health crisis (Covid19)? And what are your strategies to inspire/motivate others to become resilient?

Honestly, we have been quite lucky and not as affected by Covid-19 as some of the other food and beverage companies. A lot of our business comes from take-away or delivery channels and thus Covid-19 has not affected us as badly as it has affected cafes / restaurants that rely heavily on dine-in customers. Having said that, we have strengthened our delivery offerings through our partnership with Nham24 and incentivising customers with some discount programs. 
7) What are some of the biggest risks you have taken in your business and how did they turn out?
I think the biggest risk I took was to start Socials Coffee itself as I did not have much knowledge about coffee business, let alone doing it alone in a foreign country with overcrowded cafe market. But then I knew my intentions were right and there was an opportunity to make a difference in serving humanity. So, I went for coffee training programs in Italy and Vietnam before starting Socials. I would like to believe that we have had reasonable success so far as we have opened 4 locations at PPCBank branches in first 20 months and trained about 10 deaf people.
8) What are some of the biggest transformations your company has applied to the business during this Covid time?
We have done a couple of notable transformations. We used to have monthly team meetings together and now we have moved them to online meetings with apps like Zoom to avoid staff movement and travel. Also, we are incentivising and encouraging people to go cashless and pay using digital apps, contactless cards and digital coupons instead of cash. 
9). What suggestions do you have for other businesses during this crisis?
Use this pandemic as an opportunity to tweak your business model and adapt through establishing new delivery channels or expanding your product mix or lower your costs. We underestimate the value of human motivation and determined efforts. All of us together can defeat Covid-19 and bounce back in a great manner.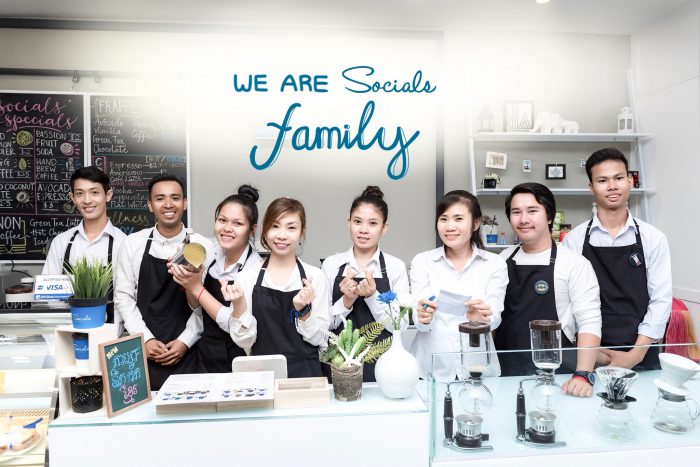 10)    How do you think everybody should stay safe and how businesses should be doing during this time to help their employees stay safe? 
I think we all need to follow social distancing and do couple of things as below:
A. Only follow and believe information from reliable sources like WHO or government agencies. Avoid spreading misinformation and not believe everything they read on social media.
B. Do the basics right – check temperature before starting work, wear a mask, use hand sanitisers or wash your hand with soap regularly and avoid all non-essential travel. If staff are worried about their salary deduction, they may try to hide about their sickness from employers, which could lead to irreversible damage to a business otherwise. So, if your staff is feeling unwell for any reason, let them take leave with pay.
See also: https://wheninphnompenh.com/arabica-coffee-launches-in-cambodia/
Disclaimer: Socials Coffee is a client of Mekhala Radiant Communications