Delishop.Asia, Cambodia's premier online grocery store, announced the launch of a contactless delivery service and options for online payment. Currently Delishop.Asia has over 40 partners and a catalogue of 9,000 products.
"The sudden and rapid spread of Covid-19 has forced everyone to scale back on many social interactions and transactions we used to take for granted," said Jonathan Meuret, General Manager at Delishop.Asia.
"The simple act of going outside to buy food and other essential items at a store now requires more thought and precaution. This challenge has motivated us at the Delishop.Asia to keep operating. No matter what is going on, it is our moral obligation to ensure that people can get the groceries they need to live. Every day, our team is energized to do more with less, and to keep coming up with new solutions to execute safe deliveries and transactions."
For a delivery to follow through, customers must order grocery items worth at least USD 10 on Delishop.Asia's website: https://delishop.asia/. The delivery charge is USD 1. Orders above USD 50 are free of delivery charges.
Delishop.Asia's hygienic and safe contactless delivery strategy begins at the procurement stage. Staff, trained in the best hygiene practices, as recommended by the WHO and health officials, practice social distancing, use sanitizers before delivery, and regularly check their body temperature.
All inventory crates used in deliveries are washed and disinfected regularly, as is the Delishop.Asia warehouse. Further, all employees and delivery partners who exhibit any symptoms of sickness are encouraged to self-isolate at home, and reach out for any urgent medical assistance.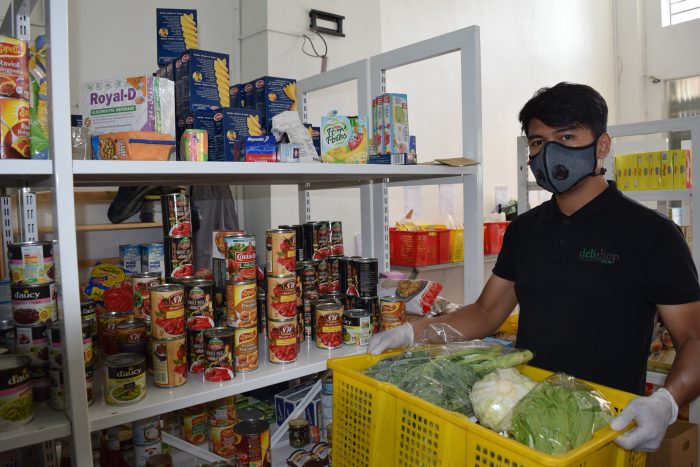 Delishop.Asia Process
Once an order is hygienically packaged, a delivery partner will take it to a customer's given address. The delivery partner will notify the customer that they have arrived and will place the order, sealed in bags, at a location designated by the customer. The delivery partner will wait for the customer to pick up the package while standing a few meters away.
"As the leading premium grocery store delivery service, Delishop.Asia recognizes our responsibility to model socially responsible business practices and precautionary measures that ensure everyone's safety," said Jonathan Meuret.
Customers can pay while placing the order at the time of checkout. They can also pay in cash, or online via scan QR Code with Wing or ABA. To encourage customers to use cashless payment options, Delishop.Asia's online payment partners are offering an array of discounts and cashback incentives.
"Through contactless delivery and online payment options, we are preventing virus transmission by significantly reducing interactions between customers and delivery partners. In this way, we hope to offer customers valuable peace of mind. Delishop.Asia is here to take the stress out of buying groceries. The pandemic is already stressful enough as it is for all of us, " said Jonathan Meuret.
Disclosure: Delishop Asia is a client of Mekhala.
Also see: OBOR Capital's investment in Delishop.Asia set to Revolutionize Online Grocery Shopping in Cambodia