Pchum Ben is celebrated from late September to early October for 15 days.
It is a festival in honour of ancestors. It is also called the Festival of Souls and the All Soul Day. While in Cambodia, I had tried making the special Rice Cake called 'NUM ANSOM CHEK' with the help of friend 'D'. It is a sweet with number of steps. But the effort is truly worth it, like all khmer delicacies.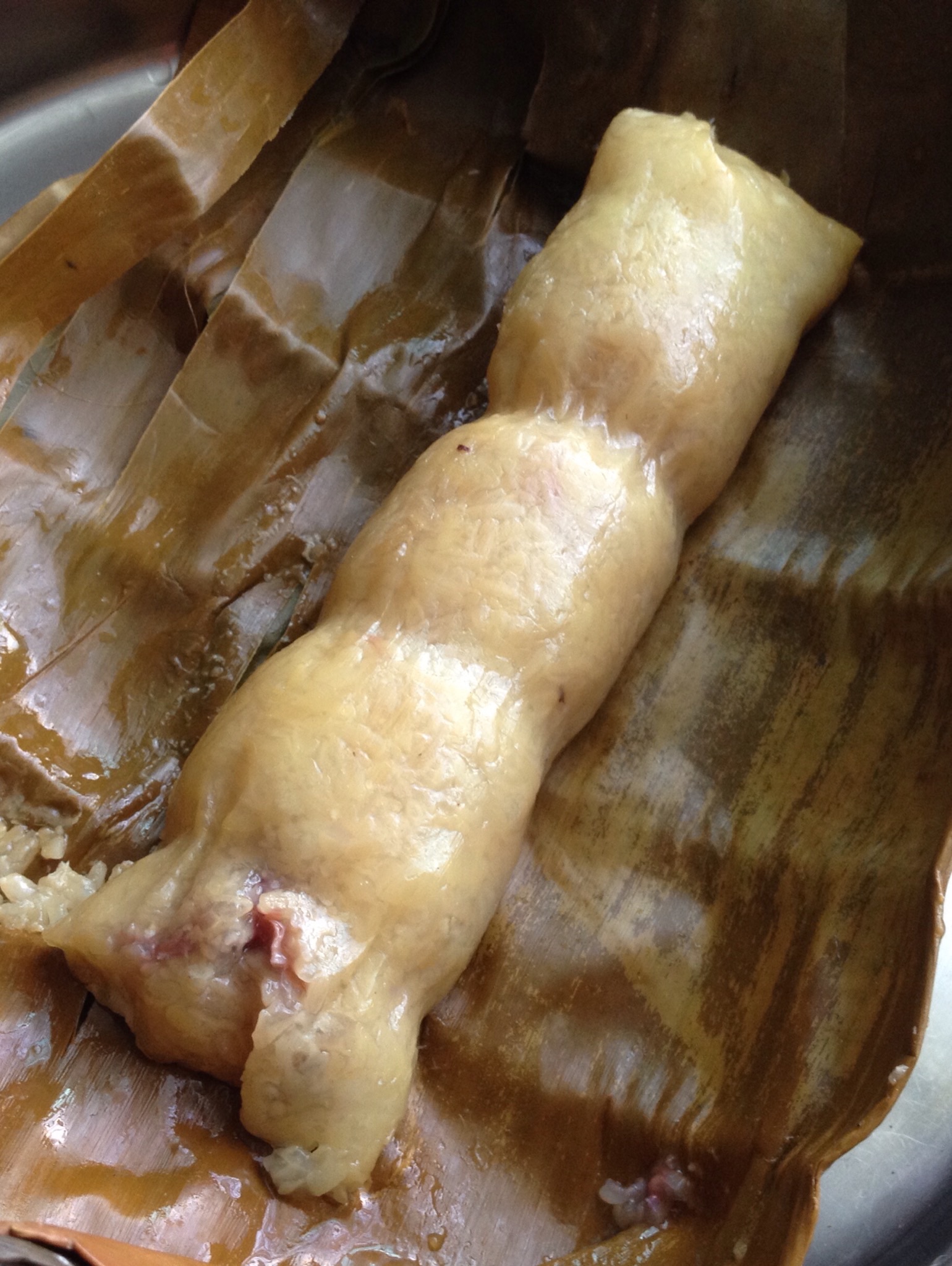 Offering of food is a meritorious act and is one of the oldest and most common rituals of Buddhism. During the Pchum Ben festival, people bring food to the temple for the monks and to feed hungry ghosts who could be their late ancestors, relatives or friends. Pagodas are usually crowded with people taking their turn to make offerings and to beg the monks to pray for their late ancestors and loved ones. Many remain behind at the temple to listen to Buddhist sermons. click here for more
The people of Cambodia wake up very early and get ready to go to Pagodas or Buddhist Temples. They wear their traditional clothes and walk around the Pagoda chanting Buddhist hymns. One of the most important ritual of Pchum Ben is taking food for their loved relatives who are no more part of this world. It is believed that the dead parents and relatives come on this day to see their dear ones and also accept the food offered by them. So, in order to not disappoint any of their lost relatives and ancestors, the Khmers prepare various delicacies and give it in the Pagodas.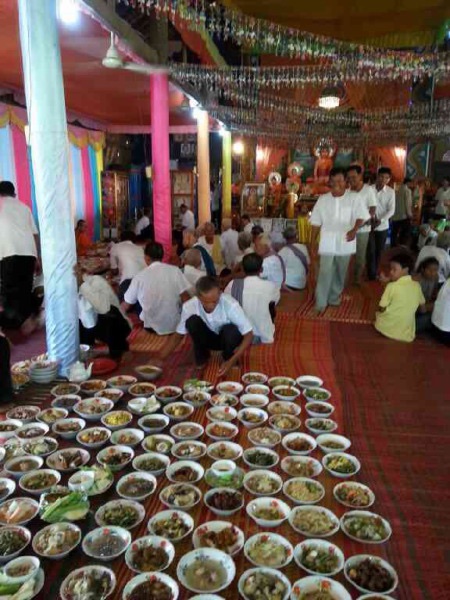 photo courtesy 'D'.
The Monks in the Pagodas are worshipped and given food on this special occasion. There is also another reason for this 'food from every home' to the Pagodas –
According to venerable Um Sum, long ago Buddhist monks had to walk everywhere to ask for alms no matter how bad the weather was. Later during his reign, King Jayavarman, a strong advocate of Buddhism supported and provided Buddhist monks with the four requisite: clothing, food, shelter and medicine. The king realized that when the monks walked to ask for alms during the rainy season, they encountered heavy rain, thunderstorms, lightning and violent winds. The monks could not walk and fell down on the muddy paths. The king felt great sympathy for them and asked them not to go for alms for three months every rainy season. And he appealed to all his compatriots to offer food, and other basic needs to the monks for this period. Also, Buddhist followers explained that there was much merit in offering alms to the monks. As a result, more and more people offered the four requisites to the monks. http://www.bodhikaram.com/Pchum%20Ben.html
With so much food offered every day during the festivity, there is also chance of food getting wasted. Hence came the idea of making Rice Cakes which could be kept for days together without being spoilt. People make Steamed Rice Cakes filled with Bananas, Jack fruit or Pork. They are wrapped in Banana Leaves and steamed well. The speciality not only lies in the filling, but in the intricately crafted shape of the banana leaf cover.
Bananas of Cambodia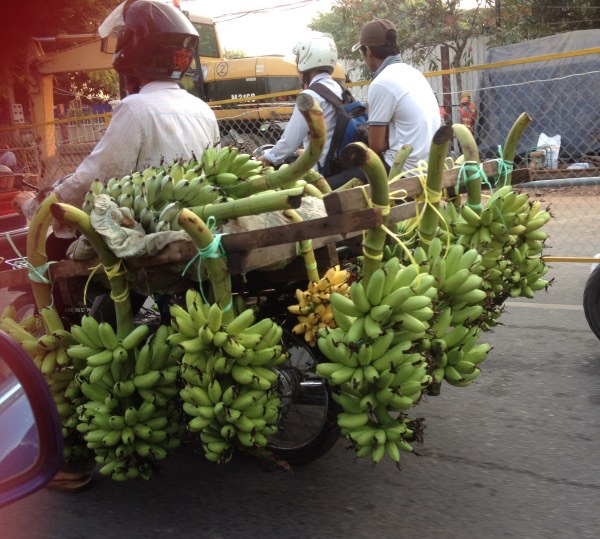 Chek, is the Khmer word for Banana. There are many varieties of Banana in Cambodia. Being a tropical region, Banana enjoys the status of 'King of Fruits'. Fruits are available in abundance, but the usage of bananas is extensive. Like the southern part of India, here too Bananas enjoy the status of a ritual fruit as well as ritual tree – We can see houses with banana trees tied in front on special occasions. The main varieties are Chek Namva, Chek Pong Morn, Chek Amboung, Chek Snab Muk. http://www.cambodia-picturetour.com/tag/banana-in-cambodia/
There needs to be a special post on bananas of cambodia and their value in rituals and traditions. But now we shall proceed with Num Ansom Chek – the delicacy.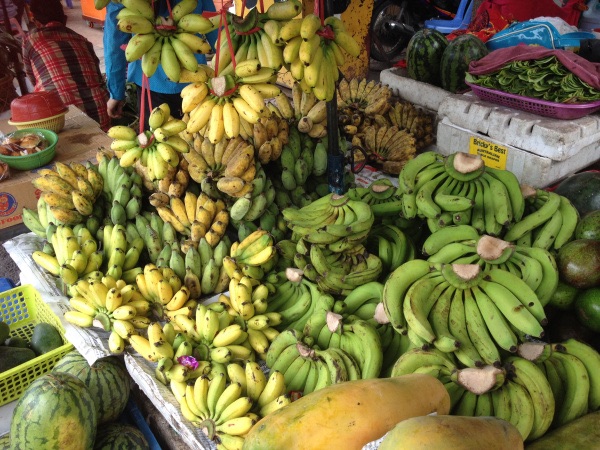 The Banana Variety used in this sweet is Chek Namva.
Beside eaten fresh, Check Namva also be used in creating many Khmer simple delicious snack, cake, sweet such as Chek Khtis (banana coconut milk dessert), Chek Chheung (Banana cooked with sugar paste), Chek Chean (Fried banana), Chek Ang (Grilled banana), Chek Chhab (Sliced banana deep fried), Num Chek Bok (pounded banana cake), Num Ansom Chek (banana sticky rice cake). http://www.cambodia-picturetour.com/tag/banana-in-cambodia/
The Recipe –
Num Ansom Chek – Steamed Sticky Rice Cakes with Banana Filling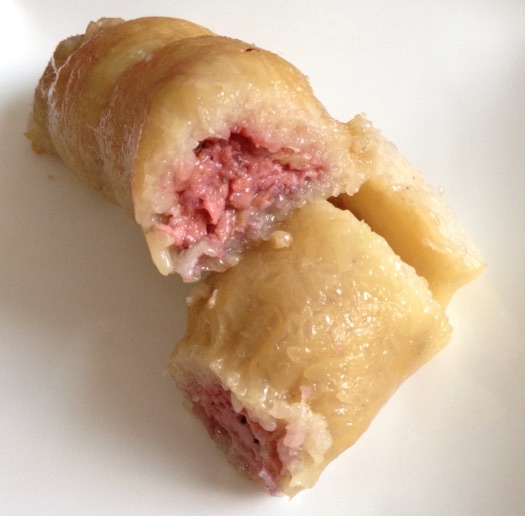 Note: I regret for any faults in making or explaining the recipe. I have just tried to do my best. Please feel free to write about any changes and/or corrections.
Ingredients (makes approximately 20 to 25 num ansom cheks)
sticky rice – 3 cups
well ripe bananas – appr. 6
grated coconut – 1 cup
salt – 1/4 tsp
for covering and steaming
banana leaves
strings from banana fibre
steamer
About Cambodian Sticky Rice please refer – dosaikal.com/sticky rice
Method of Preparation
1. Soak sticky rice over night; In the morning, filter water away and keep rice in a siever to drain extra water. The soaked rice need not be fully dry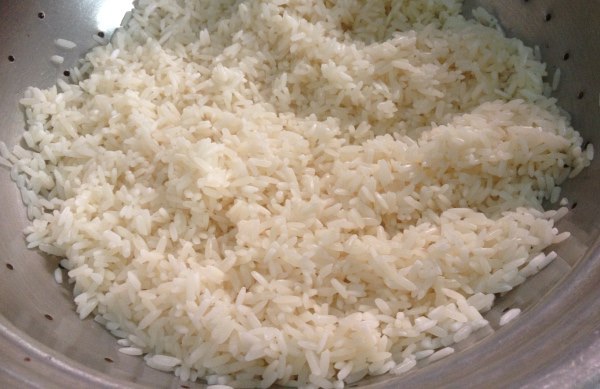 2. Mix grated coconut with rice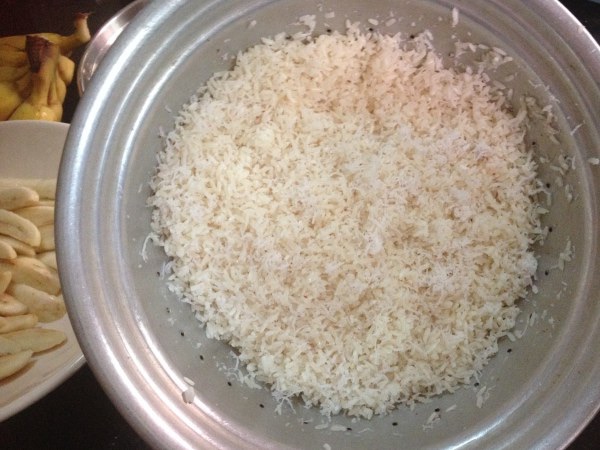 3. Cut bananas vertically; Mix salt to cut banana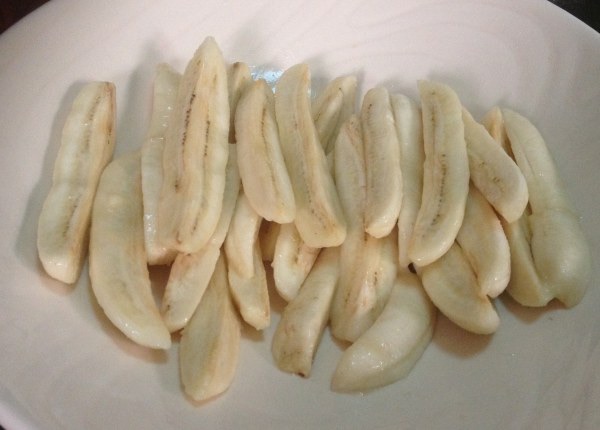 4. Each rice cake would need 1 square and another half its size – a rectangle banana leaf; keep the banana fiber string ready to tie the cake. Cut squares and rectangles in approximate numbers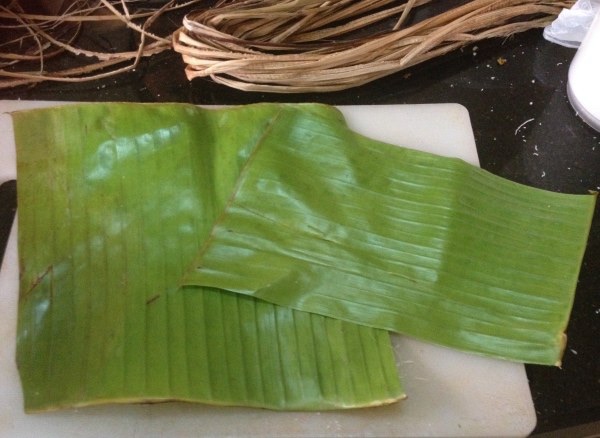 5. Place the small leaf (rectangle) over the bigger one(square)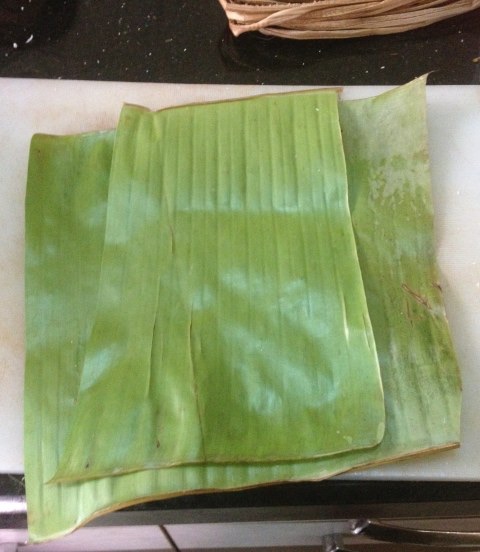 6. Place a small portion of rice and spread vertically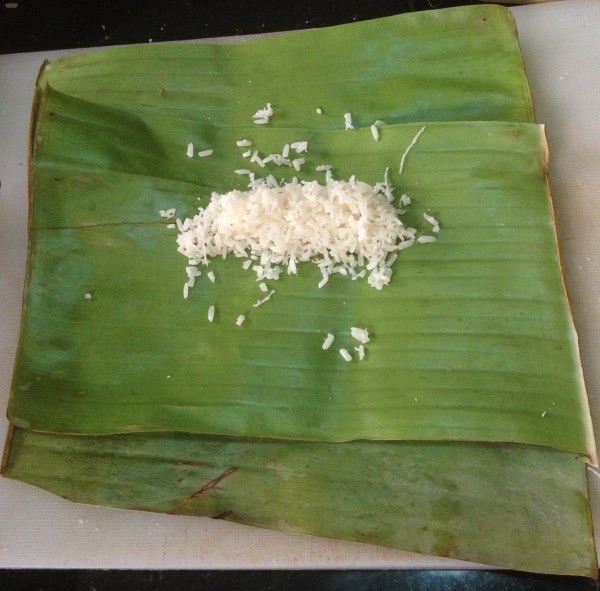 7. Make space in the middle and place banana piece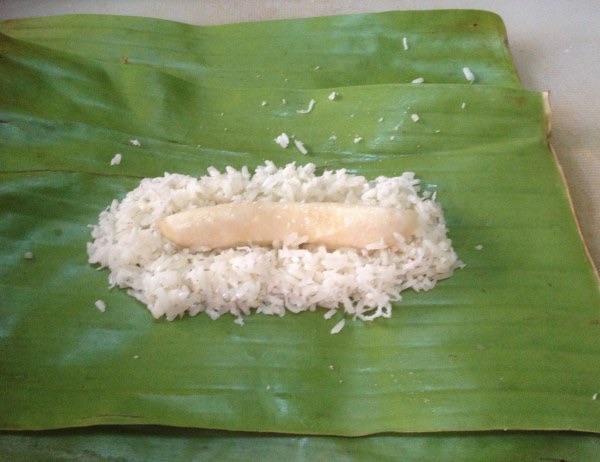 8. Cover with rice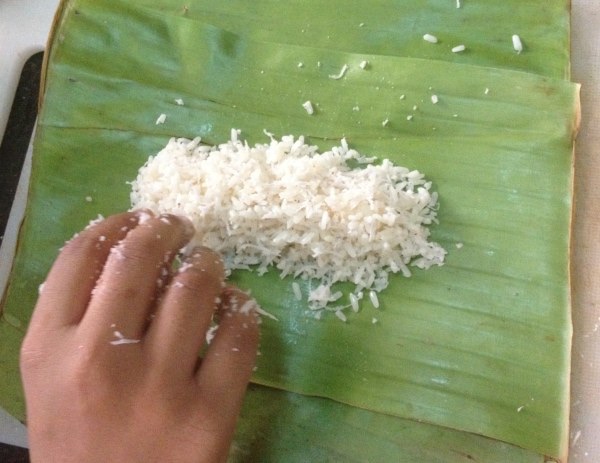 Folding the Rice Cake in Banana Leaf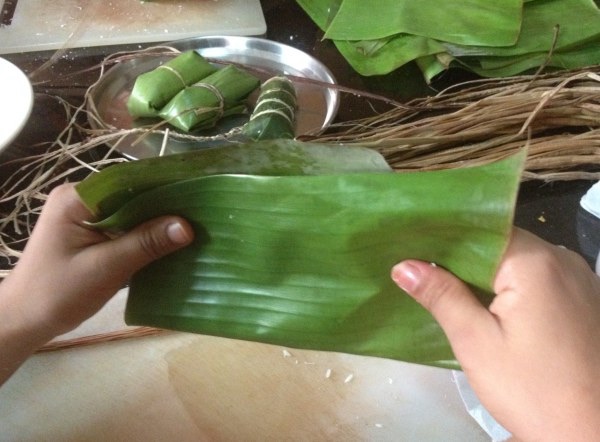 This is an extensive process. I have tried my best to do justice. I think it is time to post a video for this purpose. But, I go with my photos.
1. After the leaf is filled with rice and banana, fold the leaf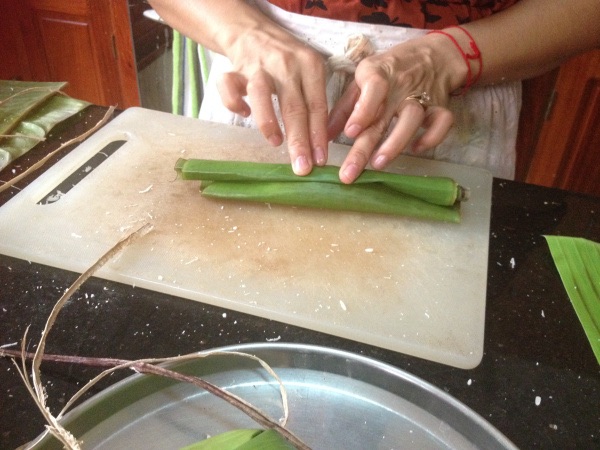 2. Cover with a fold in the middle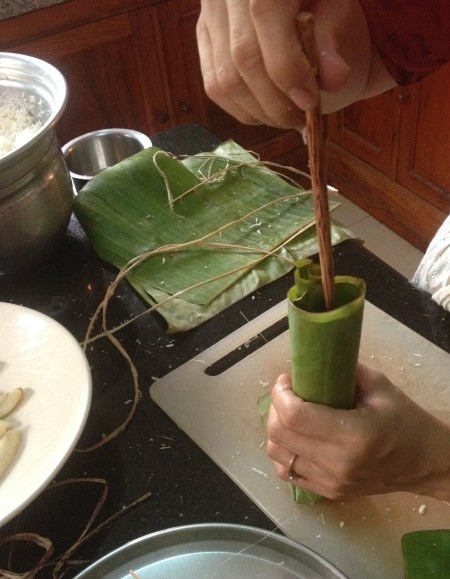 3. Bend the leaf and close one side and press the rice and banana tighter inside but without collapsing the shape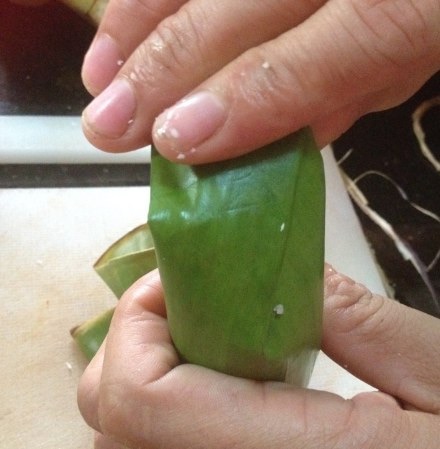 4. Make the next and final fold with a dent in between – this I think is the toughest bit. This is very important for the perfect shape of num ansom Chek
better…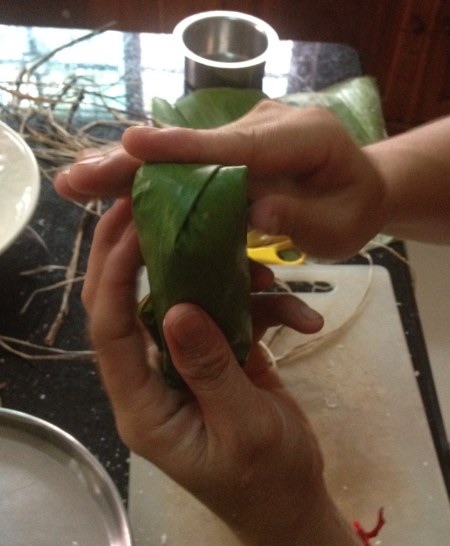 5. After the cake has been folded by this exquisite technique, now it is time to tie it well;
First, tie on top, around the cake – leaving the string long after tightening the string.
1st knot-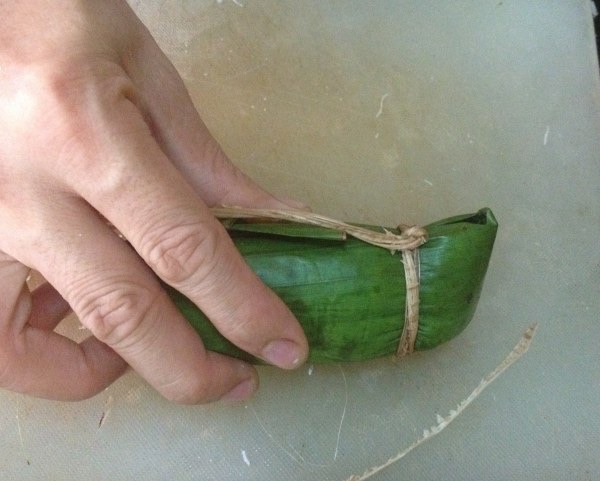 2nd knot – keep the same order of place going..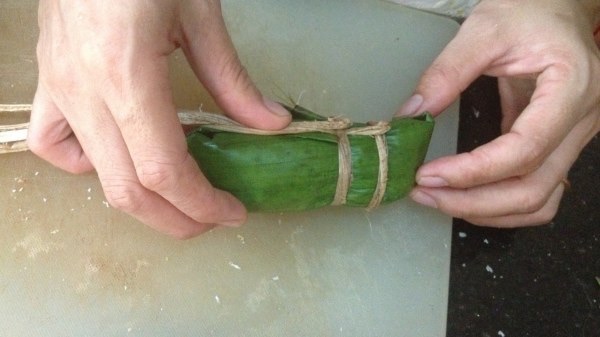 3rd knot –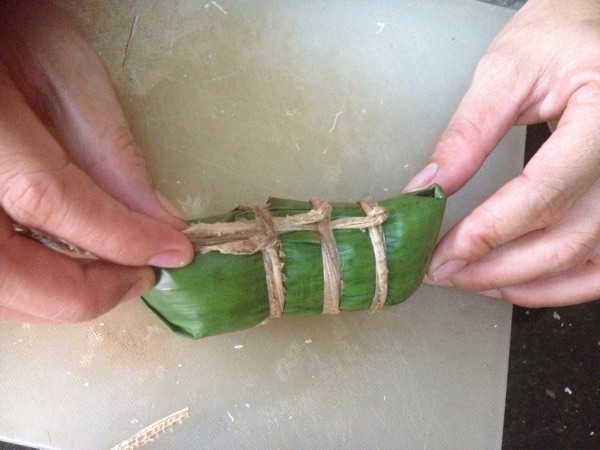 4th knot –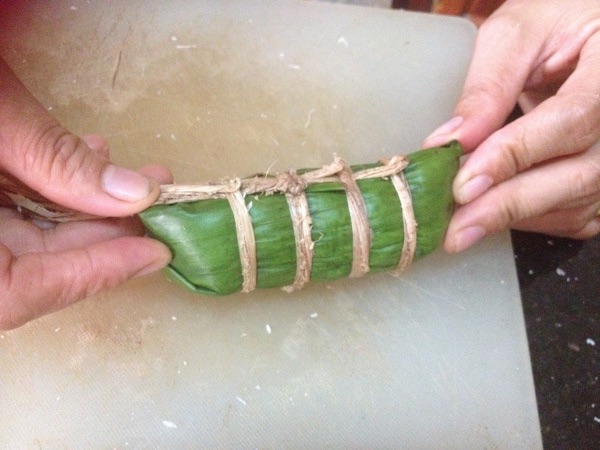 6. Tie all the strings together and the end string would look like this..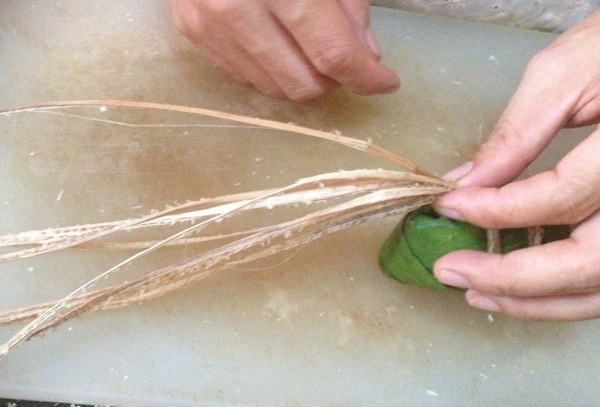 7. Now, this is time for some imagination in making your desired plaits, to complete the string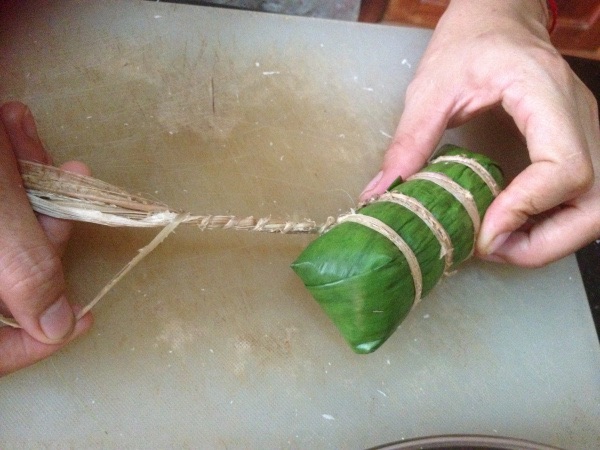 or…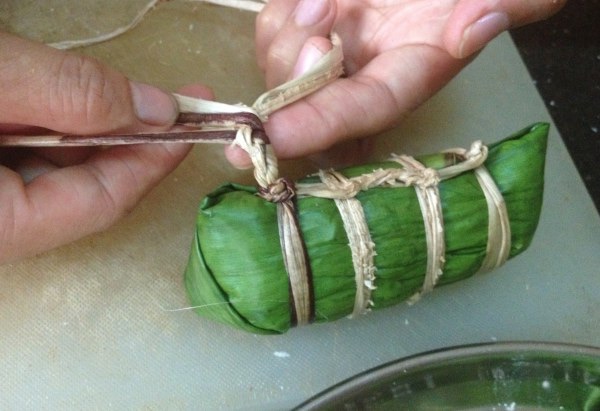 8. And great job!! the cakes are ready to be steamed!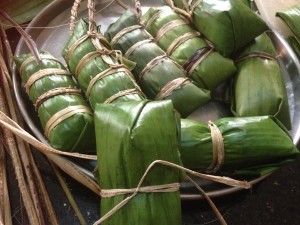 9. Fill the steamer with enough water and place the steaming bowl. The steaming bowl should be covered with banana leaves. Place the prepared cakes and close with more banana leaves. Then close the lid of the steamer. Steam for nearly 20 mins.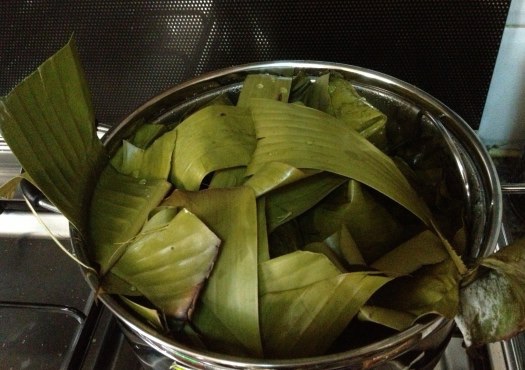 10. The num ansoms are tied together and also hung on roof edges. It seems, during the Pchum Ben days while the family members, friends and relatives are chatting day and night, when one feels hungry he/she can pull out a cake and enjoy.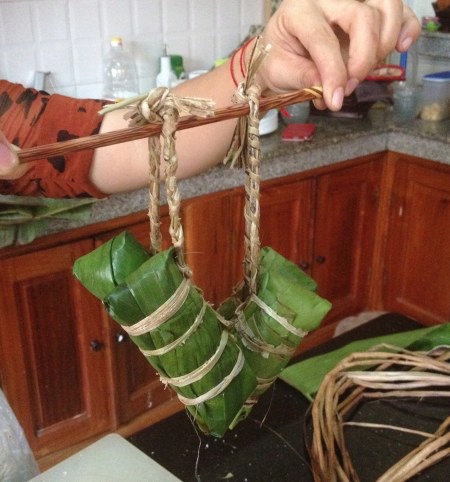 Note:
This Cake doesn't need any kind of sugar as banana is a sweetener here. Still, palm sugar can be used as preferred.
Num Ansom Chek is also made by mixing soaked red bean to rice.
We have made smaller cakes. Larger ones are made with whole banana placed inside. The amount of rice kept would be increased accordingly.
Salt in the banana adds to the perfect balance of the cake.
No doubt a healthy, low fat dessert which is worth the effort certainly!
A very big THANKS to my friend 'D' who guided me and helped me learn the nuances of this special Khmer Dessert/Delicacy.
Awkoon Chran!
I am 'Dosaikal' a food blogger (www.dosaikal.com) who believes in strong traditional values and transfer of traditions to the next generation. I am always fascinated by different kinds of food from different parts of the world. I am especially impressed with the strong connection that south of india has with cambodia, in terms of food and temple architecture.