WheninPhnomPenh's blogger, Rithy Odom, recently spoke to Ramil Lin, Business Development Manager of Oasistlife, a Singapore-based water technology company which has branched out to Cambodia and soon to other parts of Southeast Asia. Based on the success water story from Singapore, Oasistlife wants to take on the water challenges in other ASEAN countries and provide healthy water to the population that much needs it. Here are 5 things that Odom jotted down about Oasistlife Cambodia.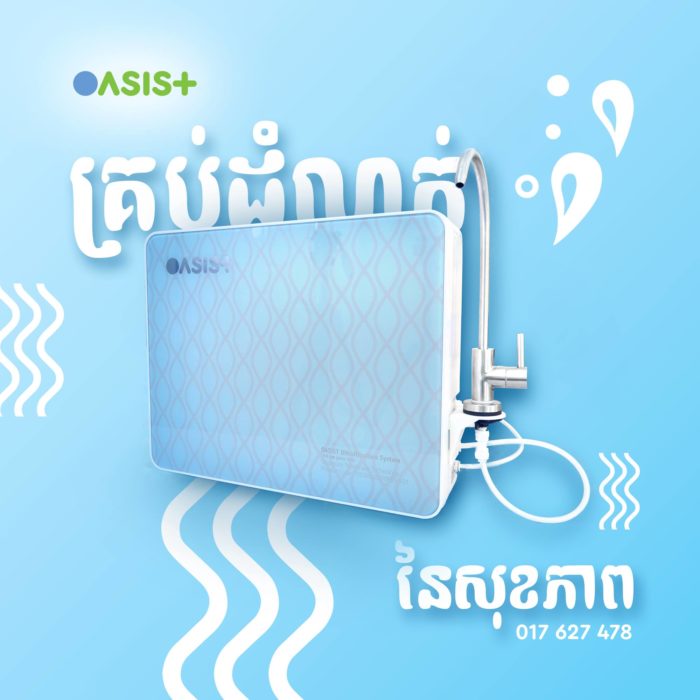 Oasistlife is the only company in Cambodia that offers FREE MACHINE AND FREE INSTALL, just pay for the filters and you can enjoy clean and healthy mineralized alkaline drinking water filtration.

Oasistlife after sales service and filter replacements confirms that we uphold our promise to provide quality clean and healthy mineral water for FREE.

   Our bodies require certain minerals that are considered essential for proper growth and performance. Oasistlife replenishes common tap water with natural minerals and the right pH of between 7 and 9. The commonly used water filtration method using reverse osmosis system excels at removing impurities from water, but a few are aware that they also remove the beneficial minerals that are important to human bodies. Because reverse osmosis water doesn't have minerals and is so pure, when consumed, it also leaches minerals from the body. In fact, up to 92-99% of beneficial calcium and magnesium are removed through reverse osmosis.

This means that the minerals being consumed in food and vitamins are being urinated away. Less minerals consumed plus more minerals being excreted equals serious negative side effects and big health problems.

   

Oasistlife is a water membrane technology originated from Singapore. The company specializes in research and development of new water filtration technology that will allow people to drink safe water by filtering away heavy underground metal pollution, which enter their homes as reverse osmosis tap water without losing the beneficial minerals of water.

Oasistlife is for profit social enterprises who seek to use technologies and make it affordable to contribute to societies that they operate in by prioritizing its social mission as core business model.

Oasistlife is working with ABCS & RICE are reaching out to provide Oasist Portable Ultra-filtration bottles to Veal village in Cambodia through its "Giving Project". Wherever water flows, especially in rural areas where water are contaminated, Oasist bottles will make it safe and clean for people to drink immediately. The bottle is light, moveable and able to remove any virus and dirt from the water. The filter membrane only needs to be replaced once every two years, saving tremendous amount of current expense on bottled water.