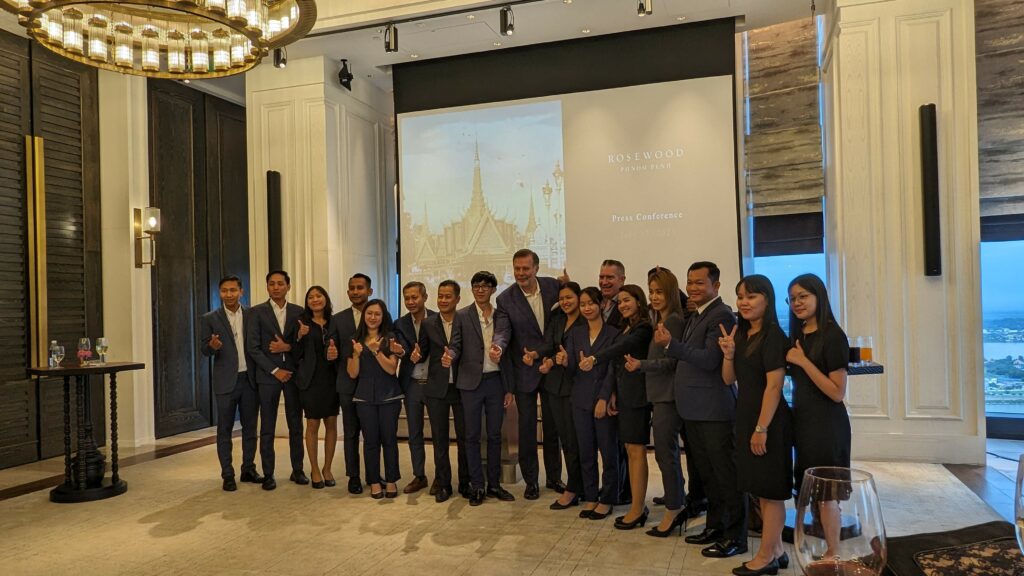 Rosewood Hotel's remarkable commitment to Cambodia's thriving tourism industry has received well-deserved recognition on the global stage. The prestigious Travel + Leisure magazine has ranked it as the 9th best hotel among the top 100 hotels worldwide, while also honoring it as the Best City Hotel in Asia. Daniel Simon, the managing director of Rosewood Hotel, expressed his delight, noting that Travel + Leisure is a highly regarded publication known worldwide.
This achievement solidifies Rosewood's reputation as an exceptional hospitality establishment and significantly boosts Cambodia's visibility as a premier tourist destination. The hotel's appeal goes beyond luxury and outstanding service, as it serves as a beacon for Cambodian artists and non-profit organizations, particularly during the times of the Covid-19 pandemic.
Rosewood Hotel's commitment to Cambodia's thriving tourism industry has recently been recognized with a high-ranking place on the global stage. Travel + Leisure magazine has ranked it in the top 10 among the top 100 hotels worldwide and named it the Best City Hotel in Asia.
"Out of all the tens of thousands of hotels, our little property here, 175 rooms and 5 restaurants and couple bars, it's been rated no. 9 in the world with the only hotel from Cambodia on this list by Travel + Leisure." explained Simon.
The magazine is the top travel magazine in the world. They have editions in different regions, but this is a global award, this achievement underscores Rosewood's status as a superb hospitality establishment.
It also propels Cambodia's visibility as a prime tourist destination. The hotel extends beyond luxury and stellar service, becoming a beacon for Cambodian artists and non-profit organizations.
"If you're an international tourist visiting us, it's not just a typical hotel. On our 35th floor, we have an art gallery. We display art from Cambodian artists or foreign artists working in Cambodia," Simon explained.
"We aim to uplift and support the local community. Through our Open Door Program, we provide opportunities for demographics usually overlooked by luxury hotels," he stated.
Rosewood Hotel goes above and beyond by providing opportunities for demographics often overlooked by luxury hotels through their Open Door Program. This year, the hotel is supporting 15 rural students through a 12-month internship, complete with full salaries, service charges, and accommodation. The ultimate goal is to offer them future employment, empowering the younger generation and contributing to Cambodia's brighter future.
Rosewood also supports Cambodian arts and artists locally and internationally. The hotel has hosted over 20 exhibitions and showcased the works of more than 50 local artists.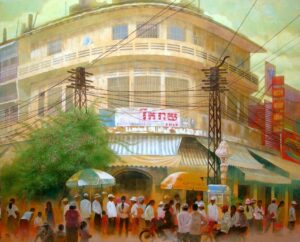 The current exhibition, "Cambodian Arts Making a Global Leap", celebrates the friendship between Cambodia and Japan. The hotel welcomes an exciting new exhibition featuring the renowned Japanese artist Yamada Takakasu. Yamada, dedicated to nurturing Cambodian talent, showcases his masterpieces alongside the up-and-coming Cambodian artists – Nou Sary, Nout Daro, Pang Darin, and Sam Ol Sovalika. This stunning display of artistry will be open to the public until October 2023.
Rosewood Hotel's contributions extend beyond the art realm. The hotel supports local charities, recently raising USD 65,000 for Phare Ponleu Selpak, a local organization that makes a positive impact on the community. With a heartwarming dedication to giving back, Rosewood Hotel is a true advocate for social responsibility. The hotel also offers guests an immersive art experience, with guided tours providing insightful information. In addition, the hotel offers convenient electric vehicle transport to the National Museum, ensuring a seamless and eco-friendly experience for its guests.
Rosewood Hotel is also renowned for its culinary offerings. Collaborating with Cambodia's celebrity chef Rotanak Ros, the hotel features a Khmer menu that celebrates regional flavors. Chef Ros has been instrumental in promoting Cambodian cuisine to international audiences, and her new cookbook is exhibited at Rosewood's gallery, creating a platform for local artists.
These rankings were determined by Travel + Leisure Magazine's World's Best Awards survey, with nearly 165,000 readers casting over 685,000 votes for 8,500 properties. The readers' opinions on rooms, location, service, food, and value play a crucial role in shaping the travel industry.
The recognition of Rosewood Phnom Penh as the Best City Hotel in Asia not only reflects the hotel's accomplishments but also highlights the progress and growth of Cambodia's hotel industry. Daniel Simon expressed his gratitude for the passionate and dedicated associates who made this achievement possible. He emphasized the hotel's commitment to continuous improvement and delivering exceptional services, products, and dining experiences.
Since its opening in 2018, Rosewood Phnom Penh has consistently raised the bar for hospitality in Cambodia. Its exceptional offerings have gained worldwide attention, earning recognition such as being among the Top 10 Hotels in Southeast Asia by Conde Nast Traveler's 2022 Readers' Choice Awards. The hotel's steakhouse, Cuts, located on the 38th floor, has been crowned Cambodia's Best Restaurant by Travel + Leisure Southeast Asia and secured a spot on the "50 Best Discovery" list by World's 50 Best Restaurants.
Rosewood Phnom Penh's accomplishments reflect its dedication to providing an unforgettable experience to its guests, ensuring that it remains a leader in the hospitality industry while contributing to Cambodia's growing reputation as a premier destination.