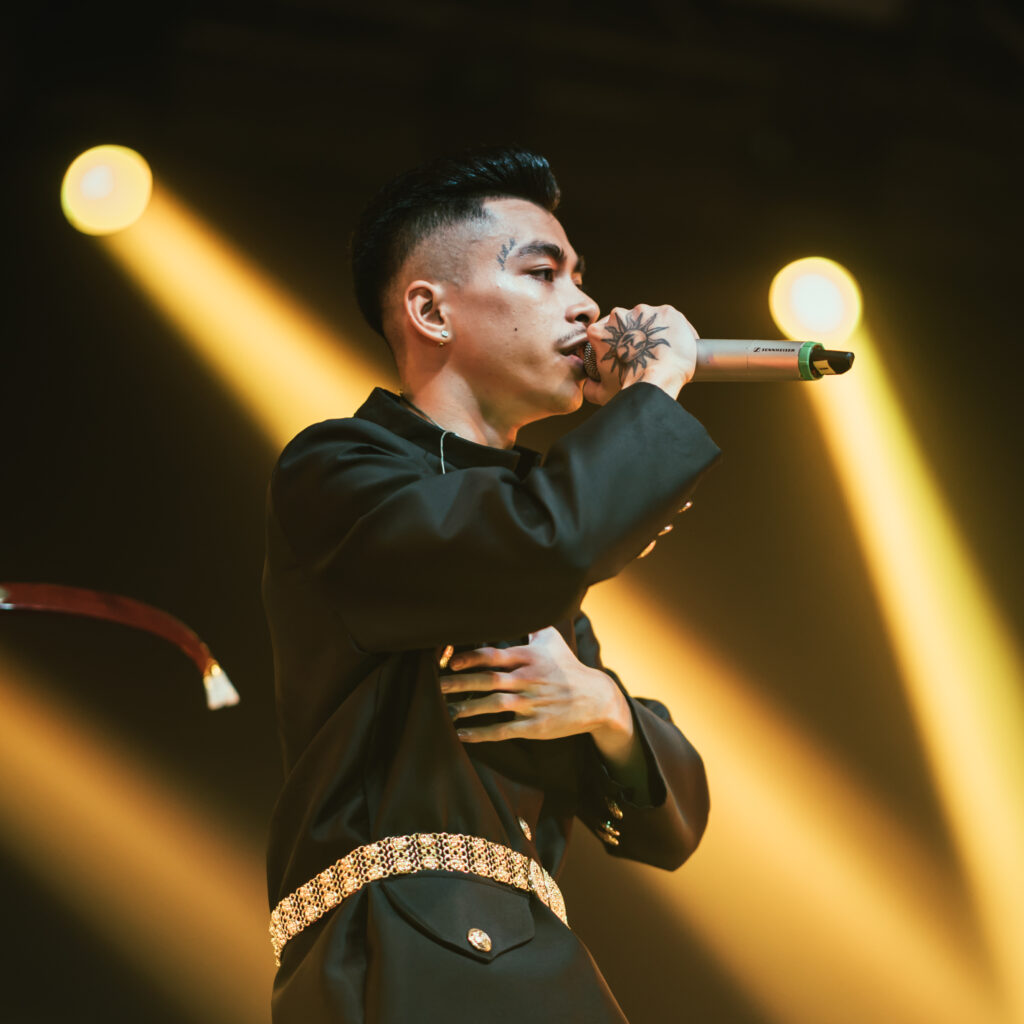 Forbes recently unveiled its highly anticipated 30 Under 30 list for 2023 in Asia, featuring an array of exceptional talents from various fields. Among the distinguished individuals recognized on this esteemed roster is VannDa, an influential rapper and musician hailing from Cambodia. Sharing the spotlight with remarkable talents such as K-pop groups NewJeans and Le Sserafim, as well as Singaporean singer Shye in the entertainment category, VannDa's inclusion solidifies his position as a rising star within the music industry.
VannDa's artistry has propelled him to regional prominence through his deft utilization of tight Khmer and English raps, as well as his incorporation of local traditional instruments. Following the release of his second album, "Skull 2 (Season 1)," in June, VannDa embarked on successful tours in Thailand and Singapore, captivating audiences with his captivating performances. One of his notable achievements includes the phenomenal success of his track "Time to Rise," which has amassed over 100 million views on YouTube. Notably, the song features a collaboration with Master Kong Nay, a legendary musician in the traditional Cambodian lute and a resilient survivor of the Khmer Rouge genocide. Additionally, VannDa's affiliation with Baramey Production, a homegrown label, has led to fruitful collaborations with renowned Thai rappers OG Bobby and F.HERO.
Recognized for his poignant lyrics and razor-sharp delivery, VannDa's breakthrough came with the release of his single "Time to Rise," a collaboration with the esteemed Cambodian musician Kong Nay. The track not only propelled the rapper to greater recognition but also sparked a renewed appreciation for traditional Khmer music within the contemporary music scene. 
This collaboration not only propelled the rapper's name to new heights but also helped revive interest in traditional Khmer music among modern music enthusiasts. By fusing traditional Cambodian music with contemporary rap, VannDa aims to raise awareness and appreciation for ancient instruments like the chapei among the younger generation of Cambodian music fans.
VannDa experienced a momentous year in 2022, marked by the release of his album "SKULL 2 [SEASON 1]," which served as a follow-up to his debut album, "$kull the Album," released in 2020. In addition to captivating audiences throughout Cambodia, he graced the stage of a prominent festival in Singapore and engaged in fruitful collaborations with fellow MCs across the region.
Furthermore, VannDa made his long-awaited international debut in September at the ASEAN Music Showcase festival in Singapore, where he represented Cambodia alongside his labelmates and collaborators Vanthan and Sophia Kao for the second time. This milestone performance followed a pre-recorded set in 2021, further solidifying his status as a talented ambassador for Cambodian music on a regional stage.
VannDa's journey to success was not without its challenges. Leaving his hometown of Sihanoukville behind, he embarked on a courageous solo journey to Phnom Penh, the capital of Cambodia, in pursuit of his rap career. 
Forbes' 30 Under 30 is an annual publication that celebrates and acknowledges young individuals who have achieved remarkable accomplishments and made significant contributions in their respective fields before the age of 30. The list encompasses diverse categories, including technology, finance, art and culture, healthcare, sports, and more. Serving as a prestigious platform, Forbes' 30 Under 30 showcases the achievements of these young professionals, entrepreneurs, and influencers, while also identifying emerging talents and visionary leaders across various industries. It has become a symbol of early success and impactful contributions among young individuals worldwide.
Since 2017, a handful of exceptional Cambodians have graced the renowned Forbes 30 Under 30 list. Monirath Siv, recognized in the Social Entrepreneurship category in 2019, has been instrumental in the transformative work of Teach for Cambodia. Sok Sopheakmonkol, acknowledged in the Enterprise Technology category in 2017, has showcased his innovative prowess in driving technological advancements. Furthermore, Kounila Keo, honored in the Media & Communications category in 2017, has left an indelible mark through her influential contributions to the realm of media.
These young Cambodians exemplify the spirit of innovation, determination, and excellence that Forbes 30 Under 30 seeks to highlight. Their inclusion in this prestigious list not only shines a spotlight on their individual achievements but also serves as an inspiration for aspiring young talents across the nation.
As VannDa joins the ranks of Cambodia's trailblazers featured in Forbes' 30 Under 30, he adds a new chapter to the country's vibrant music scene. Through his fusion of traditional and modern elements, he has captivated audiences, bridging the gap between generations and preserving the rich cultural heritage of Cambodia.
With each milestone achieved, VannDa paves the way for a new wave of Cambodian artists to make their mark on the global stage. As his star continues to rise, it is certain that his influence and impact will extend far beyond the borders of his homeland, inspiring a new generation of musicians and leaving an indelible legacy in the world of music.
Forbes' 30 Under 30 Asia list serves as a testament to the remarkable talent and innovation emerging from the region. By recognizing and celebrating young disruptors, innovators, and entrepreneurs, Forbes sheds light on the transformative ideas and groundbreaking work happening across various industries.
VannDa's inclusion in Forbes' 30 Under 30 list for 2023 marks a significant milestone in his career and a testament to his immense talent and impact on the music scene. VannDa has garnered regional recognition and captivated audiences both at home and abroad. As he joins the ranks of other accomplished Cambodians featured in Forbes' prestigious list, VannDa's success serves as an inspiration to aspiring young talents and further solidifies Cambodia's presence on the global stage. With his continued dedication and innovative approach to music, VannDa is poised to make an even greater impact in the years to come.