Today, Uber made headlines as the founder and Chief Executive Officer, Travis Kalanick, resigned from the company after much pressure by investors. While that news might seem troublesome for the company, it is coupled with the exciting news that Uber launched their beta in Cambodia!
Cambodia has been overlooked by numerous tech giants, so it was very cool to hear that Uber would be launching in the Kingdom. Of course, ride hailing apps like Exnet and PassApp work perfectly well, but it's always great to have options. Plus, they have a pretty awesome promotion: your first 25 next rides in Phnom Penh are FREE (up to $10 each.)
Since other ride-hailing apps in Cambodia have (more-or-less) worked like a charm, we expect the same from Uber, so let's get riding!
Want to try Uber for yourself? Here's how:
First, you'll need to download the app.

Next, open the app and click the drop-down menu on the upper left-hand corner. You'll see a few options, but you'll want to click the one that says "Payment."
Also, who gave me less than 5 stars!?

Once you enter the "Payment" tab, click the option that says "Add Promo/Gift Code."
Insert the promo code (we were told it was PPBeta2) and then you'll see this screen which confirms that you will now have a MAJOR discount: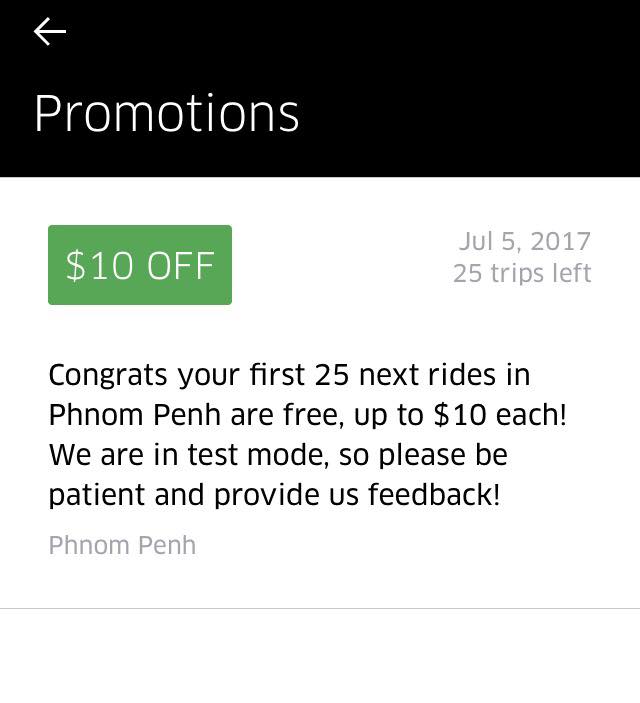 Finally, catch a ride.
BONUS:
No credit card? No problem!
Uber accepts either cards OR cash.
Let us know when you've tried it and what your experience was –– happy riding!
Subscribe to our mailing list for latest updates from WhenInPhnomPenh.com.